In the beginning of the year I had taken on a number of contract / freelance work developing wordpress and squirrelcart themes. This particular theme was a really basic setup, a custom header with an arcade inspiration and a basic layout for the sidebar.
BCP Arcade – Bringing the arcade experience to you
The BCP Arcade website included some design elements for the inner pages of the website including how the layout for the home and games pages should flow. The client was tremendously gracious and patient as I worked through completing the theme as the development extended into March and the expansion of our family, so a big thank you to him again for that.
BCP wanted to showcase retro games as well as a little bit of the more modern gaming, so I tried to use some classic favorites like Donkey Kong and Q*Bert as well as Mortal Kombat and implied a little Guitar Hero. Here are a couple of screenshots, including one for how the homepage originally looked;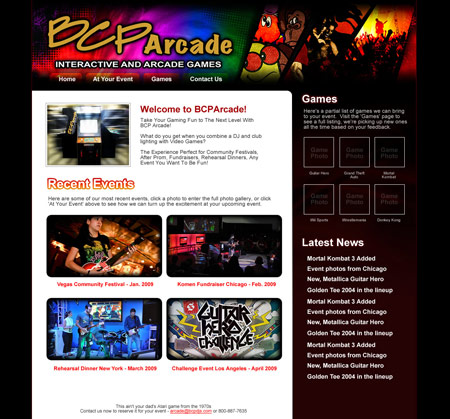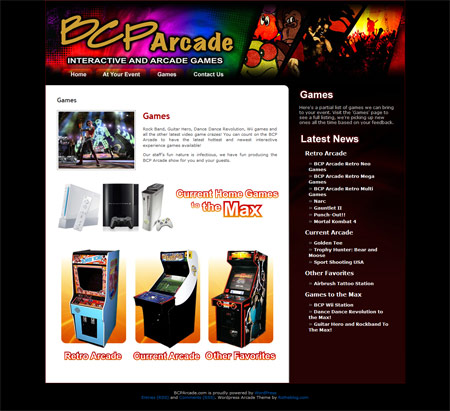 As always, the client will then add their own content (text, photos, video, etc.) to fill out the site and fully utilize the theme.
WordPress Theme Development
I've developed quite a few WordPress themes and a number of them centered around video games and gaming in general. If you are interested in a custom WordPress theme for your website drop me a line. If you aren't sure what WordPress is about but are interested to know more, get in touch with me. A little research on the internet will let you know how powerful WordPress is for syndicating content and propelling yourself to the top of a given niche. WordPress can make some parts of your online promotion easier so that you can concentrate on consistently generating new content.
If you are looking to get noticed a little bit more, and are actually looking to reduce some of the work it takes to maintain your website in the long run, shoot me a line. I might be able to help you out.
Here are some similar arcade posts
If you enjoyed this post, please consider to leave a comment or subscribe to the feed and get future articles delivered to your feed reader.