I spent..a stupid amount of time trying to figure this out, and am going to bed without a true solution. So, if you have used Randy Fromm's flowcharts for troubleshooting an Electrohome G07 monitor and can help me out, that would be awesome.
The big mysterious ceramic resistor hanging on the side
Troubleshooting my brand new Mad Planets tonight. Oh yeah, did I mention, the monitor went out? I don't feel like lately my luck has been so sweet.
I am using Randy Fromm's flowchart (Sort of a which way diagram written for the average person with basic instructions) to troubleshoot why I am getting no picture and the game is playing blind. It's an Electrohome G07-907. I have continuity on both fuses – F901 and F902 – so I kept moving through the chart for Randy and I quote;
Check the regulated power supply at resistor R1 (that's the 220 ohm, 25 watt, giant, white ceramic resistor that's hanging on the side of the chassis.) The terminal closest to the CRT (with the white wire on it) should measure +120 VDC.
Big and white – check. It's more of a rectangular white box, if we're talking about the same thing. It's labeled with 220 ohm, 25 H. I don't know what H is admittedly. I don't think that is synonymous with Watts. Here is the photo;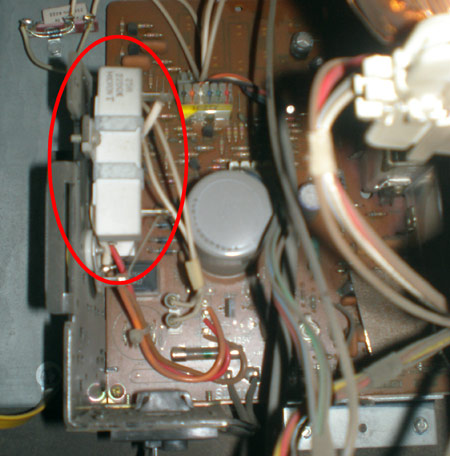 The only problem is, on the schematic for this monitor that I pulled up, that white rectangle, ceramic or otherwise is labeled as R902. So, that can't be right. Here is a detail of the schematic, click for a larger view;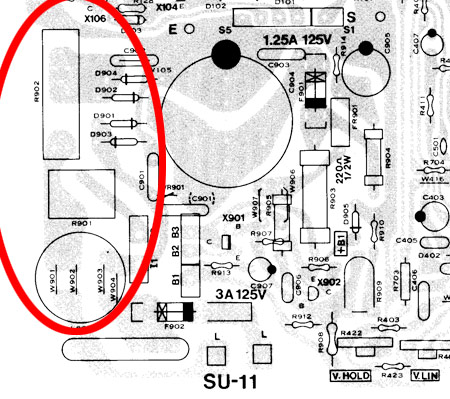 I still can't find the R1 resistor
Even if I were to believe that somehow there was a typo, and Randy said R1 where he meant to say R901, the schematic shows R901 directly below R902 on the side of the chassis frame. However, I have no R901. So….I am a little bit lost. I checked out Bob Roberts 'Capacitor Map' for a G07 monitor, and that didn't help point out R1 either.
Regardless, I tested R902 with the power to the game on. I got a reading of 0 VDC on both the lead closer to the CRT monitor and the lower one, which should have read 120 VDC and 145 VDC respectively. All the more enforcing the idea that I don't have the right piece.
If you can help point me in the right direction of where to look on that crazy schematic, that would be a huge help. Or give me some insight into Randy's flowchart for troubleshooting this arcade monitor.
Update – 6.19.08
This is the first troubleshooting I have ever really done, beyond – Ohp, do a cap kit. Come to find out, R1 must be stamped into the chassis itself, hence why I can't find it. I will probably do a simple test when I get home on the HOT. Apparently, touching the casing of the HOT with one lead and then touching the metal frame right by where it is mounted should not show any voltage due to the insulation. If it does, then the HOT is bad and therefore the flyback.
Here are some similar arcade posts
If you enjoyed this post, please consider to leave a comment or subscribe to the feed and get future articles delivered to your feed reader.