Slightly sad day I suppose. After a four months I finally sold my Pac-man today and funny enough, it's headed back where it came – Greenfield, IN. It was my very first arcade game, but most collectors can related, eventually it comes down to space.
This was a solid Pac-man
Granted, it had some scratches right down the middle, but the paint job was solid, little to no fading, no flaking, I may not find another Pac-man cabinet with such solid original paint again at the same price I paid initially.
This Pac-man was a gift to myself on Memorial Day, 2006. I had just completed some contract work and had my eye on this Pac-man for sale at Wagner Gameworks in Greenfield. I had done three months of research, checking on auction values at USAmusements and calling around including to Wagner. I really was searching for a Ms. Pac, but Pac was just as iconic and this cabinet had been mistreated just enough to allow me to feel ok about turning it into a Mame cabinet.
I knew very little at the time, I had posted on RGVAC looking for a Pengo, Mr. Do! Or whatever else any established collector would be willing to sell to an unknown newbie. I was still on the fence, having considered just building the one big black Mame cabinet, but the thought of this ugly black thing in my basement was killing me. I wanted that iconic artwork. I figured I'd buy this one game, setup Mame, have all the games I wanted with the authentic controls and be done. The problem was, someone had done a real bang up job trying to touch up some scratches – by spray painting in solid blue and black all over the cabinet.
Well, 1500 posts and two in depth websites later, here I am. Certainly not one machine, and maybe a little overboard. But this is the hobby. It's about the stories, meeting others, and of course playing those favorite games. Today I got to meet a 'new' to me collector, but someone who has owned a dozen or so games in the past. He just moved back to the Greenfield area from Chicago, and it's always good to add another collector to the area. I'll be curious to see the photos of the Pac-man once he has finished making it into a multi-game.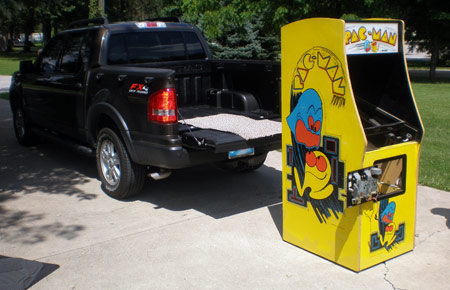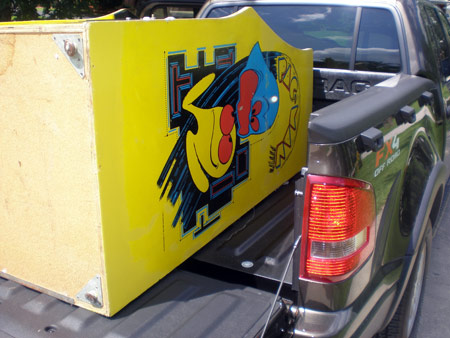 I got some space back temporarily in my garage, and more important and more prepared for my white Mr. Do! and it's arrival in August.
Here are some similar arcade posts
If you enjoyed this post, please consider to leave a comment or subscribe to the feed and get future articles delivered to your feed reader.