Thanks to Pat for finding this Ladybug out there by him on Craigslist and forwarding me the link. I wasn't going to write a post about the second Ladybug, but then I got photos from the owner showing the bezel and control panel.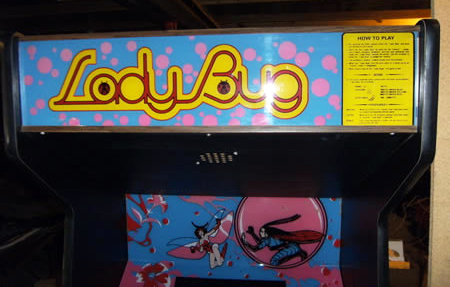 Pre-made cabinet kits licensed from Universal?
That is the solid idea posed by another collecting friend. There were other companies at the time that sold cabinet kits, why not a cabinet with game specific artwork? Then an operator could buy a conversion kit from Universal and possibly save half the overall cost of a dedicated unit that still looked cool. Might explain why we've seen so few of these.
For whatever reason it had not dawned on me until this point that these unofficial Universal cabinets were constructed to fit the same artwork as the dedicated manufacturer units. Universal cabinets always had a piece of plexi artwork on the inner back wall.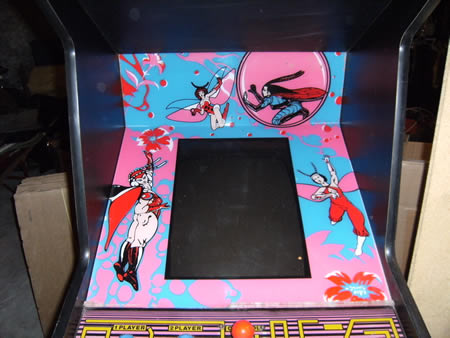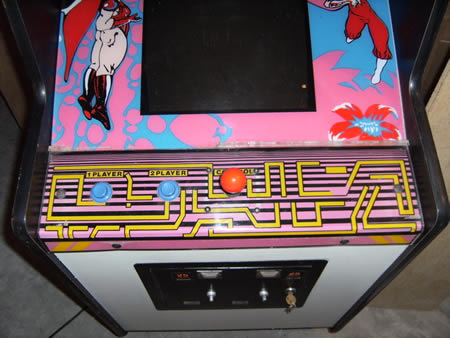 As if I needed to draw an additional parallel, look at the control panel and you can see the similarities to the Mr. Do! . Also this appears to be the same bezel artwork on the dedicated Ladybug. Or is it? It's not actually, obvious on more than a quick glance.
The colors are different throughout, from the original with the purple and faded chartreuse to this – a light blue and pink color palette. Other differences – the Universal logos are obviously missing. The bezel artwork generally looks spot on, the marquee is a little different in that the instructions are including at eye level instead of on the control panel But this is just like the other one).
I know, after seeing my Mr. Do! In person, it was very obvious to me the cheapness of the cpanel. It is basically curved plexi and some bolts, no wood or any other type of durable material backing. Which supports the idea of this artwork being a kit, the control panel materials being cheap for weight considerations.
Remember the other non original Lady Bug in the white cabinet? It had a light blue in the sideart. Perfect fit for this bezel.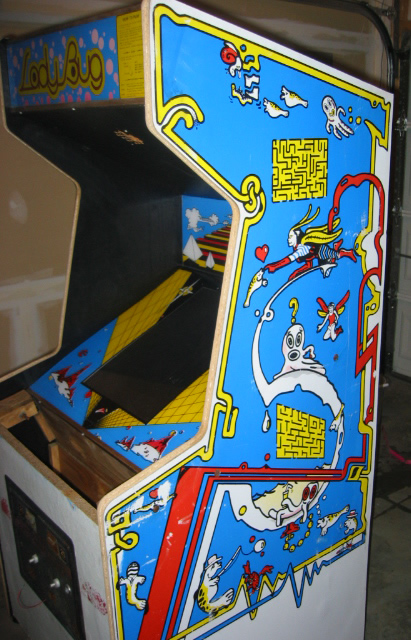 So why in the heck are those negative spaces now pink in the sideart for this machine? The color does not look faded, but solid throughout and intentional. Would the company have made the same cabinet in different colors? Seems a little weird.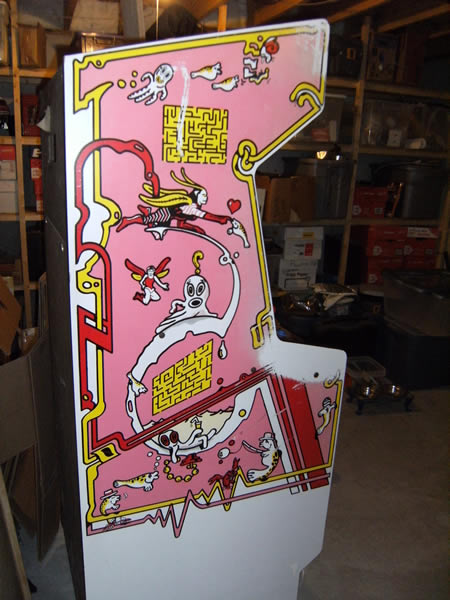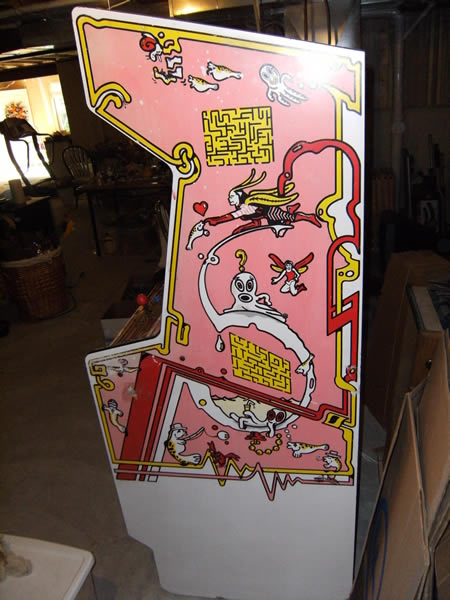 What if this company was the original developer of Mr. Do! in Japan? Mr. Do! had such great sales volumes, shipping them to the US would have been a severe bottleneck. What if these cabinets were the original artwork produced for the game in Japan? Then Universal formed plants in the US and started constructing them here to meet demand and just used the one generic cabinet to save costs. If this is the case, I need to stop referring to these cabinets as 'bootleg'.
Some past history and rumors would contradict this idea however. As far as I've been told, most Mr. Do!'s are factory converted Lady Bug's and a true Mr. Do! should have a black joystick ball, otherwise it isn't die hard authentic. Which would mean those cabinets were developed in Japan first. So, the mystery remains for the two people that are actually interested 😉
Selling the Lady Bug in St. Louis
The seller is asking $399. I've seen photos from the inside of this machine, there is a possibility that it may have been HUO. The artwork wear on the cabinet isn't bad, but is enough to negate the value of a HUO only unit in this case.
I don't think a dedicated Ladybug would bring much over $300 in a good market, and based the price points of similar Mr. Do!s have sold and the current values he may have to hold it for awhile unless he's willing to sell it for $200 or less. But that complete artwork is a great selling point, it looks like it has all of the original kit artwork. This is the first Lady Bug I've seen that didn't have the common 'Vanguard' style bezel mismatched with whatever other pieces of artwork.
I am still trying to find out a more in depth ownership story of the Ladybug, who the last couple were and maybe even where the cabinet was purchased. If you end up picking up this rare, but not necessarily high in value item, drop me a line, let me know. I like to track future ownership where I can. The artwork is pretty hideous, but this is a very unique piece to say the least.
If you've got a better term on what to call these cabinets, let me know. Something that people might actually type as a search. Bootleg isn't semantically correct, neither is 'custom' and describing them with the word 'white' isn't much better.
Here are some similar arcade posts
If you enjoyed this post, please consider to leave a comment or subscribe to the feed and get future articles delivered to your feed reader.