Where the heck is Storm Lake? That's what I said! I have unnecessarily innate understanding of the makeup of western Iowa after our trip out there last week. Never been much for driving, and 10 hours one way on Iowa highway was the same fun equivalence as watching David Lynch's Lost Highway. We got some cute photos of my son on a Tractor pulled into a gas station…yee haw…but I digress.
Regardless, the hobby certainly does travel. In our early morning walk downtown there was a joint named Honey Kissed Pizza and when I peeked in the windows I could see a couple of machines in back.
Skeeball 'n Pizza
I guess not too out of the ordinary, but the floor space in the HK Pizza was hardly ample so I was surprised when I gandered through the pane glass and saw Spiderman, Ms. Pac-man, a redemption machine and a Skeeball on the back wall.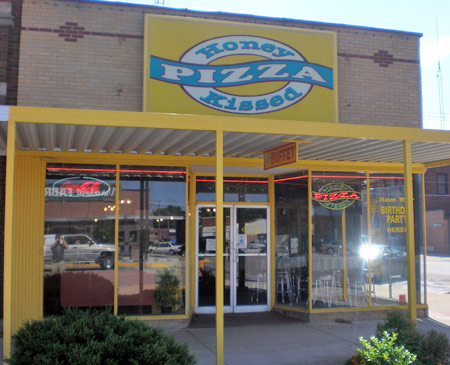 We were there at a time when the store was not open, but I couldn't help but be curious if any collectors has rooted out all of the operators in the area. Poking around on Coinopspace, there aren't that many collectors in western Iowa or nearby Nebraska. Storm Lake is fairly remote and I couldn't help but think back to Joe M's Cosmic Chasm story, when he found two Cosmic's and a Cube Quest nested away in back woods NE.
Ah well, anyway. I don't plan on making that drive again for awhile, and I would have to doubt that this little pizza joint owns those machines. It might be of interest to someone out there to call or stop in and see who operates those games and if there is a warehouse of parts to be had.
Here are some similar arcade posts
If you enjoyed this post, please consider to leave a comment or subscribe to the feed and get future articles delivered to your feed reader.