In the first week of July I was able to make some arrangements to pick up the arcade game remnants from a former operator here in Indianapolis. I had known about this lot of parts for about three years now so I'm glad to be able to start to get some of these parts out to collectors who need them.
Arcade goodies I'm keeping
Of course there were some items in the lot of interest to me. The first and probably my favorite / most unique item is the arcade game cover. There was only one of these, but man does it come in handy. It's a really thick leather and I think you can still buy them from Happ, but they are expensive. Here is what it looks like in action;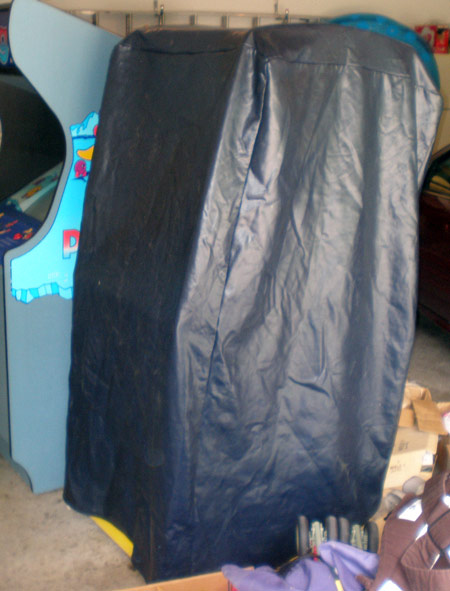 There were two pinball covers as well. I did not come back with those, but they are still for sale, so if you are looking for a heavy duty cover to transport your pinball machine, you can probably get one for a great price, significantly less than Happ. Get in touch with me.
Everyone knows what a huge Mr. Do! fan I am and there were a couple of items – Parts for a Mr. Do!'s Castle that were of mild interest to me. Not that I would ever have a Mr. Do!'s castle, just cool to have the parts for now. Come to find out, I identified another Mr. Do! boardset as well, which it is always good to have backups (2) for your games. Beyond that, there were some manuals of my favorite games that were of interest – Pengo, Sinistar, Pac-man, Galaga etc. but beyond that, just getting some of the paper to get a sense for this operator's involvement in the local scene at the time.
I had picked up the Dig Dug PCB a year and a half ago when I needed one for my Dig Dug restoration project.
Everything else, I will be selling as I don't have uses for most of the parts and hopefully some of you will. Visit the arcade game haul photo album (Or click photo below) to see everything that I brought back. I think I have most everything labeled right now. There wasn't anything of real great value here, and certainly to resell all of the stuff would take a tremendous amount of work. Who knows, some of it may get thrown out, but I wanted to at least offer some of it up to you guys.
If you see something you want and I still have it / got it, drop me a line. Eventually after the semester is over I hope to get a copy of Squirrelcart online to have these items listed a little bit better as they would outgrow my current for sale section by a mile.
If you want to see a little bit more, check out my initial small arcade parts haul forum post at Coinopspace.com.
Here are some similar arcade posts
If you enjoyed this post, please consider to leave a comment or subscribe to the feed and get future articles delivered to your feed reader.