I tell all of my clients, if you use Microsoft Word to write your web content – all may seem fine, but under the hood your website may be one post from a breakdown. WordPress is no different, any database driven site hates incorrect character translation and one day you might corrupt your website and data to the point of no recovery. Read on for some simple tips to prevent a melt down.
WordPress post writing window – Check for 'quotes'
Most people know Word, and what is not to know. You open up a document and start typing and save. It's what people are comfortable with, and I haven't met too many people that like change.
But what you don't know is that Microsoft has it's own special markup language that doesn't translate to the web. Here is a perfect example. Over the weekend I had some time to write a post or two remotely on the laptop. I just pulled up Word not thinking about it, wrote my post and saved. Later on I copied and pasted right into WordPress. Here is what you will notice;

See the quote on the left? That isn't a real quote, but a fake character. WordPress can't interpret the encoding Word has used and has made an unknown character that suspiciously looks like a real quote mark. The quote on the right is a real quote and HTML understands that character. If we were to zoom into the quotes, they'd look something like this;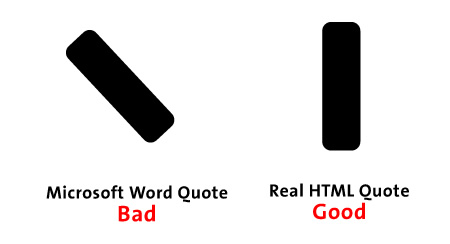 Quotes aren't the only characters that are problematic. Any characters that need an ampersign to be translated to HTML can cause the same issues. Register marks (®), Copyright signs (©), "ands" (&), ellipses (…) and even blank spaces come up as little image translations of the real character or are bad translations you can even see (spaces).
The killer is that your website may never have a problem. You may cruise along, typing merrily supporting the Remond bohemoth and then one day you lose many years of work. Or, you might have several hundred posts that when corrupted, have incorrect characters throughout that can only be solved by manually checking every last piece of text. I always think of the car commercials where the women is seeing the clear cut messages of breakdown everywhere she looks.
Solution for proper web formatting and encoding
If you have typed up a post in WordPress not all is lost. Usually you can copy all of your text, paste it into Notepad or Wordpad, save the document, and then copy that out and paste into WordPress. Sometimes you don't even need to save, but by saving you ensure that the software completely strips out any Microsoft specific formatting.
For tech users, you can use a free piece of software called PSPad or even paste into a recent copy of Dreamweaver. Don't quote me on this, but I believe at version CS2 and above Dreamweaver started to automatically translate characters from content pasted out of Word. (It used to be even Dreamweaver didn't translate the characters correctly.) In either case again, then paste into your WordPress post window.
The ultimate solution when working remote, is to use an offline blogging software (The best I've found, ironically, is Microsoft's Live Writer) and synchronize posts later, or just get used to writing in a software without formatting and do all your formatting in WordPress. That's what you are doing anyway, right ;)?
Had any horror stories from mis-encoded characters beyond website validation? Leave a comment and tell us what and let others know how really really bad using Word for content can be.
Here are some similar arcade posts
If you enjoyed this post, please consider to leave a comment or subscribe to the feed and get future articles delivered to your feed reader.