The middle of week plans formed, and plans changed. This meant that all of a sudden a Pac-man and Space Invaders Deluxe would be making an appearance at the house. Didn't I just get rid of a Pac-man arcade game here in Indy? Sigh. The plan is though that these two won't be around for long.
Temporarily hosting a couple of classics
Or at least that is the plan. Should be less than a day, which is fine with me. I was looking forward to organizing and cleaning up my garage soon for some fun next weekend. I just sold my Pac-man and I just couldn't get into the Space Invaders Deluxe when I owned one, I had to sell it to Rich up in Illinois. My neighbors are going to have an even less of an idea what in the heck I'm doing…but it's starting to work. While chasing my dogs around one day, my neighbor said "Aren't you the guy with the pinball machines?". But I digress.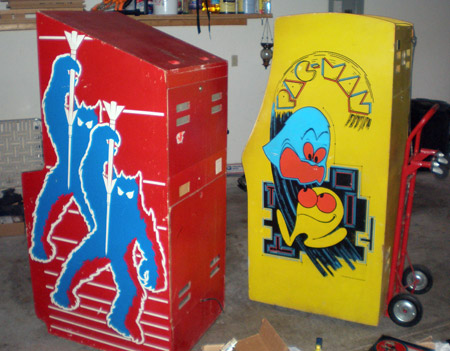 I guess the story is that these two games were purchased off of eBay up in Adrian area Michigan back around 2001, and have been in storage for about a year and a half. The condition of the artwork on the sides of the Pac-man is pretty solid. More tomorrow on these two and the Ms. Pac-man I'm sure.
Here are some similar arcade posts
If you enjoyed this post, please consider to leave a comment or subscribe to the feed and get future articles delivered to your feed reader.