I had been in touch with a gal here in Indianapolis (originally through this website) since May about this 1978 Stern Wild Fyre, but it wasn't until Thursday night that I realized they weren't in southern Greenwood but only two miles away. This weekend Chris was down for a visit and I had rented a trailer for him to bring down some games, so it was the perfect time to go and pick up this pinball.
Wild Fyre could use a touch of love
I guess the story was that this guy dropped off the Wild Fyre to the current owner's place saying he couldn't get it completely working. I noticed one pin that had some scorch, but in theory this pinball could fire right up. I haven't tried just yet, we took it easy and stayed in the air…it was roasting outside.
If you aren't familiar with this pinball, like me, it's a Roman Chariot / Fire themed pinball. There are parts of the illustrations that I like, and we even commented that the illustration style oozes of Stan Lee or Jack Kirby, but the color palette isn't really refined – the yellow and the oranges mixed with greens and blues really don't work for me.
The playfield is in really awesome condition, certainly the best part of the machine. There are just a couple of wear spots but you won't find any major sections with ball swirls, only minor wear that you'd have to really search to find in the photos. Click the playfield detail shot below to see a whole gallery of the Wild Fyre.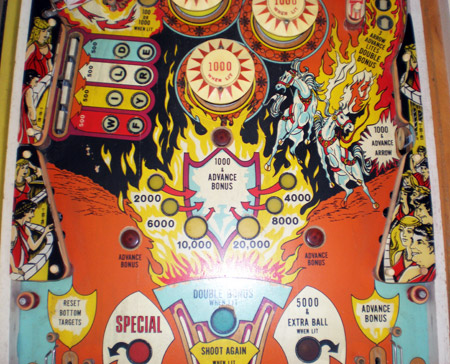 I don't plan to keep this, 1978 isn't an era of pinballs that interest me. I actually thought about keeping the Galaxy or Flight 2000 pinballs I picked up, at least the playfields had some challenging shots. Those machines had seen a larger volume of use, but the backglass on this game is certainly the worst part, you'll see in the photo album it's seen better days. But if someone found a solid backglass this might make a decent machine, the body has the typical wear….or maybe another collector will be interested in the playfield alone.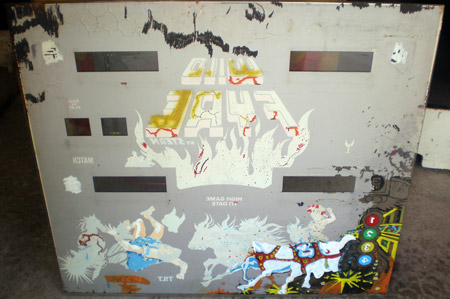 Drop me a line if you think you can restore this pin to a playable condition and are interested to purchase for an affordable price.
Here are some similar arcade posts
If you enjoyed this post, please consider to leave a comment or subscribe to the feed and get future articles delivered to your feed reader.