Posted last night a Pac-man and Space Invaders were delivered to the house. This morning everything went according to plan, a newer collector out of Cincinnati area Ohio came over and bought both of them and my Ms. Pac-man, barely fitting all three in the back of a F-150.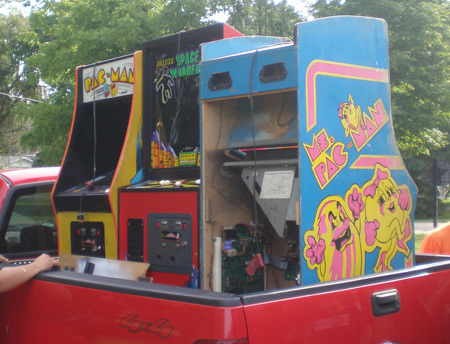 Three arcade classics in one small bulk purchase
This has been a deal that has been going on for a couple of months. I had the Space Invaders Deluxe and the Pac-man listed here in the for sale section as consignment pieces for a half a year or so. The Ms. Pac-man is that great Craigslist find that I got nearly two years ago. I won't rehash that whole story, other than it was a great deal, I was the first on the draw and I did some bartering to get the deal done. In the end, I re-stenciled the original Ms. Pac-man, but this one still looked great with a ton of original pink.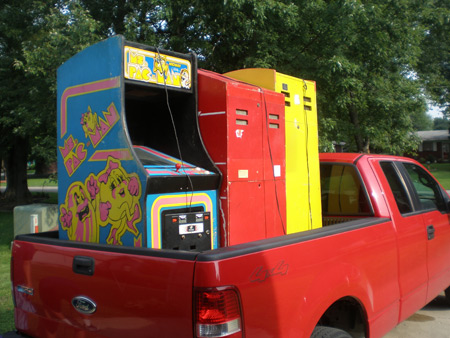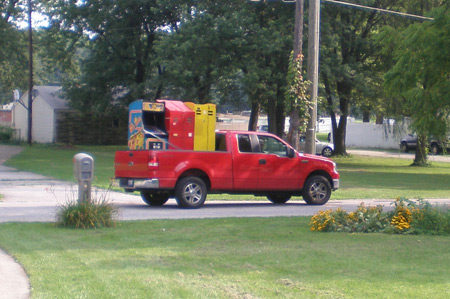 The sticking point was that the Ms. Pac-man wasn't doing anything when I tested it for the first time earlier in the year. It was probably just a fuse, but regardless, I had Bill in Chicago test the board thoroughly and make any necessary fixes to make sure it would run for awhile. A fresh install of all new fuses and Ms. Pac powered right up.
Kind of fun to sell off three games at once, it was definitely the biggest bulk sale I've made since my Tennessee bulk game buy where I landed my first Pengo. I was really glad we worked it out this weekend as well. This gives me the space to organize and shelf the parts from my small bulk arcade parts score, get some garage space back, do a monitor rebuild on the Mad Planets, and get ready for possibly three others cabinets being dropped off next weekend including the Tehkan Mr. Do!
If you want to contact me about trying to sell your arcade game or pinball machine, check out the details on my consignment page.
Here are some similar arcade posts
If you enjoyed this post, please consider to leave a comment or subscribe to the feed and get future articles delivered to your feed reader.