I finally got a break in trying to find out more information about these non original arcade cabinets with the weird artwork. I had said that my Mr. Do! does not have any paperwork, stamps, or any remnants of information that might give me a clue, but it turns out that Ladybug in St. Louis had a doozie of a clue – an official Licensor stamp.
Tehkan = Tecmo, and we all recognize that brand
Little did I know when I was poking fun at the arcade game Swimmer that I would be highly interested in the manufacturer later on. I had asked the seller to check the inside of the game, to see if there might be anything stapled or marked on the cabinet that might give me a clue. He sent back this photo showing this detailed pristine decal;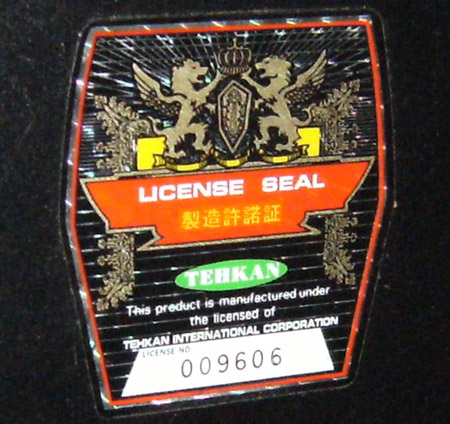 On the decal is written – "License Seal – Tehkan – This product is manufactured under the licensed of Tehkan International Corporation. License No 009606". I find it a little weird that the license stamp is on the inside of the cabinet, supporting the idea that when an operator put this game together, maybe he just decided to stick it on the inside. The seal probably served to indicate, in a time of heavy bootlegging on popular games, that this game was indeed an official copy and gave Tehkan some recognition. It would make more sense for it to be applied on the marquee or outside of the cabinet. This may be why I've not seen another decal on other games licensed by Tehkan to this point, they could have been picked off…or worse yet, if they came in the kits as a separate piece and were never applied by most operators.
Tehkan's history in the amusement industry
I poked around for some Tehkan history – you can't beat Wikipedia for almost accurate information ;). U.S. Tehkan, Inc. was formed in March 1981 and operated under that name until January of 1986, the exact timeframe when Mr. Do!, Ladybug, and other Universal games could have been licensed.
Tehkan was releasing games in Japan, including Pleiades, but surely saw a need to distribute Universal's games possibly in select regions of the US. I wouldn' think it would be possible that they were distributing these arcade games in Japan and so many made it back over stateside. I know I had written a post about an individual who had wrote into this blog stating that in the 80's he remembered a number of those Mr. Do!'s in the New York area. From what I've found these cabinets generally only pop up in select parts of the US – mostly the east coast, which is why I would think regional distribution might be most logical.
All of this information would support the idea that Tehkan must have been looking to ramp up its presence in the gaming industry globally. They created their own titles, licensed other popular ones (Universal) for coin-op, and even licensed games from Sun Electronics for console systems including "Arcadia 2001". Based on the known arcade licenses there is a possibility that Tehkan distributed games to Europe as well. Most of my searches bring up a number of mentions of licenses from Sun which it turns out that SE licensed at least a couple of games to Atari, including Arabian and Kangaroo.
As the renamed Tecmo they went on to be a recognized name in gaming creating properties like Ninja Gaiden, Tecmo Bowl and Dead or Alive. The (U.S. Tehkan, Inc.) office closed in 2006, and there was a merger as early as April of this year, so if I wanted to research more those strategic decisions will make it that much more difficult.
Please check your old Playmeter magazines
Or any other periodicals for the Coin-op industry from 1981-1986. Now that I know that more than likely Tehkan licensed these games, it should be easier to find some more information / ads about their exclusive Mr. Do! and an exact list of games they repackaged and sold. I would like to find out if they were selling cabs, conversion kits, or all of the above. I know I'll be emailing Dan at Arcadeflyers to start. If you find anything, drop me a line or leave a comment.
Update: July 2013 I now have photos from inside two different Ladybug machines, machines that have very similar painted illustrated artwork to the white Mr. Do!, that show Universal serial numbers. Check out this post on two different factory Mr. Do!s.
Here are some similar arcade posts
If you enjoyed this post, please consider to leave a comment or subscribe to the feed and get future articles delivered to your feed reader.