Finished up another piece of consulting web development work a week or two ago, another Squirrelcart e-commerce theme for a cool little niche online seller, Lampglass.nu – Replacement Glass Lamp Shades .
Matching an e-commerce store to an existing design
Makes my job all that much easier, usually 🙂 If the design is good, matching saves the customer money because it takes less time usually in the theme approval stage. In this case, Lampglass already had a simple, easy to navigate design and they needed to upgrade their Squirrelcart install and make a theme to match this website, keeping simplicity in mind. Not only does she have a fresh and easy to use shopping cart, but she can now take advantage of one of the best features of Squirrelcart 3.0 – Search engine optimized URLs.
Thank you to Tania for being patient, we scheduled design time and an upgrade during my last week of classes and the night of my last final! Plus I was out of town that weekend after, so it was a busy timeframe.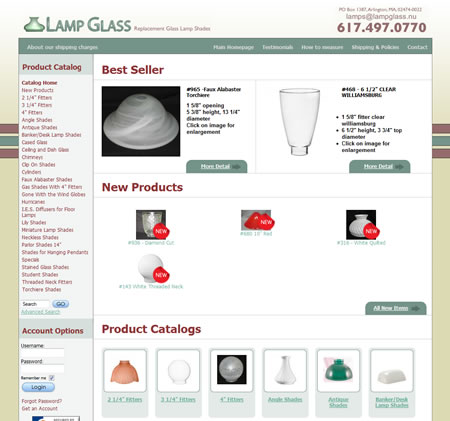 There are some styles of glass, from what I would term more 'simple items' like ceiling and dish glass ranging up to what I liked the most, the 'lily shades', this store has a wide range of tastes including what would appear to be period based glass.
Drop me a line if you need a custom theme designed for your e-commerce website, or specifically Squirrelcart. Check out two of my previous designs for these two websites – Connector Distributor Corporation | Game Stencils
Here are some similar arcade posts
If you enjoyed this post, please consider to leave a comment or subscribe to the feed and get future articles delivered to your feed reader.