The morning routine – Oatmeal, juice, email and then Craigslist. I sat down at about 7:30 yesterday and saw a listing for an 'old table game non working' that was posted the night prior just after 10pm. At the worst I figured it could be a Sega cocktail cabinet with those ugly metal legs. But, 'worst' ended up being a relative term.
Ready, Fire, AIM – Allied Leisure Cocktail
When dealing with Craigslist we all know that the focus is speed. If you are available, you can figure out the details later when it comes to a seemingly great deal.
My head was spinning about what this game could be. Here is the Craigslist ad;
OLD TABLE GAME NON WORKING , LIGHTS UP BUT I DO NOT KNOW SQUAT ABOUT IT. IT IS GOING OUT THE DOOR!!!
I thought, it would be at least a cocktail arcade game, hopefully a Midway Pac-man, maybe even as crazy as a Joust pinball. If the 'I do not know squat about it' line wasn't a tip off, then the fact that the seller in Anderson, IN didn't list his area code. I figured that would work to my advantage, as I looked it up, hoping that others would call the number and have little luck.
I've never been to Anderson, IN
Anderson, IN is about 50 minutes from my place, north of Indianapolis on 69. It's a haul for sure, to just go and look at something, and not a place someone from Indy would have just 'been'. If I was a Chicago collector, this probably would be considered a short trip.
As I spoke to the seller, I started to get an idea of the identity of the cocktail 'arcade' game. He said it was a card game (ok, conversion cocktail), with fake wood sides, didn't know which game but his son left it after college. It also has the plunger like a pinball…
So, it's a cocktail pinball machine. Still, very cool, I thought. But the key was that 'it is going out the door'.
When I got there right after 9am, the game was sitting in the driveway, covered in a rubber tarp, then cloth, then plastic. Pretty thorough all in all, but we had some rain last night and as soon as I got the game uncovered I could tell this was going to be a wash.
Allied Leisure Hearts and Spades Cocktail Pinball
This is what I found under the tarp. An Allied Leisure Hearts and Spades cocktail pinball machine.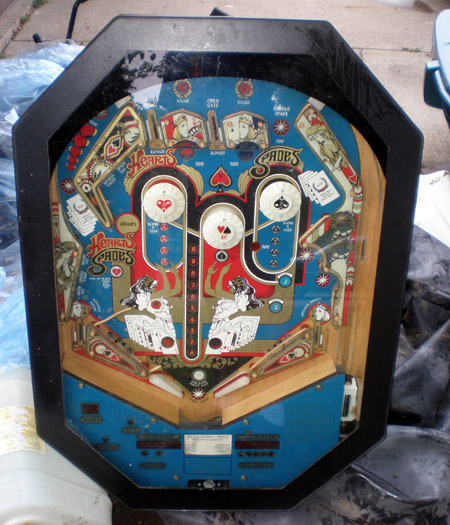 (Click photo to enter photo album)
I didn't know much about it, but I thought that cocktail pinballs were pretty rare. In this case, I didn't figure rare meant really valuable necessarily. But the playfield was adorned with this Art Noveau inspired illustration that I rather liked.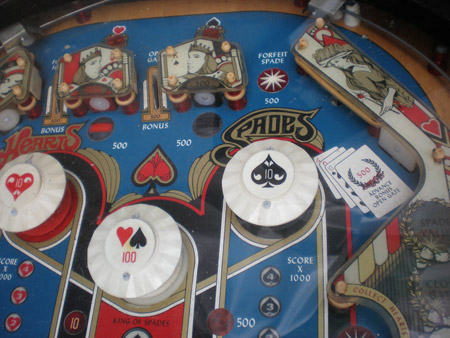 But the bottom of the cabinet was trash. It had soaked up a ton of water, and was severely buckled and falling apart.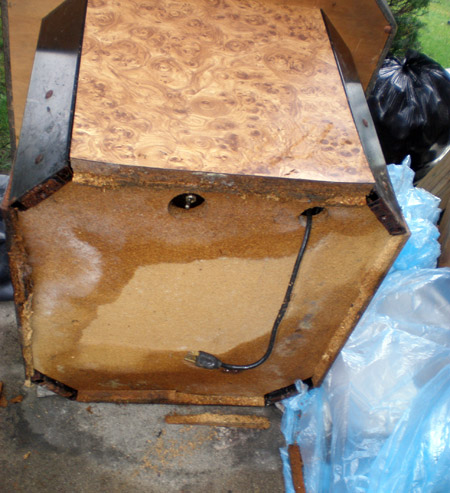 I spent the good part of an hour up there, calling people, trying to figure out a lot of stuff, including how to get the thing into two pieces if necessary. In my haste, I only had my sedan, praying that this pinball would fit.
In the end, I left it. The water damage was too great, and when I called the seller back he told me "I'd rather throw it away, than give it away". Yeeee haw! Darn tootin'. Damn green hippies. You know what they say about something you are looking to sell that is made of particle board – only the smart people set it in a puddle.
In the end, I left it. One heck of a ride to leave empty handed, but I wasn't feeling like I needed another project game to mess with / part out with no real idea of how much it would bring. Plus, the fact that I never did find the hinge to swing open the top didn't help.
Hearts and Spades still available to the Indianapolis crowd
As far as I know, the guy hasn't sold the game. He wants $35 for it, but it sounds like he is going to throw it out very soon unless someone pays that. I hope someone will save it from the trash at least. I covered it back up, but if he left it outside, it's now been outside in two nights of rain.
I believe his name is Ike, his phone is 765-635-5375, and they are at 210 Stoner road in Anderson IN. Good luck Indianapolis pinball / arcade collectors. Post back if you pick it up.
Here are some similar arcade posts
If you enjoyed this post, please consider to leave a comment or subscribe to the feed and get future articles delivered to your feed reader.