In August Chris stopped by and then left without taking his Burgertime DECO with him. Alright, I'll keep it, but not in that big ugly woodgrain cabinet. As luck would have it, I left Saturday morning 6:30 to pick up a worthy replacement that will help that Burgertime fit right into my collection.
DECO Manhattan as a conversion golf game
Burgertime is a pretty cool game, but to have a working multi-DECO using Dave Widel's kit would make the game worthwhile and earn it a spot in the gameroom. Here is a screenshot of some of the games the kit plays, I am looking forward to Ice Cream Factory and Bump n' Jump in particular;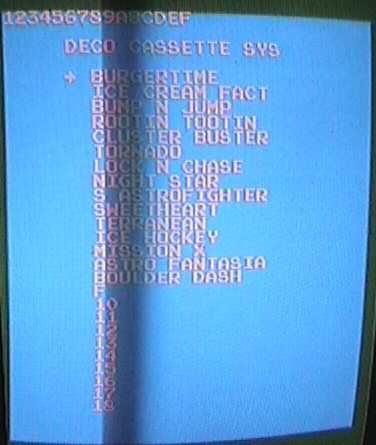 But not worthwhile in that default DECO woodgrain cabinet. I saw this as an opportunity and started to get excited about making a custom artwork package top to bottom. I did my research on other DECO cabinets and found that there was a couple pieces of generic sideart used, and there were also one or two other cabinets designs that actually had color.
There were a number of lesser known DECO games that were released the same time as Burgertime (1980-1983) that had pretty awesome fully cabinet artwork. Astro Fighter and Mole Hunter had full artwork packages specific to the game, and then there were degrees of non descrip cabinets. The really colorful, patterned Tomahawk 777, and the more simple pattern used on a game called Manhattan. Here are a couple of those flyers;
Flyers via
Arcadeflyers.com
I've only seen a couple of brown Burgertime DECO cabinets in 4 years, and it wasn't until recently that I saw a Burgertime inside the Manhattan cabinet. I would never have even thought to investigate further, until someone turned me onto that Tomahawk design on the BYOAC forums, and Mr. Bill in California sent me a washed out photo showing a Burgertime he owned;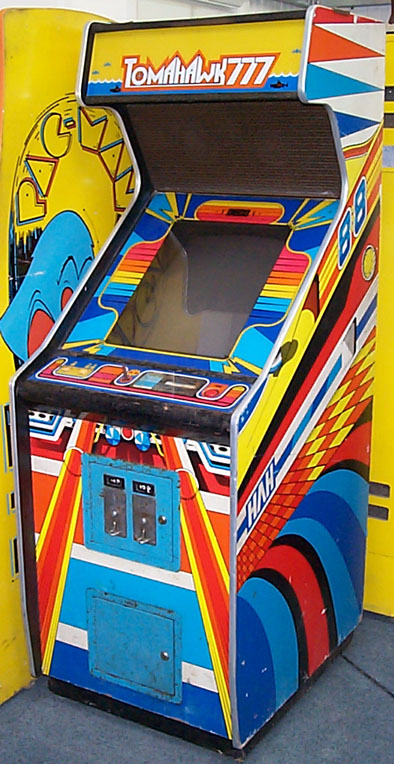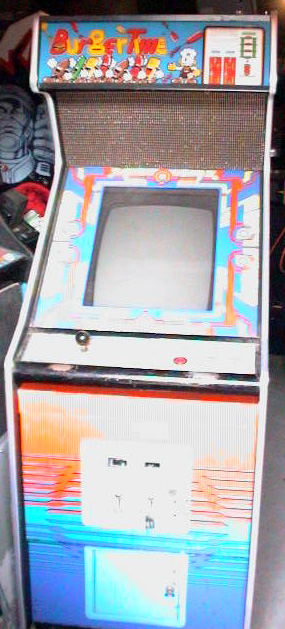 This design in particular is stunning. I also thought the design for the more generic blue / orange cabinet was really awesome and simple, and could have been more signature like the Taito or Stern cabinets had they had the Data East logo on the side. I figured for sure my artwork would have a nod to this piece.
No custom DECO artwork design needed
The last week of August I was on Craigslist, surprise, and there was a conversion golf game listed in Ashland OH for $130. I actually have no idea why I clicked the ad, I normally don't for a conversion, and Ashland is about 40 minutes south (max) of Cleveland OH. I was shocked at what I saw. There was this conversion golf game, in that Manhattan DECO cabinet that I would never have even known without the poking around I did the week prior.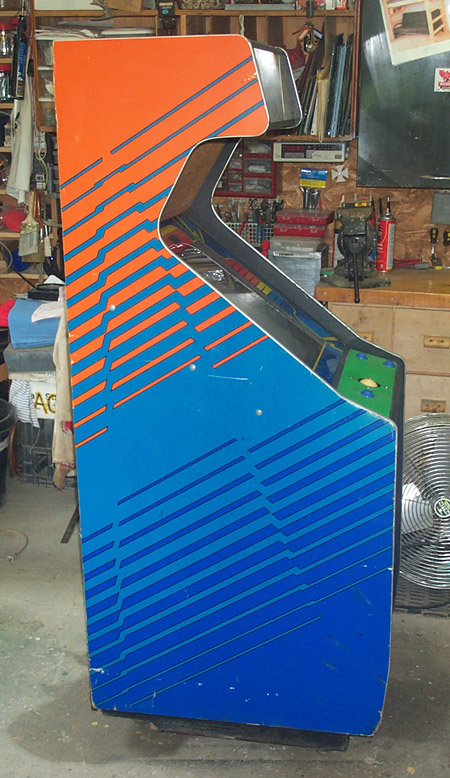 I called the guy selling it immediately. He said he'd sell it to me for $105, but for me to travel nearly 9 hours round trip for this thing, I was talking about potentially a $175+ into just a cabinet.
I gave Greg a call over by Columbus to see if he could help me out and go pick it up, and maybe meet me halfway. He said that was no problem, so I got back with the seller. I told him he could keep the harness, marquee, game board and power supply if needed. I just wanted the cabinet and control panel, and would like the monitor if possible and gave him my price. He said ok. Awesome.
The arcade swap just east of Dayton
I met Greg and brought him something of value, and we made the swap around 9 am Saturday morning right by Springfield Ohio. I got to also meet Kyle Snyder, who writes for Gameroom Magazine and come to find out, has written for a couple of other gaming magazines in the past. He also has a crazy database of arcade conversions. An unusual passion that I would like to browse if I'm ever in the area.
Thanks to Greg for helping me out with the swap and picking up the game. Already the Burgertime pops that much more, and I think I'm going to even use the more generic DECO bezel because it more closely matches the color scheme.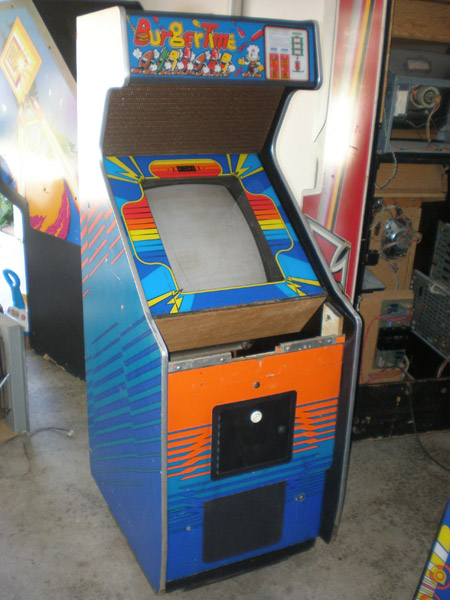 Check out my progress on getting this multi DECO up and running on Coinopspace.
What is your favorite DECO cabinet design? Leave a note and why.
Here are some similar arcade posts
If you enjoyed this post, please consider to leave a comment or subscribe to the feed and get future articles delivered to your feed reader.