After a 10 day wait that saved me $5, my replacement interlock switch arrived at Meunier last Friday. I was glad I got off early to go pick it up, because when I popped it in my Hyperball worked just fine.
A simple circuit was the problem
About two weeks ago I had noticed that the housing for my interlock switch was broken. It was like one of the tabs had busted and the original owner had tried to rip off the remains and took the back corner of the casing with it. Such a strange break with a corner chunk missing, and I removed all loose objects when I brought the Hyperball home. I cut the soldered wires, made some quick disconnects and taped the old one down while I wait the 10 days for the new switch to arrive.
In the meantime, I ran through some tests with Bill K. on the phone, checking out different voltages on the driver board and everything kept showing up fine. I was starting to go through the switch matrix tests on the Marvin3m website for testing System 7 Williams games, but I was getting stuck. Unplugging 2j2 and 2j3 was showing circuits 20-28 were open in test mode. This made sense since there were 8 pins, but my four right pins were giving me a reading of .11-.22, instead of just over 4 VDC (which Bill said is an ok reading).
Hyperball is tenatively in working condition
I played the heck out of it on Saturday after I got back from seeing District 9. Another Jeff and I worked through the settings, setting the game to freeplay and changing the other settings to an easier mode like was recommended on this Hyperball fan website. I did some cursory cleaning on the control panel and we figured out a simple problem with the balls getting stuck in hole 29. (Wiring mesh was blocking the holes, needed to be pushed back into the cabinet)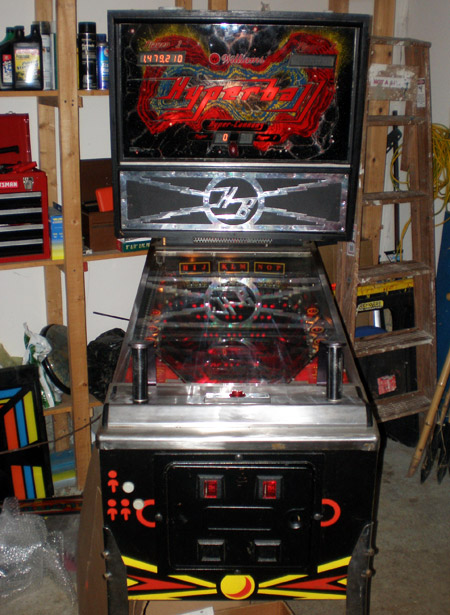 I am holding my breath, thinking the problem surely couldn't have been that easy, the interlock switch from Meunier here in Indianapolis was only $4. Bill said the boards I gave him to test were some of the nicest he's ever seen, very clean. In the least, at least I got an upgrade to Jess Askey's V.6 Hyperball roms to rule out any issues with previous revisions.
But now I am having regular issue with the cannon not recoiling. It's like the spring is getting stuck in the mashed position. I've tried taking it out and stretching it out, and I've scrubbed down the cannon shaft two-three times with a brillo pad, but I'm still having issue. Tonight will be a more in depth dis-assembly to see what I can figure out.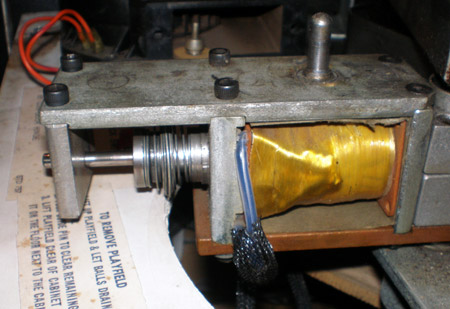 Would like to get the cannon fixed and purchase some bulbs in time for a party at my place on the 12th of Sept. If you are in the area and want to play some Hyperball, let me know.
Update – 9.4.09 After I took the cannon all apart and got at the solenoid I found quite a bit of built up dust / grime. I scrubbed the inside and out of the plastic shaft where the cannon feeds with mineral spirits, and I scrubbed down the cannon again with a magic eraser. I also cleaned off the outside of the solenoids and the cast metal framework, but I don't think that made much difference.
As of right now, the cannon is no longer sticking, so a good strong cleaned seemed to have solved the problems. Bulbs ordered from PinballLife, can't wait to be done with this baby.
Here are some similar arcade posts
If you enjoyed this post, please consider to leave a comment or subscribe to the feed and get future articles delivered to your feed reader.