That was the question posed in 2004 by a collector. He claimed to own a factory dedicated Mr. Do Run Run, up to that point everyone assumed that Run Run only came as a kit. Fast forward to today, and someone else is claiming they have a non conversion Mr. Do Run Run, and this time there are photos.
Universal's CEO "SNK made dedicated Do! Run Run's"
This week I got to meet Jason S. (Shacklefurd – You know him as the guy who hauled two Computer Space's out of a rather precarious barn last year) and we got to chatting a bit about Universal. Jason is passionate about research and arcade history, and there was a time when he was doing a lot of research about concerning Universal Games and tracked down the former Universal CEO. This is a snippet of one of the email responses;
Dear Jason,

I was the CEO at Universal USA from 1980 to 1983. The parent company, Universal Co., Ltd., no longer uses that name and is now known as Aruze Corp. It is still based…..

Recently, Aruze briefly purchased the assets and intellectual property rights of SNK Corp. However, Mr. Kawasaki of SNK managed to get the rights back and now operates under the name of Playmore Corp. in Japan. There is a U.S. office in California under the name SNK NEO GEO USA. By the way, I was also the president of SNK Corporation of America from 1986 to 1992.

I believe that Universal shut its Santa Clara office in the late eighties. I'm sure they sold off their game inventory to their distributors before closing. I suppose the only remaining Universal games…..
I mentioned I had seen a recent thread on an alleged 'factory original' Mr. Do! Run Run. Jason pointed me to several old threads on Klov where factory Do! Run Runs had previously been discussed, partly fueled by the information from Universal's CEO. The theory is that both Mr. Do's Wild Ride and Run Run were produced in a limited number as factory original dedicated machines using SNK cabinets.
Here are some photos of the machine that is alleged to be a factory Mr. Do Run Run: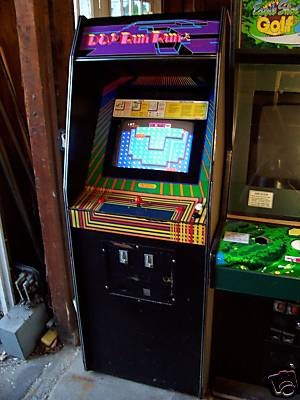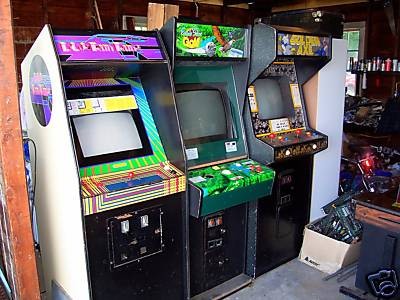 A little bit of history on this game – Some time before 2004, Noice had picked up a Mr. Do Run Run off eBay located in Texas. In Jan. of 2004, Noice sold the Do Run Run to TBBK and delivered it to the St. Louis Super Auction. Later in 2004, TBBK traded the Do Run Run to another gentleman in Missouri for a Space Wars.
I question the Do! Run Run authenticity
To begin, I think Jason and I both agree that the control panel in the photos isn't original. The conversion kit included a Do Run Run overlay that has a purple / blue color palette (something like the photo below), so I think its reasonable to assume this 'Fruit Stripe Gum' overlay on the machine above would not have come from the factory.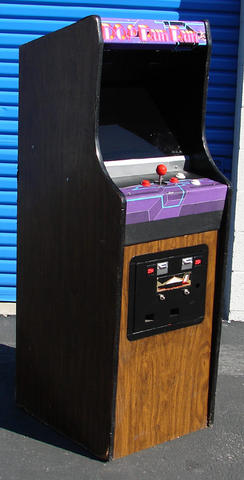 I also question whether this machine is authentic or not, mostly because of that control panel, but also because of the instruction sticker placement. Granted the monitor probably needs to be mounted lower, but the extra space around the generic Universal bezel and then the sticker slapped on there? But Jason saw these photos and said that this looks just like the one he saw, only a different control panel. Peculiar.
Got any other Mr. Do Run Run! dedicated photos?
I'd like to see them / add them to this thread. If this factory cabinet is for real, it certainly leaves something to be desired. But then again, the Universal games that did not have fully illustrated artwork were crazy simple in design.
I think that a full size 3D set of artwork in that blue and purple palette would look awesome, a little bit of a nod to Major Havoc. If I owned this cabinet, I would definitely add custom artwork, would you? Would a full purple cabinet be too much?
Update – September 2009 It would appear as though the control panel used on this Mr. Do Run Run! is the same one used on the Marvin's Maze conversion on KLOV. Until I hear differently, I am going to assume that the Marvin's Maze was either bought as a complete conversion, or there was a rare conversion kit used.
Also…found a photo of an SNK cabinet that looks a lot like the Mr. Do Run Run! cabinet above, same front angle slant, same back angle, and same looking coin door – It was Vanguard II, check out the flyer;
Image via
Arcadeflyers.com
Update – December 2013
The 'factory dedicated' Mr. Do! Run Run has changed hands again. After one owner for nearly 10 years, Lanky Kong purchased the game mid November. If this is the same machine from the photos above, somewhere along the way a true Do! Run Run overlay was applied to the control panel. Here are the photos: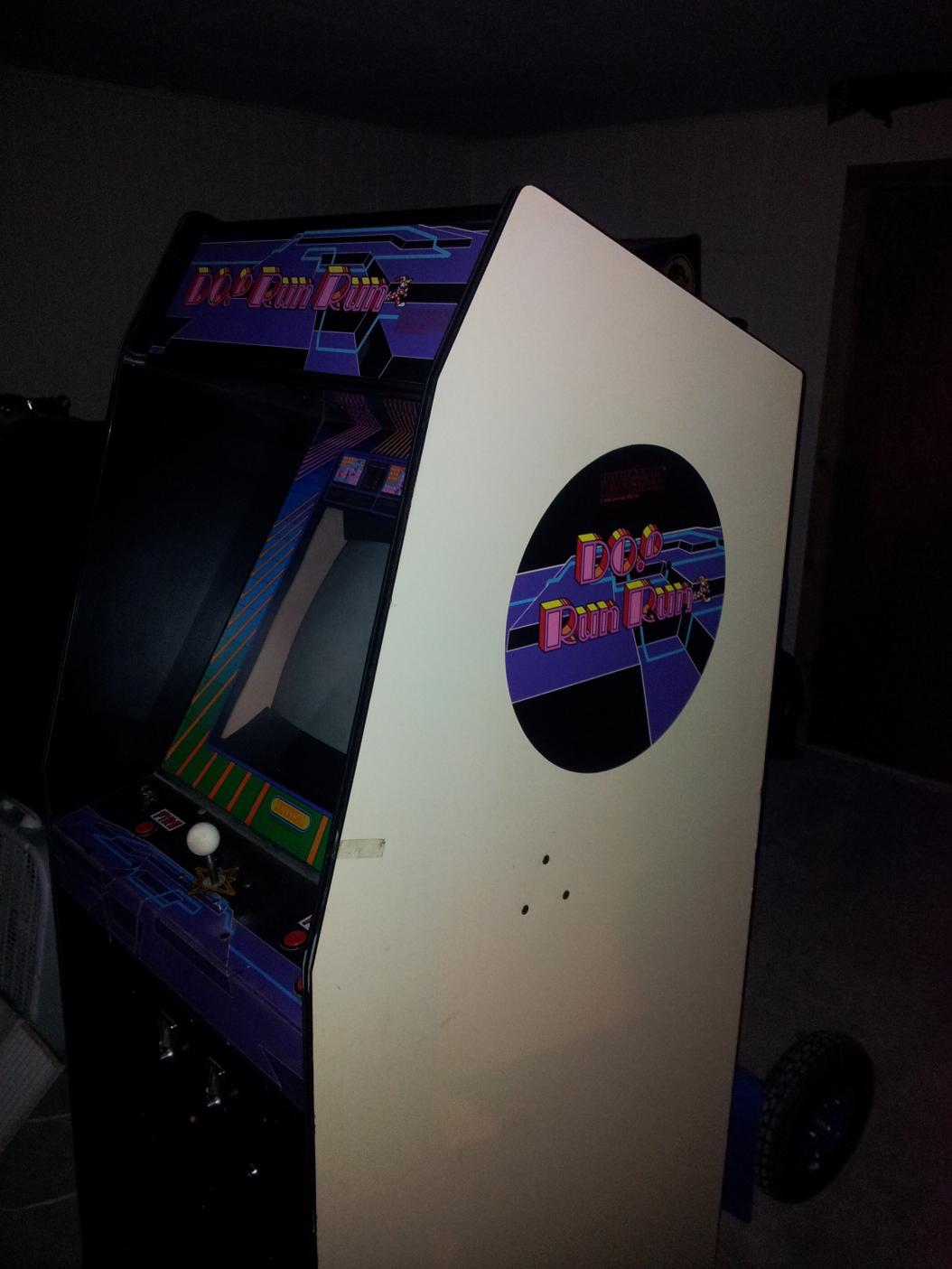 This is a great piece – TBBK knows of another example of the same machine that exists today.
Update – January 2014
Here are some additional photos of the Mr. Do! Run Run from when it was owned by TBBK.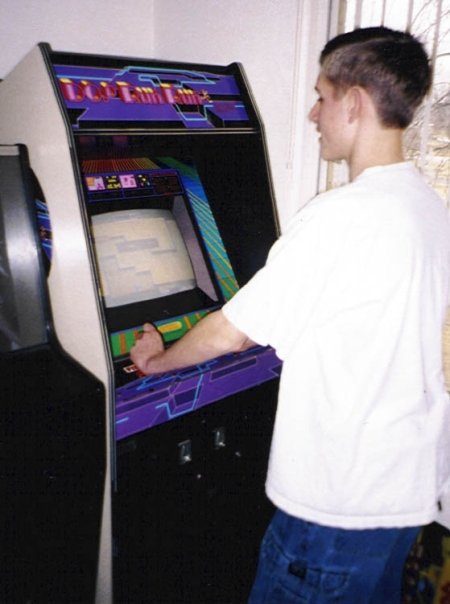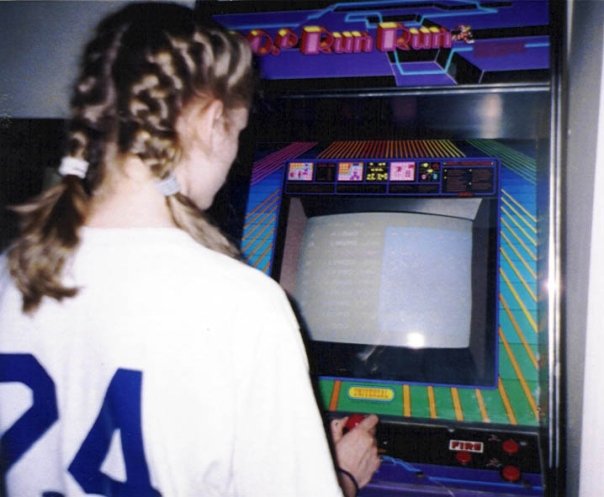 Here are some similar arcade posts
If you enjoyed this post, please consider to leave a comment or subscribe to the feed and get future articles delivered to your feed reader.