It has been an interesting month, life will throw some curves. Occasionally I still can work on arcade artwork, and I did get the chance in the last week to quickly crank out the control panel overlay artwork for a Red Baron upright.
Simple straightforward Red Baron cabinet artwork
The control panel artwork for Red Baron I am sure still exists in film with Scott Evans, (Or Archer has probably vectored it) but for this application tracing was just as efficient. To return a favor, I am going to be taking the original artwork, copying it, and making a new custom sized overlay for a cabaret Red Baron. Pretty simple job, most of the art consisted of straight lines – the most time consuming part always being the text matching / spacing and the little enemy icons in the point breakdown. Got the initial measurements this week – 18.75″ x 8.5″, which means with a generous 1/4″ black bleed the dimensions come out to 19.25″ x 9″.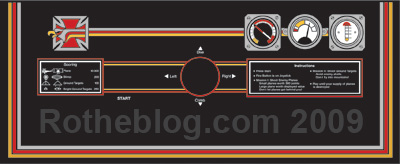 There may not be a lot of shifting of the actual artwork, right now it looks like the major adjustment needed will be to accommodate the flightstick.
Previously scanned Red Baron artwork
The Arcade Graphix library has other Red Baron artwork, including an overlay, but it isn't the same one as the upright – most logical guess it is for the cockpit. The spelling there is with two 'rr's, so there may be other pieces I missed?
I didn't see the bezel artwork in the library either, so makes me wonder if that has ever been scanned. Don't plan on searching to see, it would just as time consuming to scan it all as to spend a couple hours looking.
Atari never made a cabaret Red Baron (despite what was hinted at in the UR manual), but now with the sideart and control panel overlay scanned, I could help make someone a pretty awesome looking custom piece.
Here are some similar arcade posts
If you enjoyed this post, please consider to leave a comment or subscribe to the feed and get future articles delivered to your feed reader.