Over the weekend I was in my hometown in Michigan for my nephew's first birthday. The deals lately on Craigslist have been stupid crazy, so I actually have not been following other neighboring states as much – for good reason. But it just so happened there was a Super Pac-man for $75 in Muskegon the weekend I was home! Wow, talk about timing.
Cheap Super Pac-man right in my price range
Always loved the Super Pac-man cabinet shape, and big fan of the Pac series like most people – I have the Ms. Pac-man and Jr. Pac-man in my collection. I've gone back and forth about eventually owning one, but its always about space. It would probably be better to just get the game on a multi-game type board, 48 in 1 or something. I don't 'love' the gameplay that much. But a Super Pac-man just 25 minutes north of me in Grand Haven for $75 seemed like destiny. Here is the text / ad.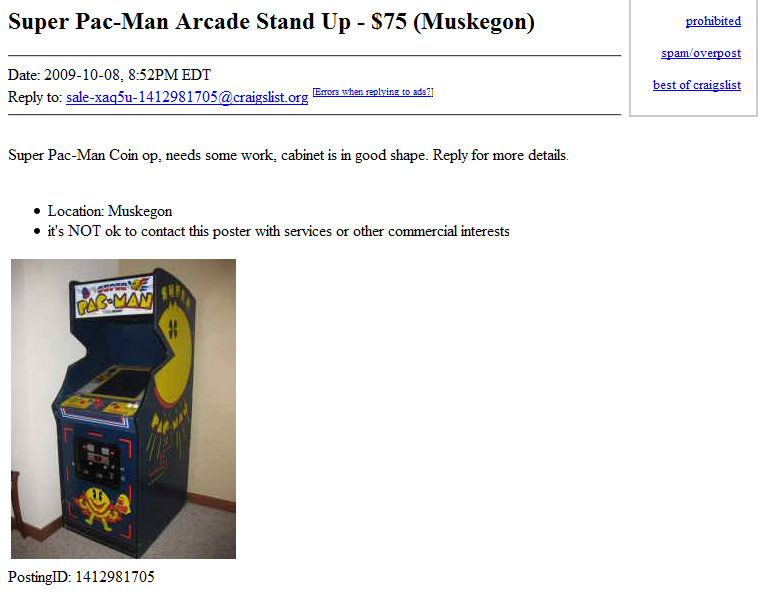 Super Pac-Man Coin op, needs some work, cabinet is in good shape. Reply for more details.
It was posted the previous Thursday, so I figured for that price it was probably gone, even if 'needs some work' meant 'currently not working'. There is one well established collector in Muskegon that comes to mind immediately, at the least maybe he would have grabbed it and flipped it.
I kept checking email, not sure what I'd do with it, but curious if it was still available. Time was my answer, never heard back before we headed home, and still haven't. So if you got the $75 Super Pac-man in Muskegon, drop me a line. Maybe someday I'll be able to trade for it. Thanks again Shane for the heads up.
Which arcade have you resold in favor of a Multicade?
What is your favorite game that you have owned that you ended up reselling because you ended up getting a space saving Multicade cabinet / 48 in 1? I know Chris had both a Mappy and a Pooyan that he sold / traded for these reasons. I'd be curious to hear yours. Pooyan is a good one, pretty hard to come by and super fun game.
Here are some similar arcade posts
If you enjoyed this post, please consider to leave a comment or subscribe to the feed and get future articles delivered to your feed reader.