It is a given, when you see a converted Mappy / Jr. Pac-man, the header is sawed off. I don't know why, but I just love these cabinets because they are so distinct, so I can't help but share when I find a new one. This time, Chris sent me this Craigslist ad for a Mortal 'Combat' 🙂 Mappy conversion for only $350 LOL.
From a mouse thief to fatality
I'll just share the ad and note that in this market, I wouldn't value this conversion at over $200 that is for sure. Monitor looks nice, that is one of the largest pluses. Here is the text / title from the Craigslist ad in Romeoville, IL (Southwest Chicago)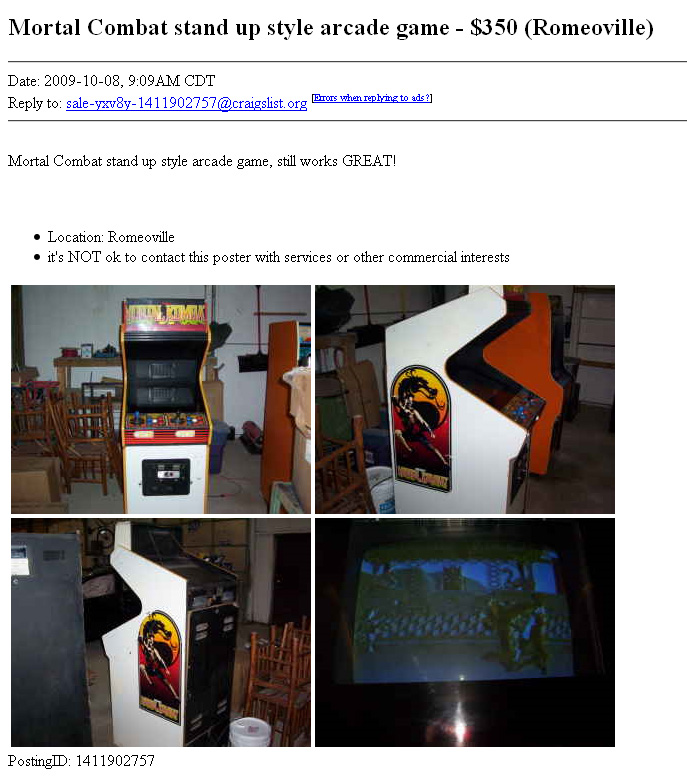 Mortal Combat stand up style arcade game – $350 (Romeoville)

Mortal Combat stand up style arcade game, still works GREAT!
Best Mappy Conversion?
I have now seen a Mappy converted to a Kicker, a Capcom Bowling, and now a Mortal Kombat. (If you need a new top box for your Mappy cabinet, get in touch with Brian J., he's fabricating a small run.) I'm sure there are a ton more collectively other arcade guys have seen over the years, seems like I've seen a few in grainy auction photos that I can't recall at the moment.
All the conversions I've seen have been half baked. Some rectangular artwork slapped on the cabinet side. Got any photos, or just a story, of one of the best conversions for this cabinet you've seen? Ever seen a 'classic' game as a kit installed? Maybe another Pac-man like Ms. Pac-man?
Here are some similar arcade posts
If you enjoyed this post, please consider to leave a comment or subscribe to the feed and get future articles delivered to your feed reader.