Long story short, a Burgertime DECO dropped into my lap. The aluminum control panel overlay was beat to crap, so when another DECO cabinet popped up with a slightly better overlay I was lucky to work out a deal for that overlay in exchange for some custom design work.
Matching the DECO CPO to the Bezel
The aluminum control panel overlay for BT DECO 'matches' the bezel, in that the color scheme, but it is less abstract with its grid based artwork with some stripes and radius' thrown in.
Brian S. also picked up one of those hideous woodgrain Burgertime DECO's that are most common and his plans were to turn it into a 48-1. I thought he might not need the original overlay, and indeed the thought crossed his mind to strip the original artwork to configure the buttons to match new artwork. How he's print it, I didn't know.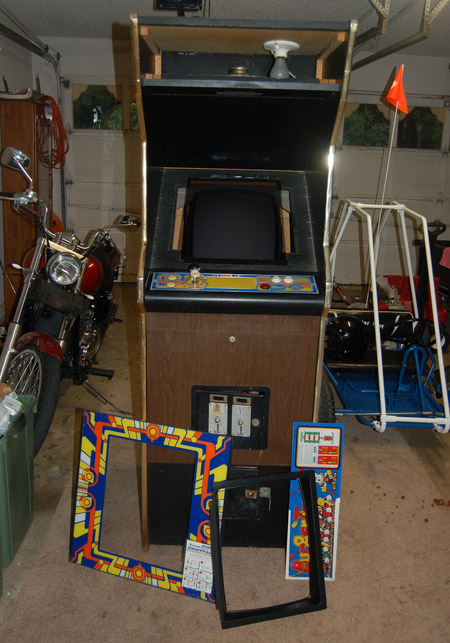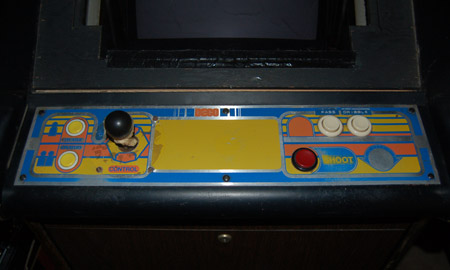 I offered to design him a custom overlay using the original dimensions and button placement that would more closely match the artwork on the Burgertime Bezel. I scanned in the lower portion of the bezel, traced the artwork to make vectors in Illustrator, and then just started to adjust. Here is a small image of that design.

You can see the mirrored alternating colored circle at the apex, and then I mimicked the curved yellow lines and used the orange to outline the button holes. Its a busy pattern like the bezel, and it may not be to everyone's tastes, but it does more closely match the abstract bezel and allow Brian to choose his own button placement when he has it printed.
Thanks Brian for helping save the original overlay and making the trade. I'll look forward to see the final game, working, with the overlay affixed. Here is how my Blue / Orange DECO looks with his overlay and my repainted control panel. I need some more buttons 😉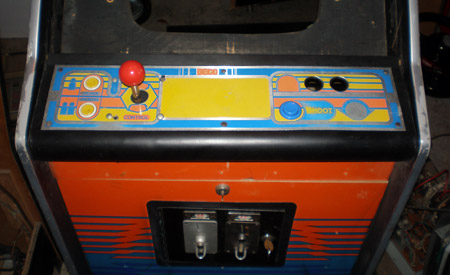 If you need custom arcade / Mame artwork designed drop me a line.
Here are some similar arcade posts
If you enjoyed this post, please consider to leave a comment or subscribe to the feed and get future articles delivered to your feed reader.