For many collectors, this amazing photo album is nothing new, but when I first saw this look inside GCC in September I was blown away. For those of you don't know the history, GCC (General Computing Corp) developed Quantum and Food Fight for Atari as part of a lawsuit back in the 80's. They had quite the knack for making games including Ms. Pac-man. Check this out.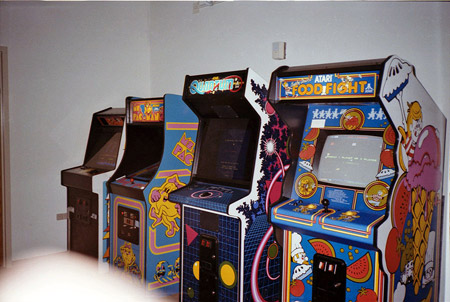 Quantum and Food Fight in the lobby
The GCC photo album has been around for awhile or at least it seems. Steven H. out in California had posted a comment about the Quantum and Food Fight in the lobby way back in 2004. Steven Szymanski is the ower of the album I believe, kind of a pre-Facebook way for the large group of former GCC employees to re-connect. Click the photo below to check out the album.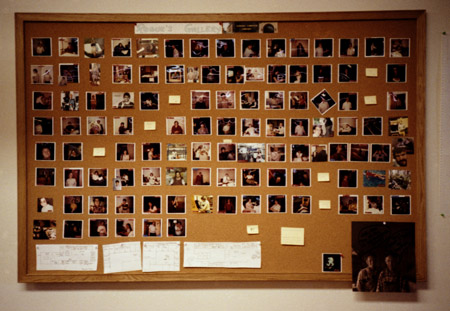 But who is General Computer Corporation you ask?
Well, I already talked a bit about Quantum and Food Fight…let's just quote the GCC Printers website directly;
GCC was founded in 1981 during the onset of the video game craze. C.E.O. Kevin Curran and MIT classmates Doug Macrae, John Tylko, Chris Rode, Steve Golson and Mike Horowitz began by developing an enhancement for Atari's "Missile Command" and went on to create "Ms. Pac Man", still one of the top-selling coin-operated video games in history. Between 1982 and 1984, GCC developed a total of 58 consumer electronics products that generated over $800 million in revenue for Atari and Bally Manufacturing.
GCC had their hands in so many games as they said, I believe they developed Jr. Pac-man for Bally Midway as well. Many of the photos show less of the games and more about the culture of GCC. I know I really enjoying seeing the photos from inside the classic Athenaeum building with the signature fire pole where they held meetings and even held photo shoots for their recruitment brochures.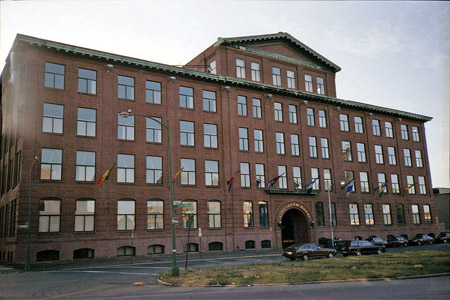 Flip through the album, there are a ton of names (first initial for last names) – Including photos of Doug Macrae and Kevin Curran founders of GCC (Doug M, Kevin C). There are photos showing the architecture of the building and some cool photos from CES in Las Vegas. GCC did a ton of porting, all from scratch it sounds like (no source code supplied), to other gaming and computer systems. Dig Dug is in one of the photos in that recruitment brochure.
Visit the old GCC Building
The old Athenaeum is located in Cambridge MA, at 215 First Street. It sounds like GCC Printers is now in Bedford, MA, but it might be fun to drive by the old building and snap a photo or two. I only know of one collector in Cambridge, Mark S. If you are in the area, send me the shot, I'd love to see it.
Oh, and GCC will make headlines this summer as Nightmare, their unreleased prototype game, should make an appearance at California Extreme in 2010! If you were a former GCC employee and want to add some insight (although there are a ton of comments in that album) please feel free.
Here are some similar arcade posts
If you enjoyed this post, please consider to leave a comment or subscribe to the feed and get future articles delivered to your feed reader.