Back in July I got to talking with Rich S. about re-stenciling his Ms. Pac-man. I got the painting finished just in time, on our last warm day last Sunday and Rich came to pick it back up today. Click in to see the final product.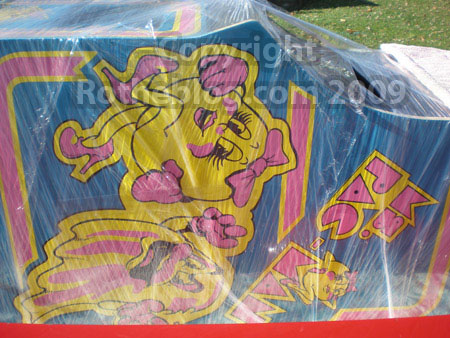 Stencils for Ms. Pac-man, yeah, still a lot of work
I never would have guessed that two years in a row, at the exact same time, I would be sanding down and repainting the artwork for a Ms. Pac-man arcade game. Chris paid a visit in August with a trailer load of arcade games which saved Rich a trip and time in bringing the cabinet down himself.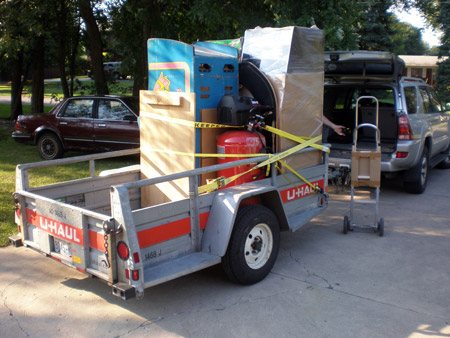 But by then it was late in my three week hiatus from my MBA program which threw off timing and my start time. Fortunately, just like last year, we had some unseasonably warm weather late in October and in early November that allowed me to do each color stencil of the Ms. Pac and actually finish the cabinet.
Things I learned in this stencil job
If you attempt your first stencil job, you will more than likely talk with Brian Jones over at Gamestencils.com. He will emphasize cabinet prep over and over, and I learned first hand how important that was on my Ms. Pac-man. By the end, my cabinet last fall had the dreaded orange peel texture and my pink and black stencils weren't adhering to the cabinet. Hence, I had a good amount of over spray. This time, I was crazy about the surface prep, and it helped.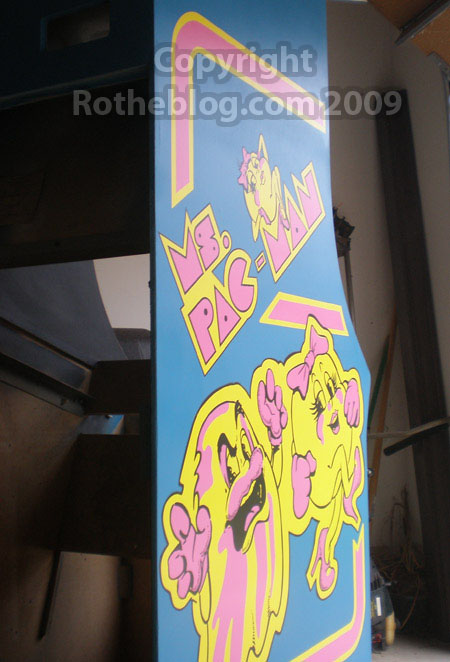 This time around I tried to apply paint to each side of the cabinet one at a time, directly in the sun to see if I could prevent the yellow paint from sticking to the vinyl. But in the end I still ended up cutting it away. So, if I do another Ms. Pac, I'll be definitely laying down a coat of primer first on the yellow to see if that helps the coverage.
Other than that, I would say the earlier in summer the better. I don't think earlier summer you have to deal with asian beetles screwing up the paint job and the hotter temps make for obviously faster drying times, although…miserable working conditions I imagine.
This one turned out better than mine (inside the cabinet still dusty before I wiped it down);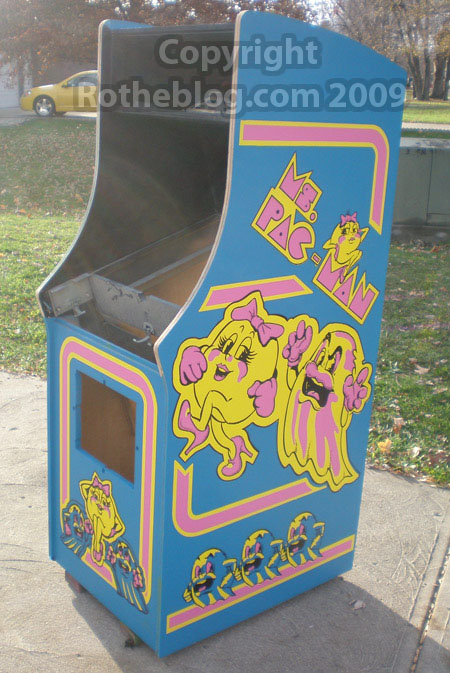 Links to Ms. Pac-man tutorial / thread
I still haven't finished my in depth tutorial on how to stencil your own Ms. Pac-man, I'm on part 8. But if you think you might try, start out on Stenciling a Ms. Pac-man part 1. If you want to contract me to stencil / restore your Ms. Pac-man in 2010, drop me a line. The supplies aren't cheap (stencils can cost $200-$250), but it sure is worth it.
Otherwise, if you are a brave soul and want to jump right in, just visit the Coinopspace thread showing the photo process of this second Ms. Pac-man stencil. Like my tutorial, I will breakdown the time and costs involved again so that you are fully prepared for the task. Thanks to Rich, it was fun. I'm glad it got finished;), and I have a new game to boot! More tomorrow.
Here are some similar arcade posts
If you enjoyed this post, please consider to leave a comment or subscribe to the feed and get future articles delivered to your feed reader.