After about three plus weeks of scheduling, mostly from my end, tonight I headed down to Bloomington Indiana and picked up a Tron arcade game from the middle of no where that had been in a garage for the last 14 years.
Tron has landed in Indianapolis
I'm going to keep this post short, it is late. I had a travel buddy tonight, and I think he said it best when he said 'deer, dogs and pumpkins – deer, dogs, and pumpkins!'. We saw some interesting parts of Bloomington Indiana tonight, that would have been treacherous even driving during the day. Let's see, 5 deer eyeing the side of the truck, one dog chased the truck, and one pumpkin tried to bite the truck. We were destined to hit something.
I grabbed this Tron because it was a good, low cost deal. It is complete, but from what the owner said, not working. Currently a power supply issue, blowing a fuse.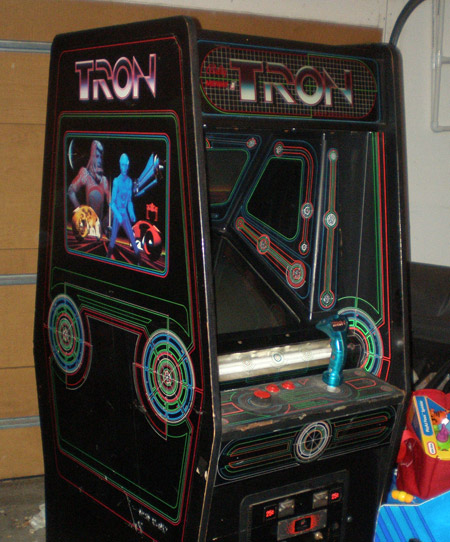 I don't have any intention of keeping the Tron, it isn't a game that interests me. I'm still looking for a Sinistar in the Indiana, Michigan, Illinois, Ohio, Kentucky area…or even one more state over bordering those. If you are looking for a Tron arcade game, drop me a line, maybe we can work a deal.
I also picked up an empty Pit Fighter cabinet. Hoping to have something more to talk about concerning that tomorrow….
Update: Late Dec. 2009 At the time that I got this Tron arcade game south of Indianapolis, I had a trade lined up for a Sinistar. However, it involved me driving north of Chicago to make the trade and I was looking for another option closer to home.
I didn't find that option, and in early Dec. 2009 I traded this Tron machine for a Sinistar. I no longer have it. But if you have a Sinistar for sale in the states mentioned above do drop me a line.
Here are some similar arcade posts
If you enjoyed this post, please consider to leave a comment or subscribe to the feed and get future articles delivered to your feed reader.