Couple of weeks ago already was Pinball Expo 2009. I wasn't going to go even though I had fun at Expo 2008, but I got a friend interested so we headed up. I know the group I went with left with a feeling as if this show wasn't as good as last year. But there were a couple of pins there that I hadn't seen before and without doing a ton of research, I know you wouldn't see every day.
Aaron Spelling, Star Wars Empire Strikes Back and Caddy Shack
The show was a bit of a feeding ground for sickness. Right at the beginning of all of this pandemic with swine flu, I was already sick when we headed up. Not getting to bed until 3am that night surely didn't help….but I don't think that is why I felt this show wasn't as good. I don't have a good reason why either. But here are a couple of photos I took while there. If you want, check out this more comprehensive set of photos of Pinball Expo 2009v, posted in a more timely manner on Oct. 14.
Q*Bert's Quest
I did some reading in the weeks before the show about Q*Bert's Quest. Consensus seemed to be that this pinball is worth several hundred dollars (price guide aside), and really is only interesting to a select set of collectors, probably some crossovers. The gameplay was apparently boring and easy.
After playing it, I can't say I disagree. I was bored awfully quick. But it is a cool looking machine as a fan of Q*Bert. The backglass on this one was in good condition, the playfield had some wear.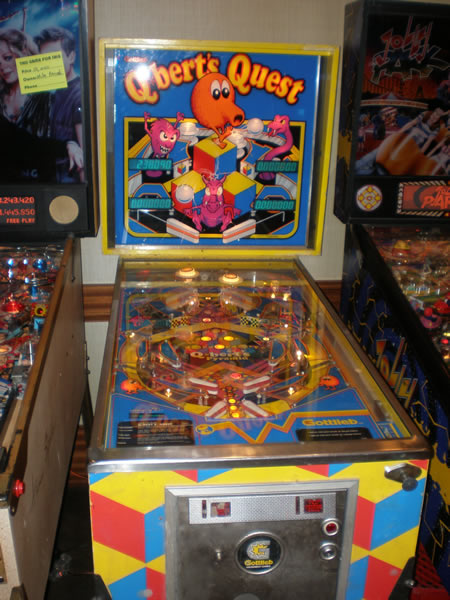 Aaron Spelling
When we did a live chat with Data East's John Carpenter a few months ago, I had done research on his pinball credits. The Aaron Spelling pin was one where there wasn't a photo on IPDB. Apparently, since then photos were approved. There are two total Aaron Spelling pinballs confirmed according to IPDB. I don't follow RGP on a regular basis, I am sure the pin heads know who owns this one…maybe Mike Pacak. I dont' know whether the one Aaron Spelling had made it back into collecting circulation now that he has passed. If another knows the story, leave a comment.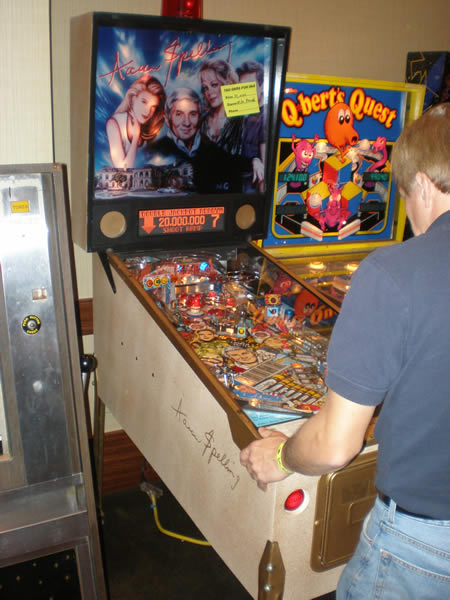 Empire Strikes Back
First learned about this pin in Gameroom Magazine in May 2009, in the re-occuring column 'The Many Incarnations of'. That was just a blip on the radar, but when I saw it at the show I knew this was probably it. SWESB only saw 350 units total by Australian company Hankin.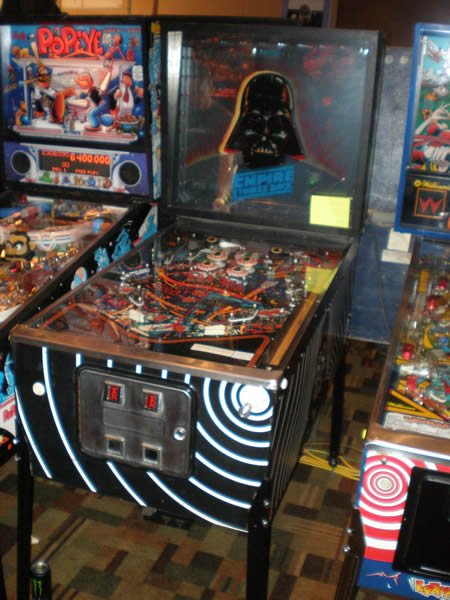 Poking around now, turns out whoever flippinpins is in Chicago was looking to sell. Empire seems to bring the coin, can be several thousand dollars, but I know when I played it I thought this was also a boring game. The playfield is truly amazing, and the cabinet in general is just breathtaking…the backglass is the pefect design, just Darth Vader's head. Nothing busy. Same with the cabinet side, which I totally missed at the show, only checking it out today.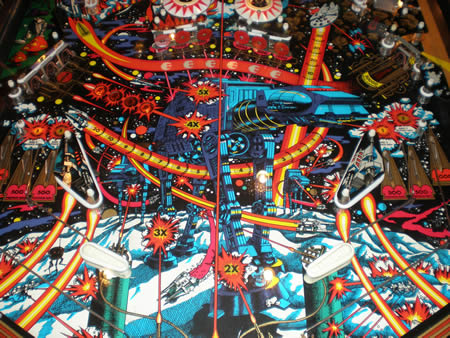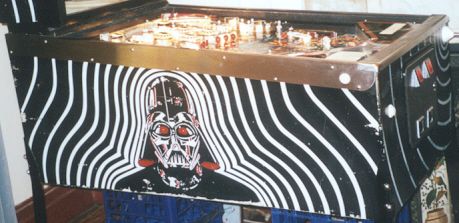 Here is an auction where Star Wars didn't sell back just before the show (Click image for larger version). Economic times make it hard to drop over $3,000 on a pinball just because its collectible.

Caddy Shack
I didn't get to play this, a custom mod of No Good Gophers, always cool to see these one of a kind machines. Another item I didn't research online, if you have any links to the construction thread of this pin, leave a comment and link me.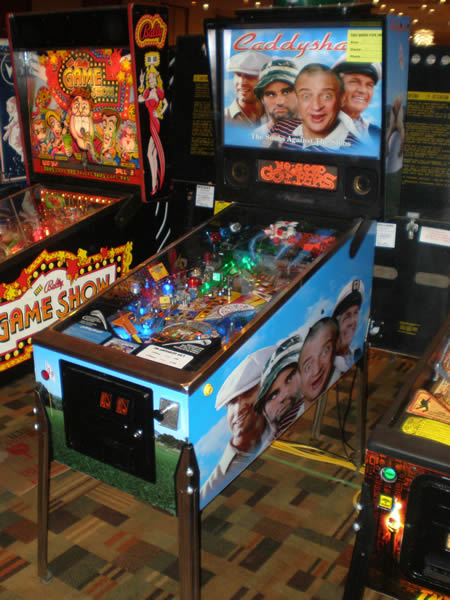 Games I liked
Games that I played at Expo that stuck out in my mind, really only two – Junk Yard and Black Knight 2000. I liked both, Black Knight grew on me, not at all what I expected. I found Junk Yard to be very challenging, a lot going on, seemed like a complex rule set.
I also got to play F-14 later at Bill's, and I enjoyed that one too. Lots of common pins that I have not played, I'm truly a pin newb.
Your thoughts on Pinball Expo 2009
If you left, even if you left with swine flu, what were your impressions of Expo 2009? Maybe you can articulate why it was good or bad. I made arrangements to meet a some new collectors, only one really panned out. Got to meet Tim M., and I also met Kevin Steele of Gameroom Magazine. That coupled with seeing friends and trying some rare pins made the trip from Indy worthwhile, but next year is still up in the air.
Here are some similar arcade posts
If you enjoyed this post, please consider to leave a comment or subscribe to the feed and get future articles delivered to your feed reader.