Two months in the making it was a clear weekend for a drive, but winter has hit and it is hardly the ideal temperatures to be moving classic arcade games from one truck to another. I said goodbye to the Bloomington Tron, and brought back 'Deathstar', or should I say…Sinistar.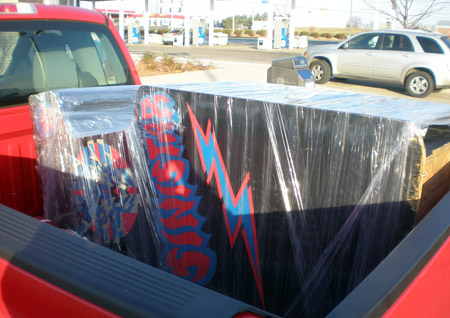 Sinistar – 5 dozen emails later
When that Burgertime DECO machine just sort of 'showed up' at my place this summer I was in a bind. I was already out of room in my basement for any other arcade games. And then…I got that Tunnel Hunt and Red Baron for cheap and I thought the Red Baron might be the first game that I could make an equal offer for a Sinistar in trade. Since I was going to have to figure out how to get more games into the basement, I might as well explore trying to find a trade, right? (Says the crazy man…)
I searched for two months, the Red Baron didn't pique the interest of the Sinistar owners, and I think most of the Red Baron owners already have the game in their arcades. But before it sold, I got wind of a Tron for a song and I knew one Sinistar owner in north western Minnesota who might be interested in a trade for that instead.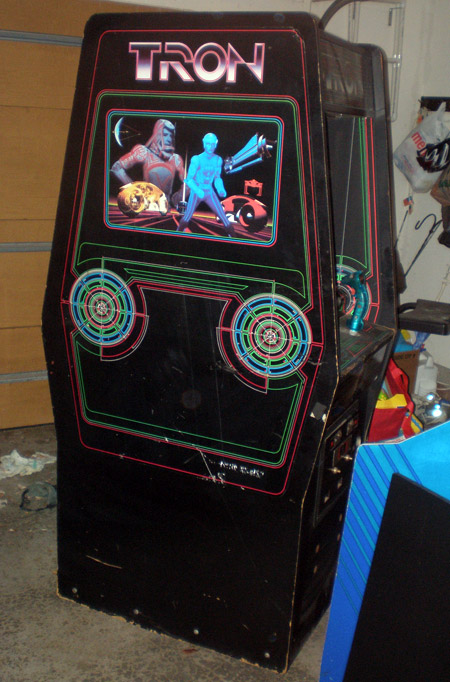 I sold the Red Baron outright, and since I was already committed to the Sinistar idea, planned to pick up the Tron in hopes of making that swap instead.
Trade the Tron for Sinistar at Chris' party?
This was right around the time of Chris' Halloween party in Chicago. I thought that would be perfect, I could bring the Tron with me and could double the value and making one trip. But alas, timing wasn't on my side this time, and Jeff K. in Minnesota had plans that weekend and couldn't get back with me until the following Monday when I returned.
Drat! I had driven to Chicago two weekends in a row and didn't have any intentions of making the trip again.
So we kept talking. I was committed to finish up the Ms. Pac-man stencil restoration while the weather was warm. I picked up the Tron in the first part of Nov., and I saw right away how much more of a desirable game Tron is than Red Baron – word to the wise. Either way, reselling it wouldn't have been an issue.
Drive! Drive! Drive! to Rockford, IL
If the trade was going to happen, it had to happen before the snow. Obviously, I didn't want to travel in that, but again…also trying to clear out the garage and Tron was the last game in there that I wasn't keeping, and in the way of my goal. We had the couple of days before Thanksgiving setup and ready to roll, and then my truck fell through.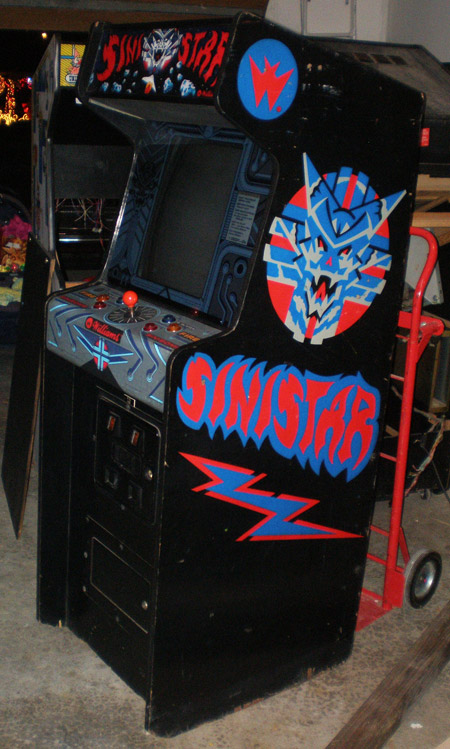 But this weekend worked out fine and I got to see friends / drop off some items for repair so it was a worthwhile trip. Except for those White Castle breakfast sandwhiches 😉 Jeff K. came a really long way from Moorhead MN, huge thanks to him for making that trip. He's a trooper, I think both of us were dreading doing more driving. That Sinistar has traveled quite a ways, originally from Devils Lake North Dakota.
Now…to power it up and see if it survived the trip. Anyone want to play some Sinistar this winter?
Here are some similar arcade posts
If you enjoyed this post, please consider to leave a comment or subscribe to the feed and get future articles delivered to your feed reader.