Breaking news today, our favorite arcade game reproduction house – This Old Game, relaunched their website with a fully integrated shopping cart using Squirrelcart. If you haven't visited in awhile, you have to pop by, you will be pleased how much easier it is to purchase arcade artwork.
This Old Game – Best repro house, now with the best website
That's what I'm declaring. Rich's new website is the best one out there for finding reproduction items for your arcade games. Actually, he ties with Gamestencils, because they run on the same piece of software. Squirrelcart is great from a maintenance standpoint – it has a fast to use admin interface and leverages content through a great SEO structured framework. It also has all of the features you come to expect, like search, and is graphically pleasing to the eye to boot.
Jamie did the design for Rich's site, check it out;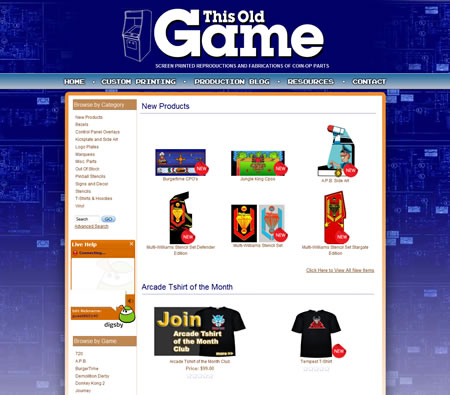 Rich's work is hands down the best, and produced with the highest level of detail – matching or besting anyone out there for printing on vinyl, polycarbonate, mylar, you name it. But for many months now, Thisoldgame.com has been half launched, and was an extremely bad website. Visually / graphically the layout was lacking, user interface was confusing, and with no archival information it seemed as though items were never re-listed, or if they were out of stock they were never noted. But by using SQ Rich should see quite a few more conversions – at least it should be easier to track.
Here's to repro artwork prosperity
Congrats. Let's hope this means continued good things for the only custom arcade artwork shop that will take on small runs of reproductions for our favorite games that weren't produced in great bulk.
Here are some similar arcade posts
If you enjoyed this post, please consider to leave a comment or subscribe to the feed and get future articles delivered to your feed reader.