Three Stooges by Mylstar has a small breadth of interest from a subset of an already diminutive collecting base. But over the years it would seem as though it has done the opposite of most games and actually appreciated in value, reflected in the sale of one on eBay late last month.
Three Stooges sells for $1,136.11 on eBay!
I am guessing that sometime in the near future, I am going to want a 3 Stooges for my collection – that is how it would happen since this one popped up relatively close to me. But for $1,136.11, buying in anticipation of a future need, especially with such poor reviews for gameplay, seems a little ostentatious.

Having little or no exposure to Three Stooges before two years ago, Stephen B. listed a page with a bunch of his games for sale. This was no ordinary list of games, there were a ton of rare items that he had driven all over the United States to accumulate. Hence, I sat up and took notice of the 3 Stooges that was listed for $1,500. He didn't want to sell, so certainly the game had a premium of at least 30% over the typical value. (He sold it sometime in the last 12 months)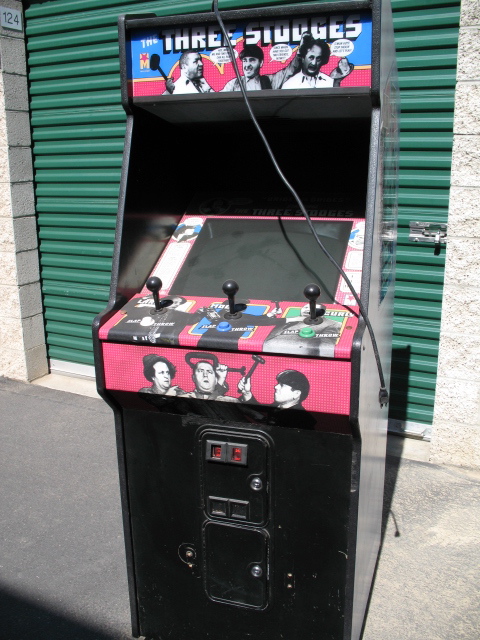 Stephen B.'s Three Stooges
How much is a Three Stooges worth?
I think that the final selling price for this Three Stooges is about right. The value is probably right around $1,200 depending on area and collecting base. One of those really rare games that is inelastic. In fact, this particular 3 Stooges is probably the same one that sold in Lansing (3.5 hour distance) earlier in the month for a touch more money – $1,181.65. (I emailed for a comment, but I received no answer on how the game was acquired.)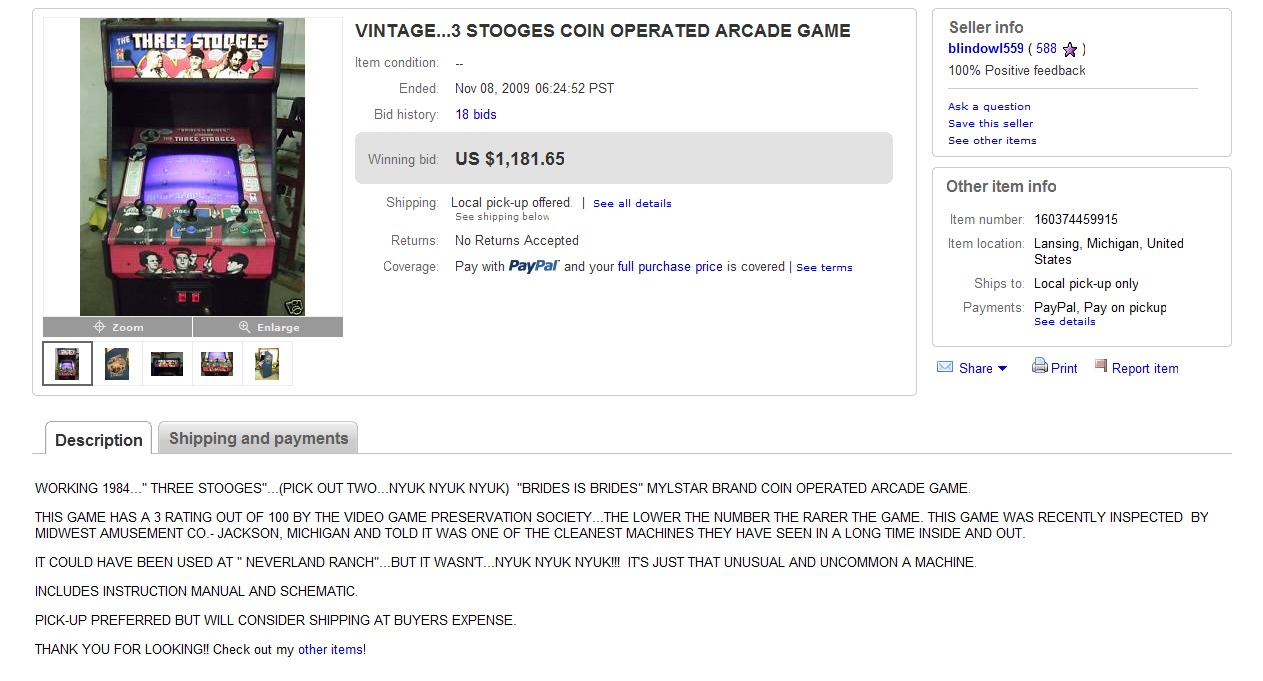 Looking at a couple of prices over the past 10 plus years from RGVAC – 3 Stooges in Milwaukee with sideart and a 3 Stooges for $450 – It would seem as though this was around a $500 game at that time. That wouldn't indicate a ton of demand during a time when games could sell easily in the $800-$1,200 range. Heck, Stephen B. had another 3 Stooges that was 'used' in 1985 that he got for around $700 that he then converted to a Rastan! Ouch.
So, the following for the game has seen some growth over the years as fewer units are available. Using a low price of $450 from several years ago, with an average of 2.75% annual inflation, that would put the price somewhere in the $625 range in today's money. Maybe higher if you use the $500 figure.
Compare that to these selling prices of around $1,200 and it would appear that the game has doubled in value.
On a related subject – NOS 3 Stooges artwork
What would that mean for the price for some Three Stooges NOS artwork? Mario D. was a lucky enough collector to pick up a small lot of artwork back in 2001 for the game from a Three Stooges Fan Club newsletter, when it was still mediocre in value.
For Sale…Set of original 1983 Three Stooges coin-op videogame side panel decal (18" x 24"), polycarbonate header panel and 3 player control panel decals. These 3 pieces of videogame graphics art were obtained directly from the game manufacturer in 1984 and are in mint condition with the original peel and stick adhesive backing still in place. Perfect holiday gift item! $100 for all three items (plus shipping). Email jcv@… or call John @ 312-xxx-xxxx.
Purchased out Chicago area, Mario ended up with both sides of side art, the main upper control panel piece, and the marquee $125! Here is a photo showing the NOS sideart;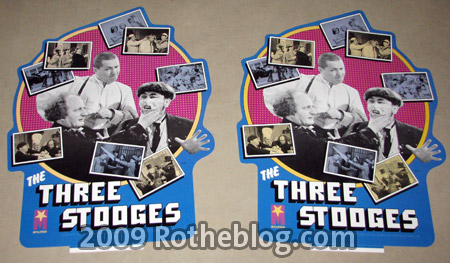 I don't think that this artwork would still bring only double that, $200 today. If he re-sold those items I would speculate they'd bring closer to $350 or more today. Maybe more, definitely one of a kind items.
What will the game be worth in another 10 years?
The gameplay stinks, or so I've heard. If you've played it in person, do you think the gameplay would be fun for a true Stooges fan? Or bar none, it sucks?
What will the game be worth in another 10 years? I think the appreciation will slow, but I wouldn't think $1,600-$1,800 for a nice one would be out of the question.
Related links for valuing a 3 Stooges arcade game
Here are some similar arcade posts
If you enjoyed this post, please consider to leave a comment or subscribe to the feed and get future articles delivered to your feed reader.