When I first wrote about the arcade game museum, it was just starting out. Not much has changed since November, but there is a nice base of popular arcade games and they work to boot. No small feat, those of you who own a dozen games know first hand. The arcade museum is not too far from Bloomington, but really isn't overly close to much of anything else other than the University of Illinois. Why go you might ask? I'll give you a couple of reasons.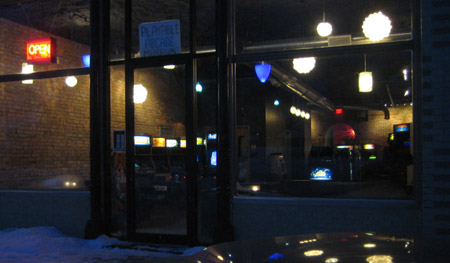 3 Reasons to head to the arcade museum in Illinois
Reason 1: It's right off the highway. The arcade museum is 2.12, err something, minutes off Highway 55. So, if you want to get away from University life, its an hour from Champaign, just 20 minutes south of Bloomington, and a modest 2.5 hour drive south west of Chicago. Bring 10 dollars in quarters, stop by on your way to St. Louis, and play Pac-man, Tron, Galaga, Dig Dug, Asteroids, Donkey Kong and Centipede. Perfectly working, cheap at $.25 and experience the obvious throw back memories for us older folk to times before young children, mortgages, even 10% unemployment 🙂 But by all means, make it a family event.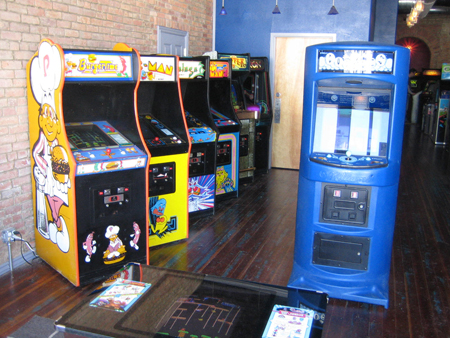 Reason 2: Fairly rare, fully working, highly sought after collector games – A working I, Robot, Food Fight, Star Wars Cockpit. Funny enough, for as many other collectors as I have visited, I've seen more of these games almost working, or not working at all than working flawlessly and in beautiful condition. Sure, they're not impossible to find, but seriously – you can fly half way across the nation to California Extreme, or just make the shorter midwest drive and experience these games similarly to when they first hit the arcade. Even some more rare items that aren't high in demand are available to play like Blue Print, The End, and Circus Charlie.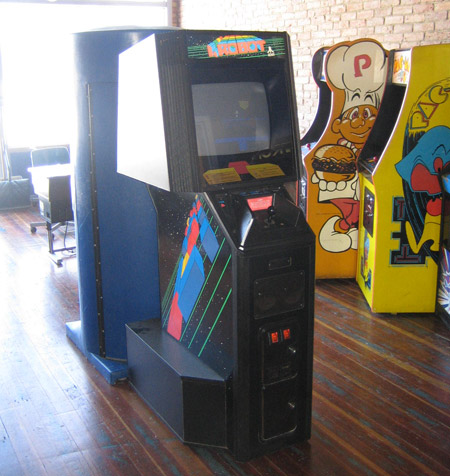 Reason 3: You might just see something you'll never see again. I know I did. I got to see a game here or there that may make it to the lineup eventually that you literally may never see again. And this is an understated hint. I got to check out a game, although inaccessible other than only from a top view, that I have some interest in potentially owning some day that there may be less of 10 that still exist. Play your cards right, if you are into the history, there are certainly enough stories lurking around to make the trip worthwhile.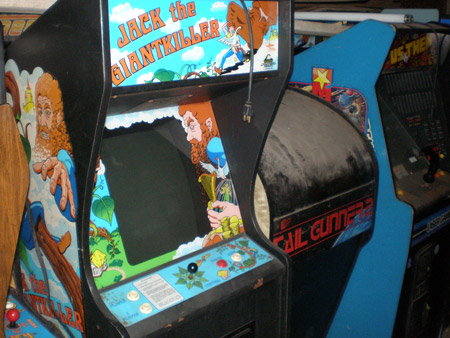 The drive to the arcade from Indianapolis was definitely worth it
The ultimate goal on any trip like this is to play a new game or two. The one new game I got to try was Space Zap and I was surprised at how much I liked it. So much so that I added it to my arcade wants page. A game of agile thought and reaction, Space Zap is simple in nature, it evokes the thought "What if Simon came in a chunky wooden cabinet?" I liked the cabaret, probably the first game I have in that format. Doesn't change the fact that the sideart for the game is hideous, and the gameplay is surface value – there aren't multiple layers. But still, a surprise.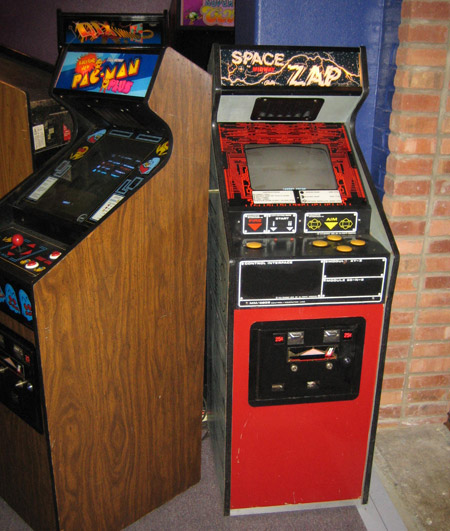 I got to meet some new friends. I got to meet Matt W. who had an internship with Williams way back when and actually, small enough world, another guy from Indianapolis. Then there was obviously, John, who owns the museum and has operated arcade games since the late 80's. John has a young family, and he took the time to show us around for a couple of hours while we were there.
All I can say is go. If you love old arcade games, and live in Illinois, you aren't too far away. If you are a collector I will just repeat the line I said before – Go! You might see something you'll never see again. If you go, leave a comment, talk about your experience, or you can;
Watch a couple movies showing a walk through of the Museum. Arcade video walkthrough 1, 2.
Here are some similar arcade posts
If you enjoyed this post, please consider to leave a comment or subscribe to the feed and get future articles delivered to your feed reader.