Last night I finished all of the artwork for the Frenzy control panel repro, but there were a couple of details I wanted to throw out to Frenzy owners to get their opinion – a little crowd sourcing.
Frenzy details – Player text / copyright text
First off, here is a small snapshot of the panel artwork finished, as well as a detail. I'm going to print out a full size print just to make sure nothing went severely awry during scanning or checking measurements. If no adjustments needed, color matching next and then color separations. (Button holes filled in with blue.)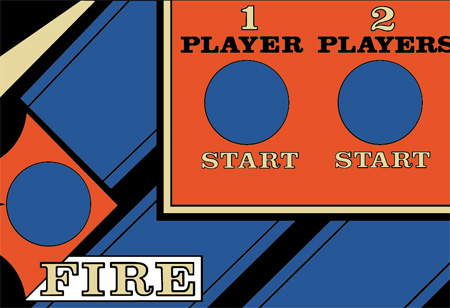 The first question I wanted to ask, take a look at this detail of the Stern copyright text, I've left guides in for comparison. It is crooked, the top is camel humped, while the bottom of the text is slanted just a degree upwards while the surrounding box is square. At this zoom level, it isn't as obvious.
This is a detail even I probably wouldn't be able to see if I still owned my Frenzy, but I wanted to see if you all were ok with straightening those letters out. I think the original intention was for them to be square.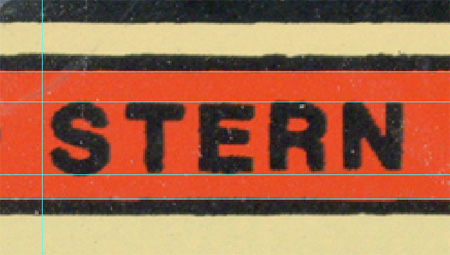 The second question, is if you look at the 1 Player / 2 Players text, you see that the 2 Players text is a touch off center as well. It is a narrow area to work with, but we could probably pull that 2 Players text to the left a 1/32″ or maybe as much as 3/64″ of an inch to give it more breathing room on the right and appear more centered. On such a visible detail though, I plan to leave this as is unless I hear a large majority of Frenzy owners who think otherwise. It's a little harder to guess on original 'intentions' with this detail.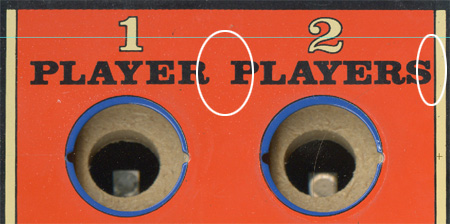 If you have any comments on either of these details, let me know.
Here are some similar arcade posts
If you enjoyed this post, please consider to leave a comment or subscribe to the feed and get future articles delivered to your feed reader.