Stop and think, what would a crowdsourced castle look like? A moat made of lime jello and Gouda? A tower overhang for bungee jumping? Alas, you know I am not speaking about an actual castle, but Star Castle artwork – namely the sideart. I believe I have found some significant differences in distinct printed pieces of sideart and I need your help to figure it out.
Up to speed on Star Castle sideart
I wrote an introductory post about progress on stitching together the Star Castle artwork. I mentioned that I got a disc from Russ that had 90% of the artwork, but I was missing 2-3 areas and I needed additional scans. You can see those areas in this stitch detail.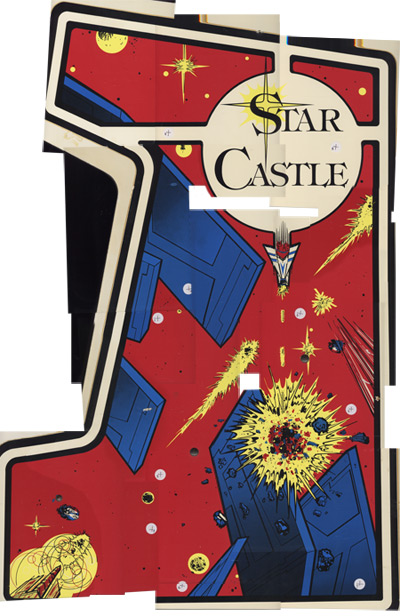 Another Star Castle owner – Ben, stepped up and supplied scans for those areas. When I went to lay in that artwork, there were some obvious differences. Here are two side by side images of what I found. Click the image for a larger view.
See the differences? From how far the black explosion line extends, to a missing yellow dot, to the explosion details, to the pattern of circles and the halftone in the tower – there are a ton of differences just in these two detail comparisons of the Star Castle sideart.
Help with the Star Castle Sideart
I need your help. If you own a Star Castle, grab this image and make a close comparison – which version do you have, or is your artwork even different from these two? Send me a photo or two. I need to know the division of who has which, and how many.
If you can help out, I will certainly mention your name in the final post when the artwork is completed – and of course you'll know that your help made Star Castle artwork available for all.
Look forward to hearing some thoughts.
Here are some similar arcade posts
If you enjoyed this post, please consider to leave a comment or subscribe to the feed and get future articles delivered to your feed reader.