A classic game, a sequel from Konami, and finally – control panel artwork for this classic has been scanned and in the near future should be available at least as an inkjet reproduction.
Time Pilot '84 – Conversion kit overlay
Sometime around November I got a request to scan, vector and prep an overlay for reproduction for Time Pilot '84. At the time I was booked full, but as I worked through my project load I was able to take the panel a week or so ago. It was pretty beat, the overlay was de-laminating having seen some serious time on location.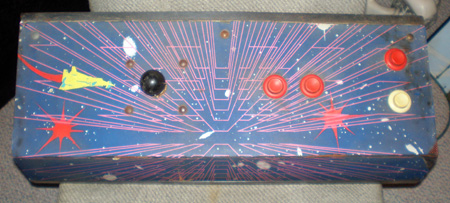 Tonight, the first step, scanning all of the artwork. I had to de-populate the panel, and I removed the hinge as well as another piece of metal that probably served as a ledge for the panel once it was converted.
One of the more time consuming hurdles is always scanning every piece of the artwork. For this one overlay I had 16 scans, three scans to cover the full width of the panel, and there are essentially four faces to scan with the overlay folded under on top, and wrapped around a radius onto the back wall of the panel on back.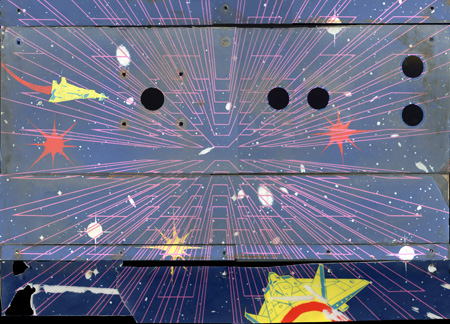 It should be a fairly straightforward piece, expect for some of the stars / bursts. The stars actually fade out in a crosshatch type pattern that may require a raster overlay in white to accurately preserve those details.
Time Pilot '84 Experts out there…
It looks like there are some 58+ owners of Time Pilot '84 listed on VAPS. I would guess that probably 35-40 still have the game, but I was surprised by the numbers. Anyone else need a new overlay?
Were there multiple versions of Konami's conversion kit for this game, tailored for a couple of different cabinets?
Here are some similar arcade posts
If you enjoyed this post, please consider to leave a comment or subscribe to the feed and get future articles delivered to your feed reader.