I have now, apparently. The Time Pilot 84 control panel artwork has a pretty tremendous star field, and each star itself takes very little time to draw, in fact, I think it takes less time to trace all of the stars than to isolate and build a complete raster star layer. However, some of the stars will be raster and here's why.
Time Pilot artwork – Interesting detail in the star bursts
The particular panel has a unique detail that I haven't seen before, and find a little bit strange seeing as the rest of the artwork isn't – how shall we say – nearly as amazing as an Atari cabinet. Some of the major burst fade out with an outer-lying crosshatch pattern. Check out a little bit of that detail here;

Here is a detail of how the Time Pilot 84 CPO artwork looks now without those major bursts;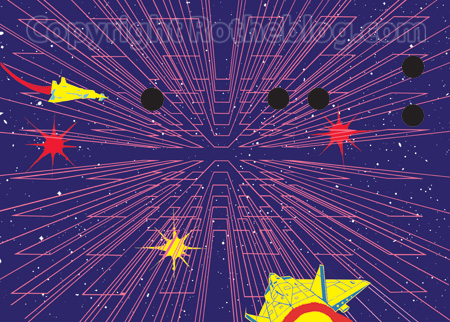 I have picked out 20 of the largest stars that show this crosshatching and will be using Photoshop to touch up and isolate those selections to then go back and lay them in as a separate white raster layer. You can see the first one I took here, from the dirty dingy scan above with the grid line through it to this;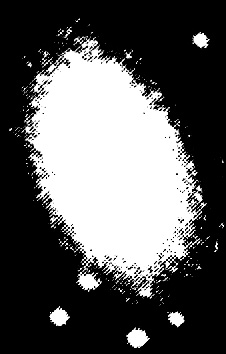 No other crosshatched artwork came to mind when I wrote this post, but if you know of another arcade cabinet that has a similar style, comment on a name. It would be cool to reference back, maybe something else that Konami made around the same time.
Here are some similar arcade posts
If you enjoyed this post, please consider to leave a comment or subscribe to the feed and get future articles delivered to your feed reader.