I was recently asked what I would do if suddenly found myself an extremely wealthy individual. Many things would be in the mix, but one activity I might consider would be to head out to California and plop myself in Scott E.'s warehouse. Scott's 'Vault', as I like to call it, is filled with so many Atari goodies, history, and information that it would probably take a lifetime to document it all. Fortunately, Scott has been on a recent rampage – publishing more of this information for all to enjoy – including new production floor photos.
Missile Command and Battlezone production at Atari
Most people are visual by nature, and I am a sucker for an old arcade related Polaroid or any other weathered photo – so I naturally loved getting a time preserved look inside Atari when Missile Command and Battlezone were in full production. Here are a couple of those photos.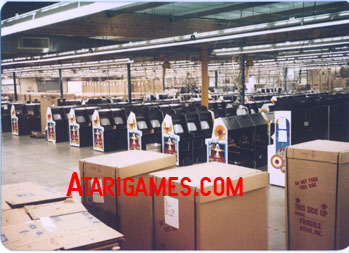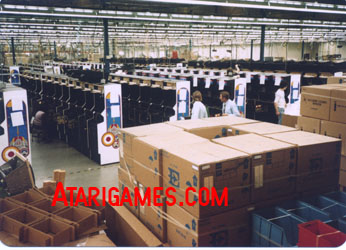 Atari's leadership made them profitable – but included calculated risk
Scott has also posted a couple of interviews with Owen Rubin and Mike Hally. I enjoyed the Mike Hally interview a bit more, and some of the history surrounding the making of Star Wars. But this particular statement from Mike about Laser Disc games stuck out in my mind;
He said Atari is "most definitely" going to come out with a laser disc game fairly soon "We haven't always been first, but we always try to be best" he said. "We're looking at doing a full blown string capability" which would allow players to control the action at every point in the game — some things videodisc games cannot do now.
Ah yes. Atari will be the best at Laser Disc games, the games of the future – reliability be scorned. Atari was successful because they did not follow, they lead in innovation. But I had to laugh because I remember what Owen Rubin said when he came on Coinopspace for a live chat;
The laser game that actually went the closest to production but did not make it was Road Runner. The Road Runner Laser Disc game was amazing!, real backgrounds (video), animated characters for the game, and actual cartoons. If something happened in the game where a cartoon was available, it would get shown. Then all hell broke loose, Firefox was a disaster from a technical side, and Laser Disc games got canceled.

I went to MIT for session in video and LD production while at Atari. When I came back I suggested that we NOT do Laser Disc games, the technology would not work. It was too soon, the technology sucked big time, and they would break all the time. They said I was wrong, and tried. Such is history!
Laser Disc games would have worked, but the technology was still in its infancy, and adoption before proven data of duress was a hard headed folly filled with too much risk. Regardless, both interviews are an interesting read. For more on these interviews, the photos, and other great Atari history, visit Atarigames.com.
Other Atari Documents and Photos?
I don't what Scott has in the way of development artwork, but I hope we can see more of that – like the Food Fight concepts he published last year. How about you? What would you like to see?
Here are some similar arcade posts
If you enjoyed this post, please consider to leave a comment or subscribe to the feed and get future articles delivered to your feed reader.