Here's the situation. You and your brother are in your 20's, and you are in charge of ordering inventory for your father's grocery store. Coca-Cola approaches you about a Mello Yello promotion – the more cases of the soft drink you purchase, the more points you earn towards a one of a kind Q*Bert. What would you do? Say goodbye to my mouth.
Trade a Mello Yello Q*Bert for my teeth?
I'd would have seriously considered it. Maybe not seriously, but if I was 20 and in charge of purchasing – you better believe I'm ordering so many cases of that lime green sludge that I'd be one elemental ring short of a hopped up planet saving cartoon superhero. But I digress.
I don't think I could have written a better story, or supplied a better photo! Take a look at this photo of the old Red Owl grocery store in Garrison, ND – Population 2000. This is one of the many stores where a Mello Yello Q*Bert made some rounds, and eventually landed for good in the early 1980's.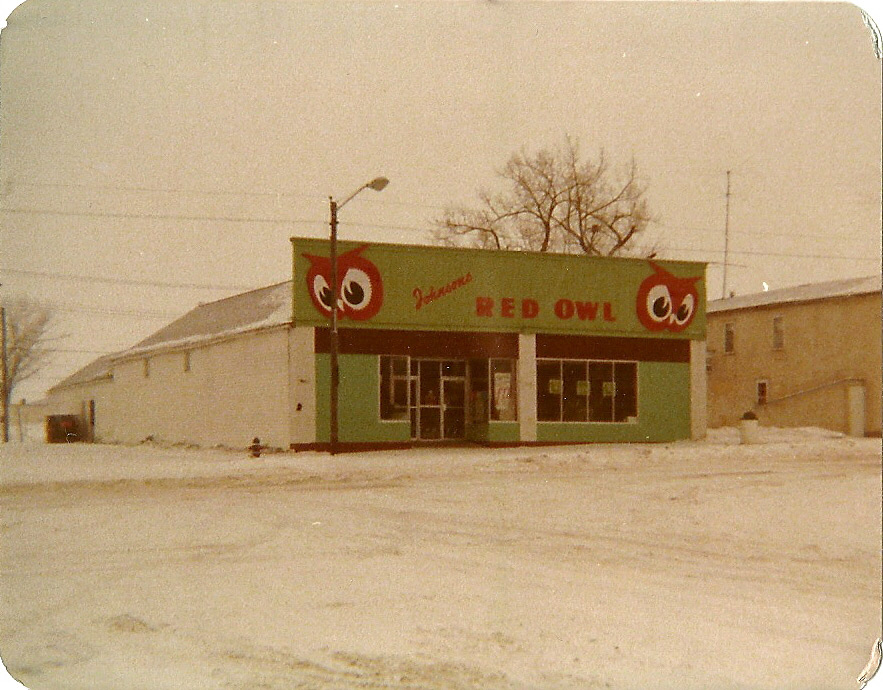 And without further adieus or too much gratuitous editing, here is the story straight from the mouth of the daughter;
Coca-Cola was trying to promote Mello Yello to compete with Mountain Dew. The Coca Cola distributor in Bismarck, ND that supplied them was the guy who would let them know about what promotions the soda company was doing at any given time. This particular promotion involved points. The more cases of Mello Yello a store bought, the more points they got, and those points were used toward entries in a drawing for the arcade game.

While the contest was running, the game rotated around and spent some time at each of the stores that were competing in the promotion, and in the end, my grandfather's store won it. My dad was very happy. He was the one in charge of ordering at the time, and he said he ordered *alot* of Mello Yello, because he (and one of his older brothers) wanted the game. (They were both in their 20s.) He said my grandfather was less thrilled, because the Mello Yello didn't exactly run out the door. According to my dad they had a back room full of Mello Yello cases for a very long time. He's not entirely sure the distributor didn't just feel sorry for them and award them the game, just based on how much they bought. ;D

Once they won Q*Bert, it was at the store for a little while, then it moved to my grandparents' basement for years. That's where me and my two brothers learned to play it when we got older. Eventually, when I was in high school, my dad gave my grandpa a few bucks for the machine and added it to our basement rec-room area. It hasn't been played much at all since we all graduated and moved out.
Q*Bert Mello Yello Photos
The game is in solid shape, the bottom isn't too ragged, the sides look great – the control panel overlay is really the only area that shows significant wear. A couple of fixes to the main pcb, this game is ready to roll. The most interesting item of note – this machine has no coin door. Check out the photos below – click the Q*Bert photo to enter the full gallery.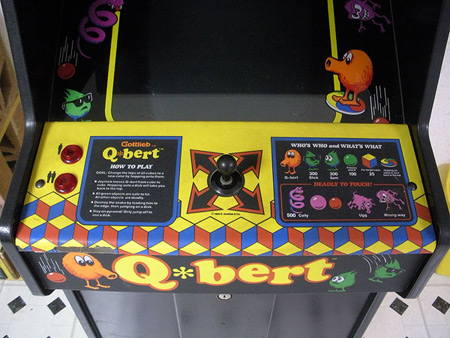 Selling the Q*Bert Mello Yello
Talk about a one of a kind machine with a tremendous story. Pepsi and Coca Cola were great at these arcade game promotion tie ins, and these machines are great collectibles.
When she listed the game for sale, she was well spoken and had done some contextual research to get an idea of the value, which she estimated $500-$800. I think that was a solid range, and considering the history and condition I would definitely have held out for at least $800. On eBay, who knows, with all of the detail of that story, as a long shot she might have gotten as much as $1000 – funnier arcade eBay auctions have finished lately.
But it sounds like the Q*Bert might be sold. Hopefully MN Jeff picked it up. Regardless, if you picked up this game, leave a comment, brag a little and make the rest of us jealous.
Here are some similar arcade posts
If you enjoyed this post, please consider to leave a comment or subscribe to the feed and get future articles delivered to your feed reader.