Tugboat? Ever heard of that game? If you haven't heard of Moppets, then probably not. Its a rare piece for sure and I am curious to hear what you all think the value would be for this PCB.
Interested Moppet arcade collectors? Less than 10
Tugboat is a Moppet game, one of just a handful of different arcade games targeted at children, made by a company named Intrepid Marketing. Targeted at kids how? They are miniature kid sized arcade games and were found in Chuck E. Cheese.
There's a tiny niche of coin-op collectors who are interested in Moppet games so the value question is certainly an interesting one. Here is the Tugboat PCB, including a shot of it working on a monitor.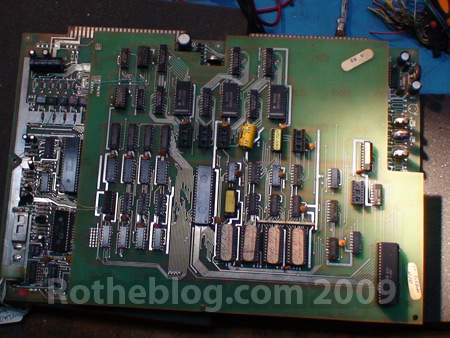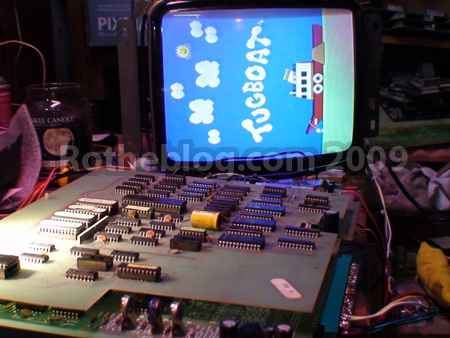 I am only familiar with three collectors in total that are interested in Moppets – Handle names: DirkTheDentist, Noice, and Todd Tuckey from TNT Amusements. I understand Todd has a complete collection of all of the Moppet games, and as far as I knew Noice was selling off his due to financial strain. I know Joe M., with a great network and reputation, had a heck of a time even finding a buyer for a HUO Leprechaun; he found no interest locally in a collector sphere as large as Chicago.
Let's suppose there are some closet collectors who like to play their arcade games on their knees and desire Moppet videos. At best, I can only see a max of 10 people out there having much interest in these games. That's triple the known audience. But a working boardset is a boon either way, and would be of interest to someone like Todd who would want a backup boardset for a hard to find game.
So what is Tugboat worth?
I think in this market, you'd have one heck of a time selling the board for more than $200, and Tugboat is the third rarest Moppet game (behind Berenstain Bears, Desert Race). Don't confuse, they're all stupid rare, Desert Race less than three instances, and Tugboat is about the same, or less than five known total. Anywhere. Chuck E. Cheese did a decent job destroying this segment of history.
However, if you find a non working PCB, then either you have to have the skills to repair it, or pay someone to figure out how to repair it as a one off job. Maybe you can sell a working Tugboat PCB for $250 if you approach it that way.
What do you all think, what is a reasonable value for a working Tugboat PCB? Think of it objectively, not if you personally want it or not.
Here are some similar arcade posts
If you enjoyed this post, please consider to leave a comment or subscribe to the feed and get future articles delivered to your feed reader.