Just drove right over, 80 hours one way, car is still a little water logged. All in a day's work to pick up a New World pinball by Playmatic.
Playmatic pinball machines – Unique playfields
When I picked up this used pinball machine here in Indianapolis earlier this week, I was flabbergasted by the condition. The playfield had very little wear, which is uncommon for an EM machine from 1976. Come to find out, Playmatic coated the playfields with a plastic; its rare you'll ever find one of these with significant wear, but still…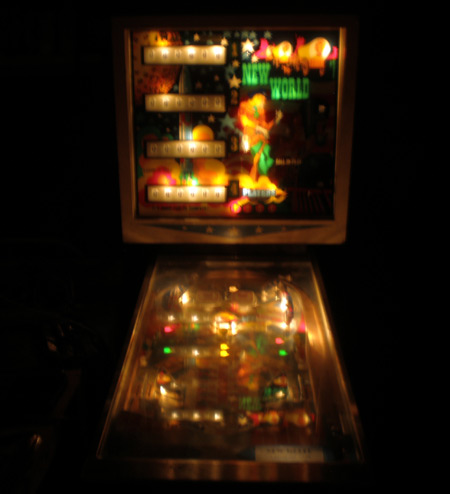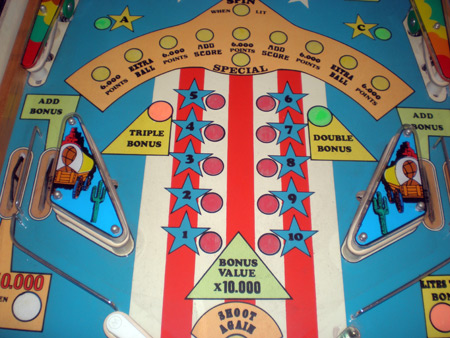 The rest of the New World is in great condition too, no spider veining on the backglass, no gouges in the cabinet – none of the common wear you see. The game powers up just fine, but the plunger is sloppy and the right plastic flipper is missing. If anyone has a good source for buying parts beyond rubbers and light bulbs for this machine, or know of other pinball machine parts that are swappable, drop a comment below.
Cheap used pinball, soon to be for sale
The only 'pinball' machine I have in my collection here in Indianapolis is a Hyperball, which is just a phenomenal game for parties. For an EM machine, the artwork on this game is quite appealing. I think that is the patriotic spirit in me speaking.
Realistically, I don't intend to keep this game long term so if you are looking to pick up a used pinball machine for your game room in Indiana, drop me a line. I am up for interesting trades, it will need very little work, otherwise this pinball will be up on the for sale page soon enough. If you have a pinball machine sitting around taking up space in your Indiana garage, also send me a message and we can work something out.
Update – 5.22.10 I sold this Playmatic pinball machine to a fellow in Rockford Illinois, so it is no longer for sale.
Here are some similar arcade posts
If you enjoyed this post, please consider to leave a comment or subscribe to the feed and get future articles delivered to your feed reader.