Archive for May, 2010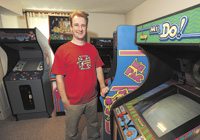 Welcome to you folks who read the Franklin Daily Journal article about my hobby / passion for collecting arcade games.
If you are looking to learn more about the hobby please visit the official article page. Obviously, please browse around the website and drop me a line if you have any questions at all. Happy Gaming!

---
"All the great arcade game reproductions have been done," is a stigma shared by our small collecting community, and for 80%-90% of the large volume 'numbers' reproductions, this is true. But what if I told you that white Nintendo t-molding had never been reproduced? White t-molding is available, but the proof is in the pudding – in this case the details, and one collector has taken charge to make sure that 'authentic' Nintendo molding is available in 2010. (more…)
---
Found? More like tracked. Four years ago, nearly to the weekend, I was at a local Sherwin Williams picking up yellow paint to use on my newly acquired Pac-man arcade cabinet. With the backdoor in hand for color matching I met a girl who knew the significance of that piece of wood which started a dialog that led me to make some interesting finds. (more…)
---
Started in February, and now finished in late May – Time Pilot '84 control panel overlays are now available to restore you own machine. Take a look inside to see photos of the finished digital print from This Old Game. (more…)
---
Short and sweet – I picked up a nearly complete Atari Pole Position arcade game this week in Indianapolis. If you are in the surrounding suburbs and looking to purchase an arcade cabinet for a mame project, hybrid arcade game, or restoration please get in touch with me. (more…)
---
What do the first Transformers movie, a 2,100 year old melon, and Daimler minus Chrysler all have in common with a certain game named Agent X? They all happened, or started, in 2007. Sometimes, the best things are worth waiting for – let's hope that is the case with this reproduction artwork. Today, we finally have a progress update. (more…)
---
About a month and a half of storage is about my max now-adays for any coin-op machine that I don't plan to keep. I picked up that New World pinball in Indianapolis back the first week of April. This past weekend I sold that pinball machine to guy in Rockford, IL for which I can only say – it's never to late to be bitten by the bug 🙂 (more…)
---