Even four years into this crazy arcade game collecting hobby, I am still amazed at how many cabinets get some exposure to moisture. 'Water Damage' is an over used term that less savvy collectors use to describe cabinets with everything from mild swelling to wood particle board deterioration.
On Monday, I had to sit by and watch a cabinet sit in the rain and truly define 'water damage'.
Off to the warehouse? Seriously?
On the way home Sunday we took a different route that luckily swung us by the Salvation Army. Sitting outside was a black arcade cabinet jutting out of a pile of mattresses and other junk. I got excited briefly, and then reality set in that the items sitting there were donations – not trash / disposals. It would be illegal to haul the cabinet home, which killed me because I knew we were supposed to have rain all week starting Sunday night.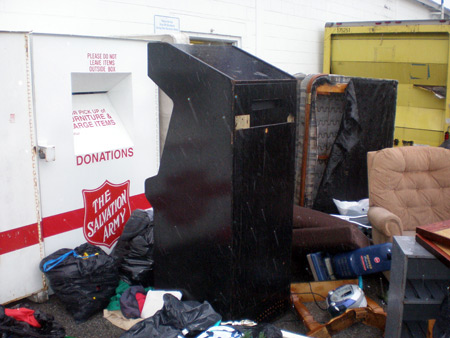 Monday morning I went over to Salvation Army right when they opened 8am. At that point the rain had been coming down heavily for several hours and sporadically most of the night.
I headed inside to inquire about the cabinet and the conversation went something like this;
Me: I have interest in that arcade cabinet out there, what will happen to it?

Her: It will go down to the main warehouse unless someone wants to buy it. Do you want to buy it?

Me: I don't. Its been sitting in the rain all night and is water logged. I would be willing to haul it away so you don't have to throw it away..

Her: No, it will go down to the warehouse.

Me: Where is the warehouse?

Her: I have no idea.

Me: Could it be on the west side of the city?

Her: I really don't have a clue.

Me: Is there someone here that knows where the warehouse is?

Her: I have no idea.
Friendly gal, friendly like a porcupine.
C'est la vie arcade cabinet. If you run across a black arcade cabinet in Indianapolis riddled with black mold, you'll know where it started.
Don't throw out old arcade cabinets in the surrounding Indianapolis area! I will haul them away for you for free if you just want to be done with them, just use my contact page to send me a message. I'll get them out to folks who can still use them and prevent them from filling up a landfill.
Here are some similar arcade posts
If you enjoyed this post, please consider to leave a comment or subscribe to the feed and get future articles delivered to your feed reader.