About a month and a half of storage is about my max now-adays for any coin-op machine that I don't plan to keep. I picked up that New World pinball in Indianapolis back the first week of April. This past weekend I sold that pinball machine to guy in Rockford, IL for which I can only say – it's never to late to be bitten by the bug 🙂
It's a whole New World!
A dazzling place I never knew, but when…..oop, sorry. Living in my alternate universe again where Robin Williams has a pointy chin and is still funny. Back to the story.
The gentlemen who picked up my Playmatic pinball last weekend did not previously own any other pinball machines. Both he and his wife were delightful and they commented on how excited the grandkids would be that grandpa had his own pinball machine. He was the perfect buyer because the condition of the pinball machine was less important than having a little memory factory in the basement.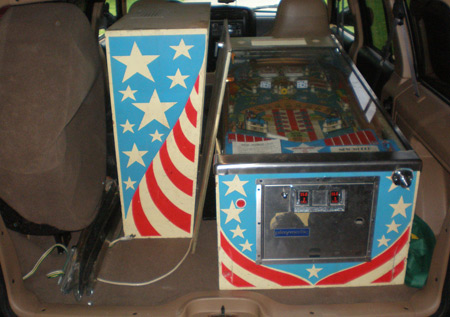 I was ecstatic he was the buyer, and I hooked him up will all the part numbers from Marco Specialties he'd need to fix the game – including a new plunger link and possibly a new solenoid. I also hooked him up with Rich in Oregon in case he wanted to have a backup set of plastics for the playfield.
Plus, its always a great feeling to free that space back up in the garage, especially as our kiddie toys seem to multiply and command more and more room. Not to mention I applied the profit from this sale to my Sinistar I purchased – out of Rockford coincidentally, last fall – and got that down to a more manageable price.
Alas, the open space never lasts – I already picked up another arcade game yesterday. Something I've been monitoring for four years…. 🙂
Here are some similar arcade posts
If you enjoyed this post, please consider to leave a comment or subscribe to the feed and get future articles delivered to your feed reader.