That's quite a comparison, to say that any arcade game creator had a similar level of genius and creativity to Thomas Edison. But that is the parellel made in this article published in July of 1987 that a reader sent to me. I guarantee you'll be surprised at the who and I'll tell you right now its not Nolan Bushnell (Atari), Toru Iwatani (Pacman) or Shigeru Miyamoto (Donkey Kong). Is this image a hint?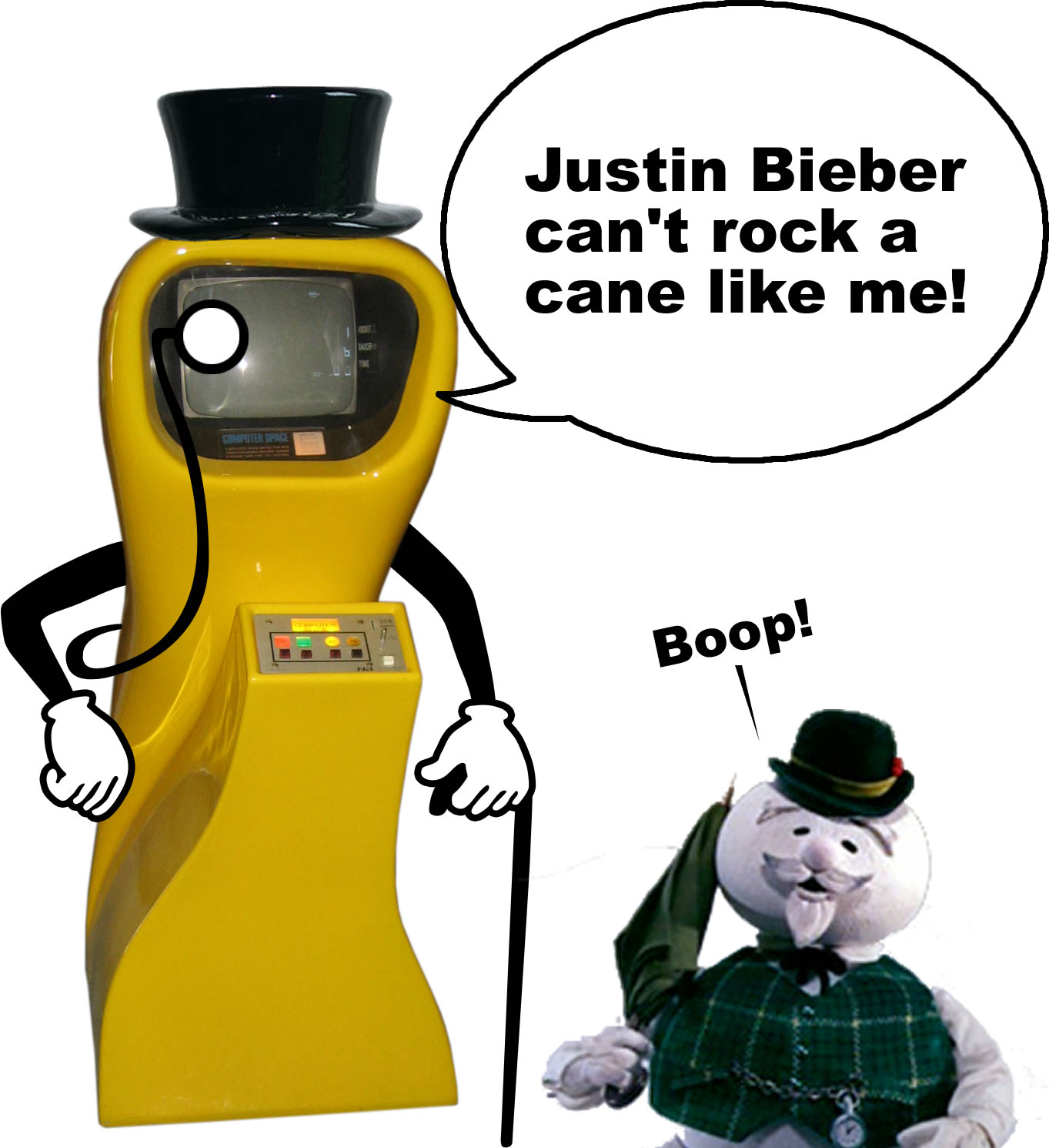 The Dave Nutting Associates Shooting Star
Computer Space is not the right Nutting associates (that would be Bill), but this is how folks remember the name "Nutting" and I had to get that image out of my head 😉
In an article 'Arlington Lab offers invention for hire' the Daily Herald made a comparison between the accomplishments of one Dave Nutting and Associates employee and the famous inventor Thomas Edison. This particular employee's name is Jeff Frederiksen and this article talks about FSL, or Frederiksen Shu Laboratories and how they were inventors for hire – whitelabeling to the extreme you might say. Here is a scan and snippet of the article;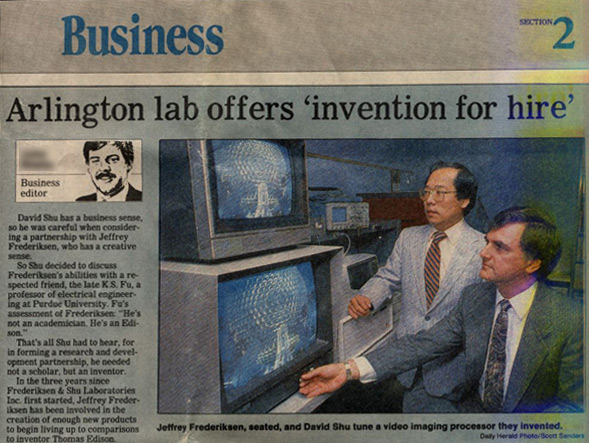 David Shu has a business sense, so he was careful when considering a partnership with Jeffrey Frederiksen, who has a creative sense.

So Shu decided to discuss Frederiksen's abilities with respected friend, the late K. S. Fu, a professor of electrical engineering at Purdue University. Fu's assessment of Frederiksen: "He's not an academician. He's and Edison."

That's all Shu had to hear, for in forming a research and development partnership, he needed not a scholar, but an inventor.

In the three years since Frederiksen & Shu Laboratories Inc. first started, Jeffrey Frederiksen has been involved in the creation of enough new products to being living up to comparisons to inventor Thomas Edison.
The article goes on to talk about Frederiksen's history with Nutting Associates and some of his biggest inventions including;
A video imaging process called "Color Cell Compression" which condenses and transmits pictures over telephone lines. It's now sold under the ColorCatcher label by Diversified Technology Inc.
Pretty amazing comparison to make, but Jeff does has an impressive resume, he just flew under the radar as part of a group of consultants 'behind the curtain' of Bally / Midway, and then moving away from gaming entirely. The natural talent described in this article made me think of Aaron Fechter of Rock-A-Fire fame, only Jeff went on to additional success through the right partnerships and talent.
I have written several articles here concerning my fascination with Dave Nutting Associates and their involvement with Bally / Midway. It was an awesome surprise to get this article scan in my email. Big shout out to Greg T. for supplying and letting me share this clipping.
Frederiksen Shu Laboritories (FSL) Info?
Both Shu and Frederiksen would now be getting up in years, and a cursory search for FSL didn't turn up much for me. If you know anything more about this company – how long they lasted, if they were bought out, etc. drop me a line or leave me a comment.
Here are some similar arcade posts
If you enjoyed this post, please consider to leave a comment or subscribe to the feed and get future articles delivered to your feed reader.