I constantly get questions through this arcade game blog about repair. Repairing your arcade game is an absolutely necessary skill to have if you plan to have a gameroom in your home, or at least the basics. Here is a question I got recently from a guy who just bought a Dig Dug arcade game and its showing a white screen. I did a little research and here are a couple of first step suggestions.
Help! Repair my Dig Dug – white screen!
I got this question just a few days ago from a guy who just purchased a Dig Dug arcade game and wants to know how to fix it.
I recently picked up a dig dug, and its not working. The coin slots light up, the screen is on, the tube is glowing, but its just white with vertical lines moving slowly back and forth. theres no sound. the test switches do nothing. the led on the game board doesnt light up. all the fuses seem alright. i dont know where to begin. any help whatsoever would be greatly appreciated. thank you.
A white screen is a fairly common problem when you power up one of these old arcade games. What this will often mean is that the main game board (the PCB) is not getting power. The monitor is coming on, that is why you see a white screen. This individual even said that the led on the board isn't powering up, which is another indication.
First Steps
Here are a couple of steps you can follow to troubleshoot this problem.
Step 1: Check the fuses in the PS block – As the owner above did. Use your DMM to test continuity out of circuit, meaning, hold the fuse in your hand. Many times a bad fuse will be a visual check, but not always.
Step 2: Check your connections. The Atari PS block has a number of connectors, make sure they are all plugged in, and secure. Make sure the edge connector is fastened properly and in the right direction! (Solder vs. parts side)
Step 3: Check the voltages. Check the +5 either at the edge connector, or on the eye hook that is on the Atari PS board (one with the big heatsink – look at the photo below). You might want to check the +12 as well. If you aren't sure which pin is which, take a look at the Dig Dug pinout.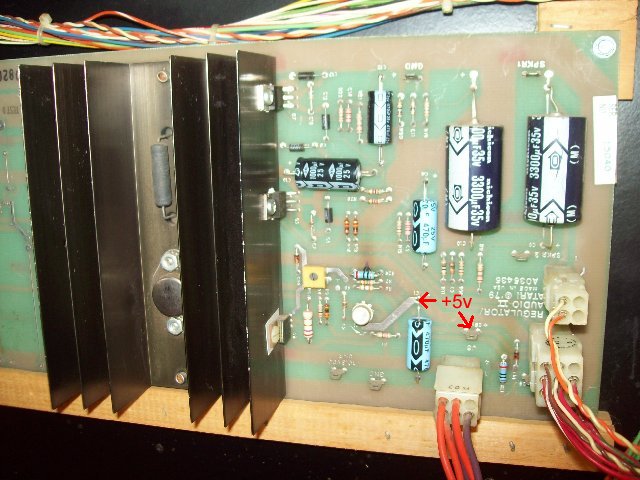 Eventually, you may determine that it is the main power supply that is faulty. I would recommend a Bob Roberts rebuild kit at that point. You can also try swapping in and out a known working Atari AR board.
If you get to the point where the PCB is getting power, but you are still having problems (garbage on screen or ROM error), you might check out my Dig Dug PCB repair post, and some of the things I did for my own Dig Dug.
Additionally, visit the 'Resource Links' page and look under Dig Dug for links to other Dig Dug repair logs. Happy gaming!
Here are some similar arcade posts
If you enjoyed this post, please consider to leave a comment or subscribe to the feed and get future articles delivered to your feed reader.