Every once in awhile I get a really interesting email through my website. In October I got an email from a guy in New York that was looking to sell an old Atari arcade game that had sat in his basement for 15 years. The game? Just a little ol' I, Robot.
Passing off an I, Robot to a friend
I, Robot is a decently desirable game. One sold up in northern Indiana earlier this year for a great deal, but usually an I, Robot isn't the type of game that sells for a cheap conversion price tag of $250. I, Robot is not a game I wanted, and being in New York it wasn't one I'd reasonable be able to grab.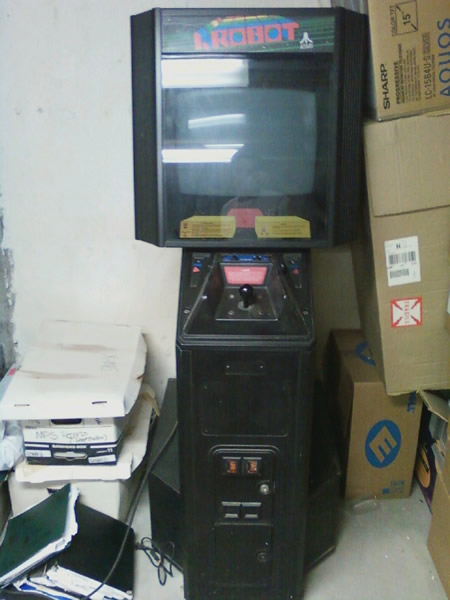 Since I wasn't interested, I thought it would be cool to hook up a friend with a potentially cool find. I've had this happen before, I connected Bill J. to a Mad Planets in Ohio through an inquiry made here on this website.
It's always great to expand the network, and I always make the effort to meet every arcade collector I can. Unfortunately, my network beyond the states neighboring Indiana isn't as strong as I'd like. Plus, people are busy and don't always have the time to return a message in a timely manner. Fortunately, the second person I contacted got back with me. He is in New York and was really interested to check out the I, Robot.
Condition of the I, Robot
Having sat for 15 years, I was hopeful that the I, Robot was close to HUO. By the owner's description, it sounded as though the board would need some work, but the cabinet was in decent condition.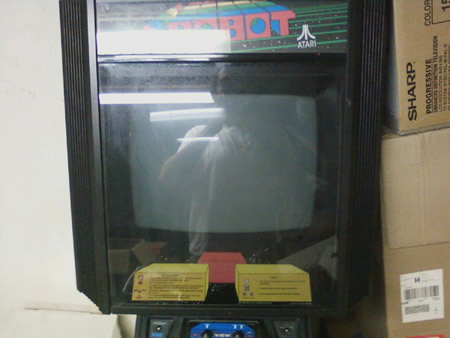 Sadly, that wasn't the case. Here is the report I got back on this particular I, Robot;
I made arrangements to make the two hour drive to check out the game in person and a tear came to my eye when I saw it in person, there was mold on the cardboard surround! The control panel plastic was broken but that seems to be the way on all these games (I, Robots).

Also, on the exterior of the cab, there was evidence of water damage as you can see the water line on the side of the base….I had to drill out the lock sets to gain access. Once opened, it was apparent that water, at some time, had made it's way into the cab.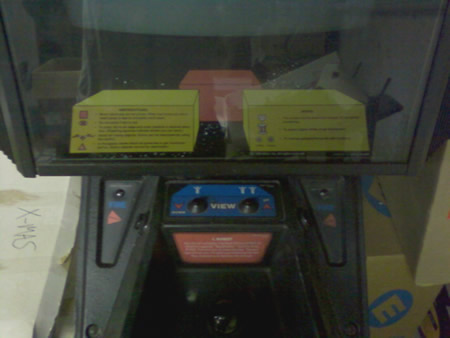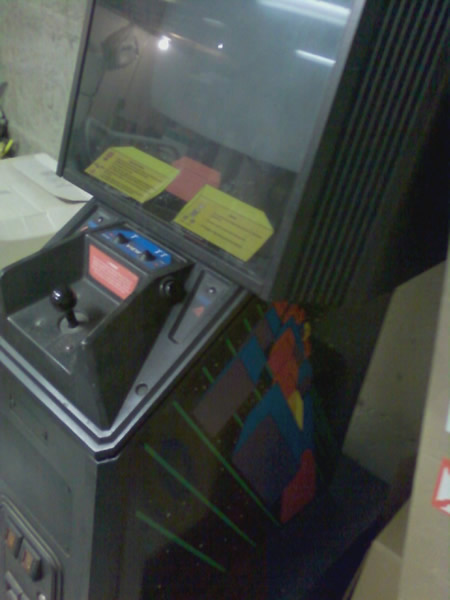 I, Robot almost got trashed.
Discovering the condition, the idea was to walk away. But the seller really wanted to close a deal – in the end, the I, Robot got parted out! A really sad story that started out with such great potential.
Or so I thought!
On the way home, the buyer had such remorse about parting the game out and leaving the cabinet that he called the seller, struck a deal, and had the I, Robot cabinet shipped to his house instead!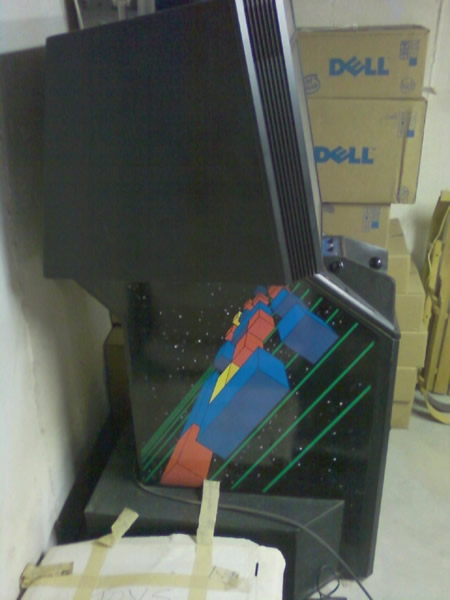 I, Robot Restoration
This particular individual has some solid holistic repair chops, so I anticipate that he will restore this I, Robot from head to toe. As he does, I'll post some updates.
As always, I always looking to build relationships with collectors in other states. It's a blast to hook others up with great finds (even if they are moldy ;)). If you are looking to find a particular arcade game without any luck, drop me a line. Its always good to chat. Who knows, maybe I'll email you one day telling you about a rare game (Quantum, Computer Space??) in your area!!!
Here are some similar arcade posts
If you enjoyed this post, please consider to leave a comment or subscribe to the feed and get future articles delivered to your feed reader.