Once you've hit the capacity on your gameroom, and your collection is set, one of the most engaging ways to stay involved in the collecting hobby is to start pimping out the home arcade with slick decorations. These specially cut metal tiles are just the cure, and cheap!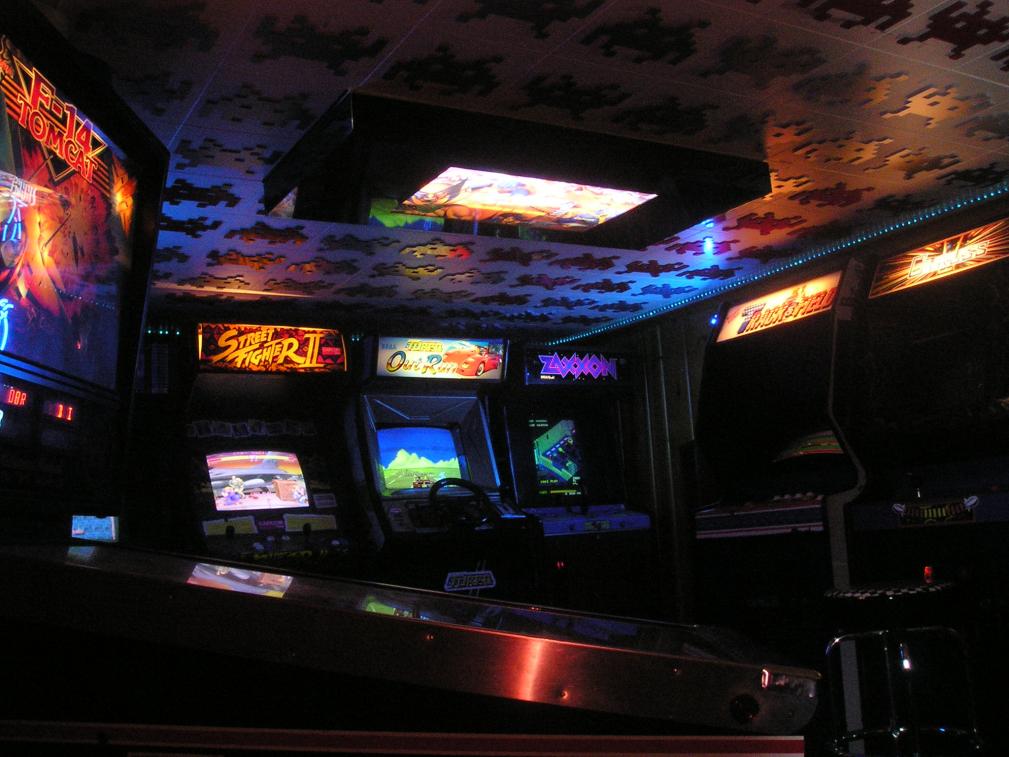 Arcade decorations for your drop ceiling
The ceiling of an arcade usually sees one of a couple of treatments – painted artwork, stenciled or by hand, mounted arcade marquees or it is just used to hang other memorabilia. In rebuilding his own gameroom, Brian in Minnesota whipped up the above Space Invaders tiles using some old composite aluminum.
How are those 8″ x 10″ tiles mounted? With industrial strength double sided tape. Ouch! There needs to be a better mounting system, but seeing the colored spectrum of reflections from all of the games is inspiring. Many ideas come to mind.
One idea proposed was finishing those tiles with some black light paint to give them some character other than silhouettes in a dark gameroom.
Brian let me know that he is currently selling these tiles for $1 a pop plus shipping. There is no minimum order, but the available colors are limited to what scrap is left over. This will give you an idea on total cost;
Up to 8 Invaders – $8 Flat rate envolope Priority
Up to 16 Invaders – $12 Flat rate box Priority
Up to 32 Invaders – $15 Flat rate box Priority
Other ideas for these decorative gameroom tiles
What if these tiles were made out of a lighter material? What if they were just sheets of diffused poly that were then backlit? Mounting a lighter material would be much easier.
Or what if the ceiling tiles were the diffused, translucent panels and not the fiberous material. You could have a whole lighting system in the ceiling, and you could easily take the cutouts with you if you ever moved instead of a fixed solution.
Would you do the metal arcade characters? If so, how would you mount them? If you didn't, what ideas did this treatment inspire?
Leave a comment if you want to purchase a set, I can supply Brian's email to serious inquiries. If / when Brian launches a website and starts to sell these metal arcade tiles online, I'll update this post with a link to his shop.
Jan. 16th, 2011 – Post updated up additional information. Color options for the tiles listed below.
Metallic Optimum Mica Platinum Titanium (Long name for a Metallic silver variant)
Metallic light Copper Bronze
Metallic Champagne (Lighter bronze / silver)
Metallic Silver
Metallic Pewter (Silver variant, similar to metallic silver but darker)
Peru Bronze (Dark brown, listed as 'metallic')
Bone White
Deep Blue
Standard Red
Here are some similar arcade posts
If you enjoyed this post, please consider to leave a comment or subscribe to the feed and get future articles delivered to your feed reader.