After such a positive response to my Atari Command WordPress theme I thought it was about time to make a second arcade themed design, free for download. This time around, its a Donkey Kong WordPress theme, rich with features to use with the new WordPress 3.xx
Nintendo's Donkey Kong is in the top 10 most popular arcade games of all time. One of the first platform games, Donkey Kong introduced gamers to Jumpman who we all know and love as Mario, as well as his damsel Pauline. This theme incorporates elements from the bezel artwork and has the option for multiple colors schemes including blue in commemoration of the original cabinet.
Instructions / Notes for this theme
First – I mention this later on, but I do provide free support for this theme. You will need to have a working knowledge of HTML and CSS, as well as some web development if you want to perform further testing for this theme in older browsers.
Here is a screen shot of this classic arcade game wordpress theme.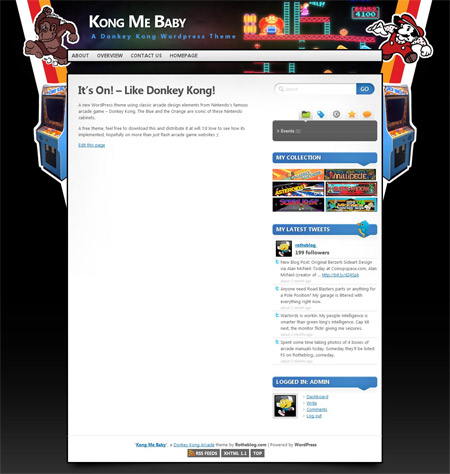 Again, I included a select set of arcade game marquees with this template. Feel free to spotlight your arcade collection how you like. Change out your own marquees into this space, but make sure the width of the graphic you make is 155px wide. This will keep the even spacing.
Demo "Kong Me Baby" Donkey Kong Theme
Visit the Arcade Game Theme Viewer to check out Kong Me Baby
Compatibility
Tested in Firefox 3.6x, Chrome 8.0x, Safari 5(Window), Opera 10.6x, IE8, IE9 Beta.
The Kong Me Baby arcade game theme is released under GPL. All I ask is that you link back to my website somewhere in your site. Currently those links are in the footer and rest assured I can't force you to keep those links, and won't force your site to break like you might see in a sponsored link / Common Share license agreement.
Version History
Based off the Mystique WordPress theme, you will find that the modifications I made are minor and that the theme has been vigorously tested by the original publisher, as it is listed in the WordPress theme repository.
I will be interested to hear feedback, but again, being a free theme 'support' is limited. The theme does work, but hasn't been planned for each possible tiny modification that you may make to fit your needs. You will need a strong knowledge of HTML and cross browser compatibility using CSS layout to make some customizations.
Download It Now!
Really Like It?
If you really like this Donkey Kong theme and would like updates, more features, and new styles, why not grease the wheel and make a donation? Use my contact link above or send a donation to my email / paypal address – rothecreations@gmail.com
If you customize this theme with your own graphics, come back and leave a comment / link to your customized version. We'd all love to see it and the specific implementation on your gaming or other content WordPress blog.
Here are some similar arcade posts
If you enjoyed this post, please consider to leave a comment or subscribe to the feed and get future articles delivered to your feed reader.