William (Bill) Arkush is not a name many arcade collectors may know. Why? He doesn't have an industry name like Al Acorn, but Mr. Arkush wrote some of the best, inclusive, and technically sound manuals for great classics like Gun Fight and Sea Wolf. Here is a little bit of his story, and we're hoping that you can help fill in some of the gaps.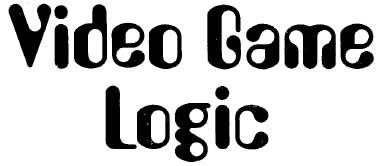 William Arkush's Video Game Logic Handbook
All of this research we have pieced together with information readily available online. Born in 1947, William Arkush graduated in the late 60's or early 70's with multi disciplined training that facilitated an interesting career that started out in microelectronics during a time when Computer Space was just released to the public.
From what I can tell from my research, Mr. Arkush grew up in the California area, around Santa Cruz and attended colleges mostly in that area including Monterey Peninsula College for electronics. From there, he may have taken his first technical position out of school at Kurz-Kasch in Dayton Ohio. How did I come to this conclusion? Here is what I found.
In 1974-1975 Bill published the first in a series of 'Video Game Data Books' that included Atari's Pin-Pong and Midway's Wheels I and Wheels II. During this time, Bill published these books through Laurel Publications at the following address;

William Arkush
2876 Culver Avenue
Dayton OH 45429
513-296-0330
At one time, this was probably the headquarters location for Kurz-Kasch in Dayton, OH. If you look at the Kurz-Kasch website, they established their corporate HQs in Dayton in 1979. But this is no longer their primary location as Kurz-Kasch has now been acquired by another organization and moved offices. Here is a screenshot of a 'receipt' I found on flippers.com for one of KK's test fixtures (Same address and phone number);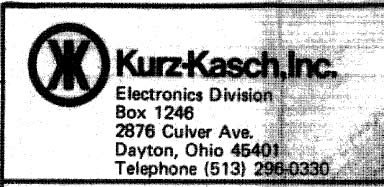 Kurz-Kasch Electronics Division
There is reference that Laurel Publications was a technically oriented publication house and may have been doing the printed materials for all of Kurz-Kasch. I found online listings for Laurel, but didn't try to tie that piece of the history together.
Post 1975 – Inception of Kush N' Stuff
The next manual that William released, Vol. III was for Kee Games Tank and although released under his name, William now had a different phone number associated with the content – (408) 379-7180.
Either in late 1975, at least by 1976, William Arkush released The Video Game Logic Handbook as well as additional volumes in his 'Video Game Data Books' under the Kush N' Stuff monkier.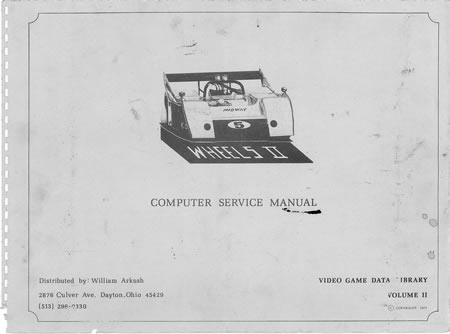 Midway Wheels Book Cover
Why you care.
I will let you check out Chuck Sander's City of Berwyn website to see the tremendous technical resources within each of these books. If you own one of the nearly dozen games that William wrote manuals for, these are amazing resources for fixing those games.
Chuck has Tank and Sea Wolf, and either Al Kassow or Chuck are looking to complete the collection of all of the 'data books' – 8 in all. (Notice the additional mention of Kurz-Kasch)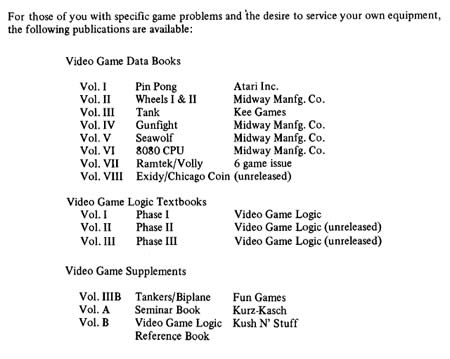 Why research the Logic Handbooks now?
Chris at Tokens Only has been able to scan in more of these data books, including Gun Fight, Wheels I and Wheels II. As far as we can tell, these have never been publicly available. Check out his new "William Arkush Manuals" page.
What better reason to try to learn more about William Arkush than now, as there is nearly a complete collection of these manuals available.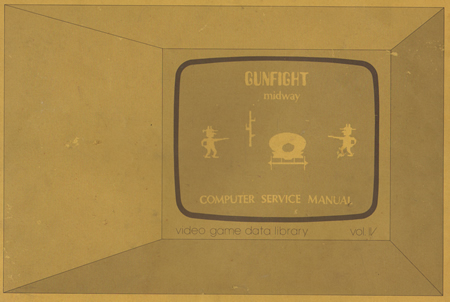 Midway Gun Fight Book Cover
What else we think we know about William Arkush
The best I can tell, is that William didn't stay in the electronics realm for long. As I researched online, it seems that William had interests in Chemistry as well as the spirits industry. He worked worldwide in Europe, Japan and Switzerland. Here is a snippet from Zoominfo;
Mr. Arkush discovered a unique brandy product called "Schnopps", as differentiated from "Schnapps", the highly sweetened Liqueur products.Schnopps products are primarily made from tree ripened fruits and some berries and were found to be a very tasty alternative style of a beverage spirit than all the grain spirit products being produced.It was determined that the purity of the fruit being used as the Biomass, was the key factor in producing a high quality, fruit based alcohol.
William moved to Montana in the early 2000's presumably to retire and start yet another business – Glacier Valley Brandy. William has a number of addresses within each other around Kalispell, MT. If we have the right Arkush – (William Gary Arkush), it would appear that either the Glacier Valley Brandy distributor moved out recently to WA – or possibly William sold off his interest in the company as it was moved out of state.
How you can help
If you are William Arkush – we'd love to chat with you and learn more about the manuals as well as Kush N' Stuff. There is scant information easily procured about his incorporated Amusement company.
If you have information to contradict the conclusions I have drawn here, please drop me a line. If you have other information to help us fill out what is here, please also let us know.
References
Here are some similar arcade posts
If you enjoyed this post, please consider to leave a comment or subscribe to the feed and get future articles delivered to your feed reader.