I just returned from an awesome trip to Evansville to meet the "Dueling Computer Space" brothers, Ryan and Jason. While I was down there, Jason was showing me an interesting Donkey Kong pcb that I thought I'd share with the rest of you, see if we could get some insights.
Blue Donkey Kong Jr. Board
I poked around RGVAC, and there were quite a few mentions of this blue Donkey Kong Junior PCB, and they all call it a 'bootleg'. However, would bootlegs really go to the length of silkscreening the little DK character? Seems unlikely. 'MacMan' theorizes that this is a 'Junior King' boardset;
Just a guess but there was a blue solder mask Donkey Kong Junior that was called Junior King (JK)… I had it a while back. I don't remember the big K on donkey kongs chest… but it could be something. Try and burn a set of bootleg DK Jnr's and see….
Maybe Jason can pop the pcb into a game and check the attract screen, see if it actually a 'Junior King'. There aren't any pictures of the board on the CrazyKong website. Here are the photos of the pcb;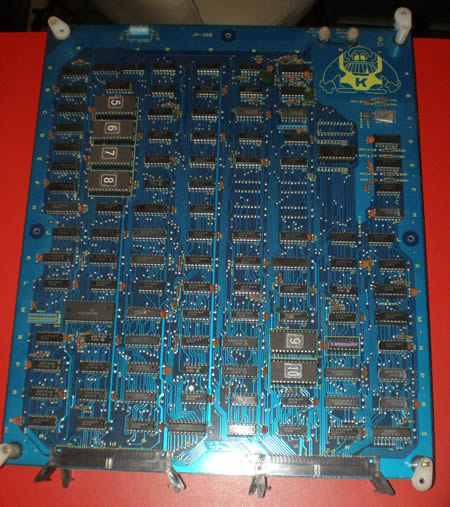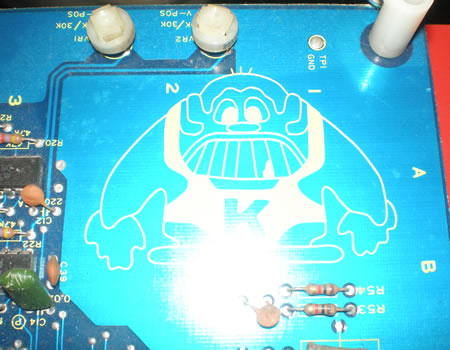 Here are the topics on RGVAC referencing the PCB;
The pots may be evidence enough that this was a mass run bootleg PCB. If you can provide some other referenceable evidence that this definitely is or isn't a bootleg DK Jr. PCB (Or have links to other old topics), drop a link / comment below. Thanks to Jason S. for letting me post about this boardset.
Here are some similar arcade posts
If you enjoyed this post, please consider to leave a comment or subscribe to the feed and get future articles delivered to your feed reader.