If you're like me, you like the variety of broken arcade games that only Jillian's can provide, you're in luck. Turns out there is an auction going down in Louisville Kentucky. Mozy on down, before one of the Adkins brothers lifts a leg and marks the building 😉
Arcade game auction in Louisville
Got an email today from Bid Assets that they are auctioning off a Jillian's warehouse of coin operated equipment, fixtures and memorabilia on Oct. 18th (close of 6pm) in Louisville Kentucky. If you are interested in which modern games are going to be in the auction, here is a scrape of their listings page.
Sega Harley-Davidson & L.A. Riders Riding Arcade Game
Midway Hydro Thunder H.T.R.A. Unlimited Jet Racing Arcade Game
Sega Water Ski Standing Water Skiing Arcade Game
Bromley Wheel 'M In Ticket Game Damaged
Wamco River Raft Arcade Game Damaged
Sega Airlines Pilots Virtual Flight Simulation Seated Station Arcade Game
Sega Yamaha Wave Runner Jet Trim Package Arcade Game
Alpine Racer Standing Ski Arcade Game
Basketball Video Game pieces missing
Sega Bass Fishing Free Rod Action Arcade Game
Sega Marine Fishing Free Casting Arcade Game
Damaged Cobra Gem Arcade Game
Gaeleco Rolling ex.tre.me Street Luge Seated Arcade Game
The Original Screamer Seat of Terror by Nova Productions Arcade Game
Pop A Ball II Arcade Game
Namco Panic Park Arcade Game
Fire Rescue Arcade Game
Star Wars Trilogy Arcade Game Sega Copyright 1998
Dynamo LTD Arcade Monitor
Arcade Token Machine by American Changer
Pin Ball Machine Top Damaged and Damaged Baseball Game
Not my type of games, but at opening bids of $5.00 for this stuff, it might make for some good deals, especially if you are auction starved in Kentucky. The Star Wars Trilogy and some of the Dynamo cabinets (for the monitors) caught my eye if they can be had for cheap.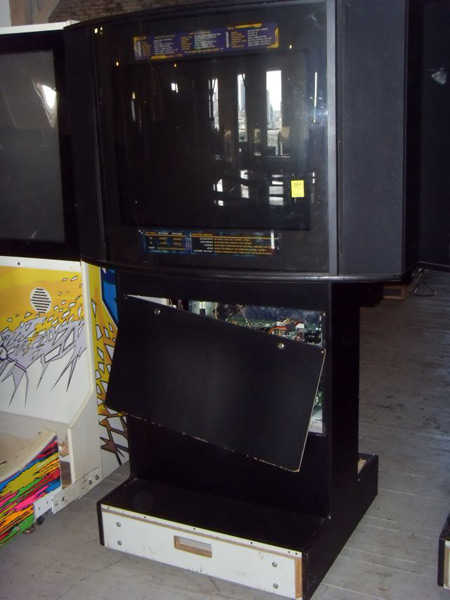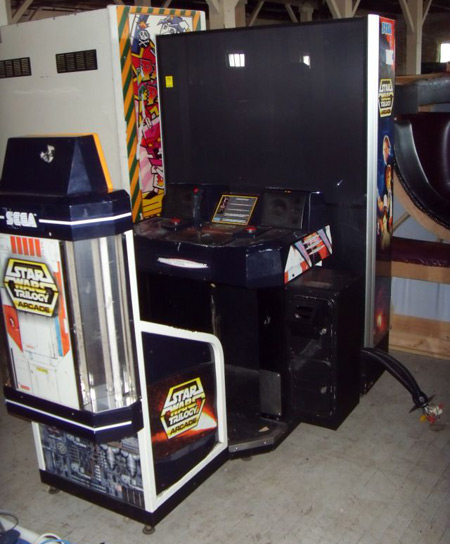 There is a preview the day before, but everything is online, so don't show up to Lytle Street unless you plan to do some people watchin', beer in hand.
For me, its just deeply satisfying to see that these broken down games will be released back out into the wild. One watersoaked pinball machine, ahht ahht ahht ahht.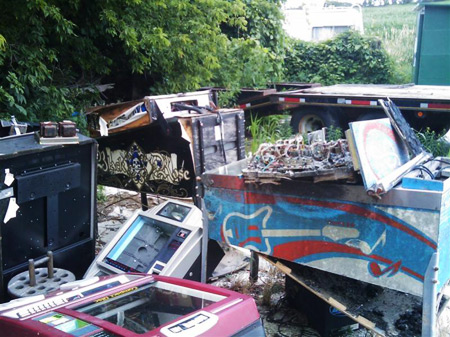 Jillian's Pinballs – Right before they went on location
For more information visit Bid Assets.
Here are some similar arcade posts
If you enjoyed this post, please consider to leave a comment or subscribe to the feed and get future articles delivered to your feed reader.