For over two months I've been planning my first "real" vacation of the year. In August I got a brief, three line email about a small operators cache of pinballs, arcade games, cigarette machines and pool tables. A death in the family had left a sister and her nephew to sell off a lot of 47 arcade games down south. Naturally, I was interested.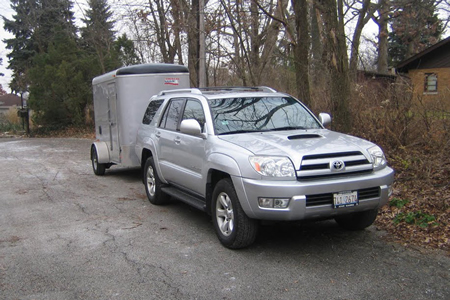 Arcade Warehouse – Southern Georgia
Collecting arcade games can be a solitary hobby. The following month at a friend's wedding reception, someone asked what was going on with me. Of course, I shared the email I had gotten just a few days prior, talking about the list of the games in the warehouse. The conversation went:
Them: What is new?
Me: (Hesitation) Well, someone down south contacted me about some arcade games they have for sale. I may end up taking a roadtrip in a month or so.
Them: Oh yeah?
…. (Silence, not a lot of interest. The conversational follow up….)
Them: What will you get?
Me: There are too many to remember
Them: Why, how many are there?
Me: 47
Them: (Silence – Eyes widen, a couple of blinks)
Them: Oh. (My wife rolls her eyes)
I don't expect anyone outside of this hobby to understand. It wouldn't be the first or last time I will take a long roadtrip to buy large quantities of arcade / pinball machines. Before I forget, if you are looking to sell some games, give me a hollar and let's work something out.
The list – Mostly classic arcade games
Why tell when I can show. Here are a couple of photos that the son graciously took for me to help with our negotiations. The full list of games is after the photos.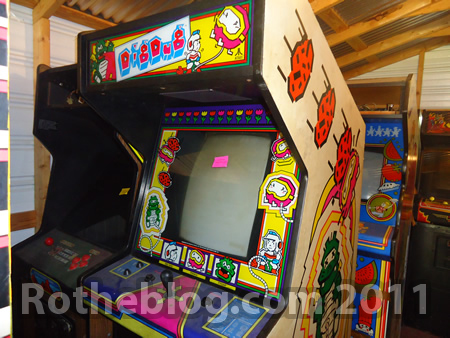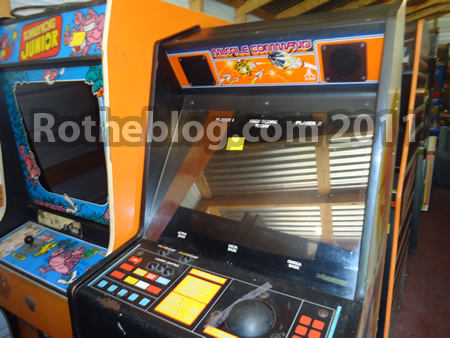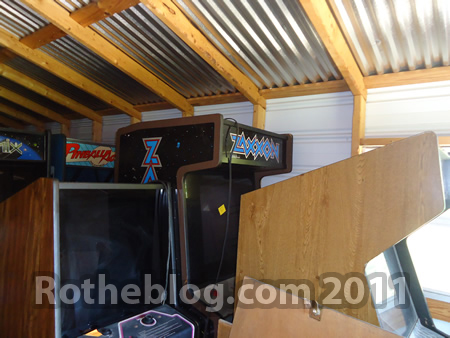 Ms. Pacman x4
Ms. Pacman (Cocktail)
Galaga
Star Gate
Space Duel
Centipede
Cloak and Dagger
Safari
Kangaroo
Berzerk
Asteroids
Tac Scan
Missile Command
Donkey Kong Jr.
Donkey Kong x3
Shoot the Bull
My Hero
Vanguard
Qix
Tempest (Cabaret)
Food Fight
Joust
Popeye x2
Frogger x2
Zaxxon
Phoenix
Pinball Action (Gorf Conv.)
Jr. Pac-man (Super Pacman)
Jr. Pac-man (Factory Dedicated)
Galaga (Cocktail)
Moon Patrol
Motorcycle (Chicago Coin)
Midnight Maruaders
Operation Wolf x2
Black Knight x2
Dolly Parton
Fire
Strikes and Spares
High Speed
Future Spa
Vector
El Toro
Solar Fire
I worked quickly out of respect for the owners since they were so gracious to supply plenty of photos. I figured out what I could reasonably offer, sight unseen with some assumptions (beyond the photos) and we continued negotiations.
Asking for help
Given the interest of time, the distance was not an ideal factor. So I called in a friend to help, an expert that has done this a ton of times in that area – Steve Smith in Folkston GA.
Steve headed over to get introduced to the owners in early October. By the end of that first visit he had worked out a deal and loaded up a trailer of games. It wasn't the full lot of 47, we couldn't come to a reasonable agreement on that. Some of the games Steve hauled back, and he'll correct me in the comments of anything I'm missing:
Safari
Vector
Future Spa
Kangaroo
Tac Scan
Tempest (Cabaret)
Food Fight
The Gremlin Safari was a pretty unique piece. Here is a photo of that cabinet.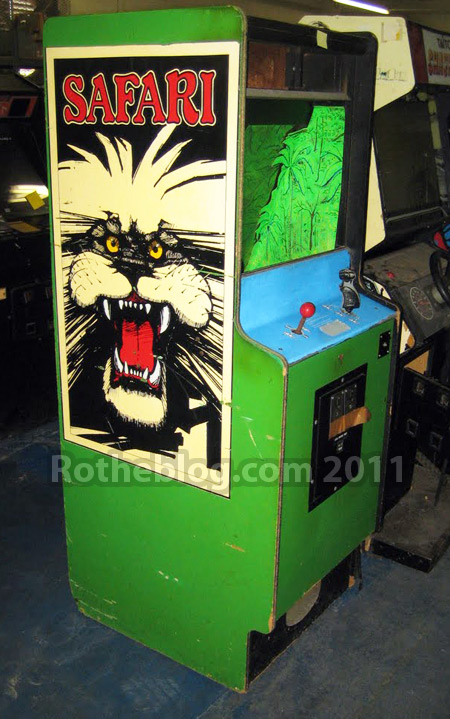 I got a single game
The whole deal started out at 47, but I only ended up with one game out of what Steve hauled back. 47 would have been an amazing story, but a true challenge in logistics. Things worked out just fine. Steve ended up making a second trip and picked up a few more games, but by that time many other games had been sold, some of them auctions on eBay. The hope was that he was going to be able to pick me up that factory Jr. Pac-man, but that had been sold. Please, if you bought the Jr. Pac, drop me a line or leave a comment below.
But back to the story. I won't leave you hanging in suspense on which game I picked up.
Food Fight!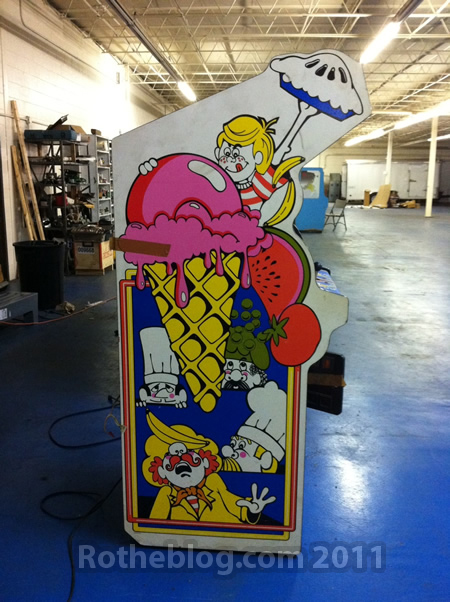 Pretty stellar condition. The top is crisp, there is no swelling, very few scratches, the control panel has no cracking, the game just feels like it was in a capsule.
Steve got to talking with the owners and they said that the brother had been an operator at Fort Stewart. The Food Fight was in excellent condition, and the Kangaroo was nearly perfect as well. We can only guess that when the games broke down, the operator brought them back and started using them for parts. My Food Fight is missing the lighting fixture from behind the marquee, as well as the power brick. I also don't have the marquee, but that must have gotten lost in the shuffle.
Meeting other regional collectors
This operator warehouse and collection of 47 games spurred plans for Chris and I to pickup that Food Fight and bring it back. Steve was interested to make a trade with Chris that he couldn't refuse, his working Tron for a working Black Hole. Only problem, that changed our plans from a one way flight, to one hell of a drive.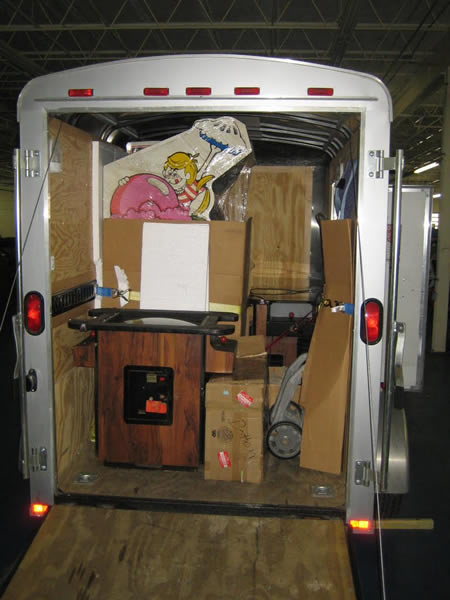 Over the span of 4 days we drove over 1600 miles. We made a number of stops along the way. We stopped in Louisville, KY to meet Ed Lutz and see his tremendous collection. I had a geek out moment as I got to see a Dark Planet in person. Ed had a number of items of interest for me personally, like a Bazooka, and a DECO mini.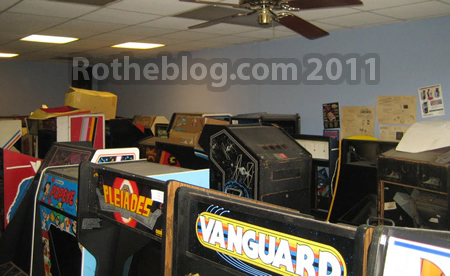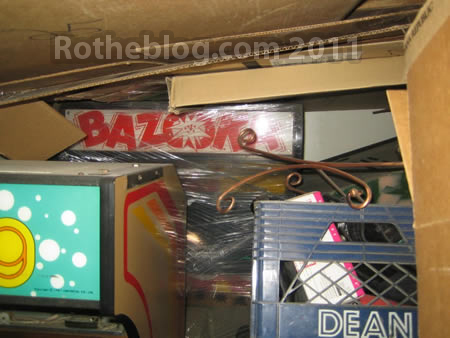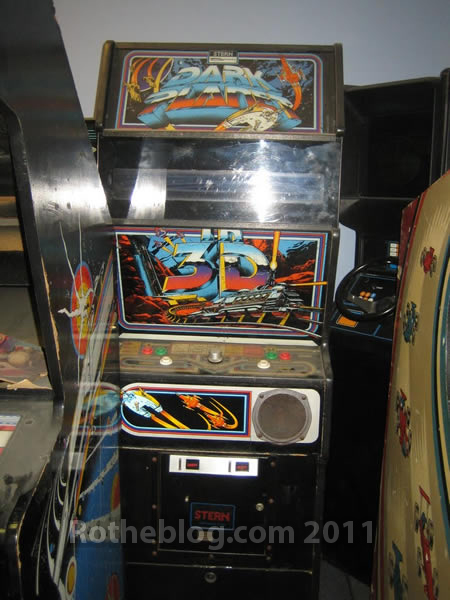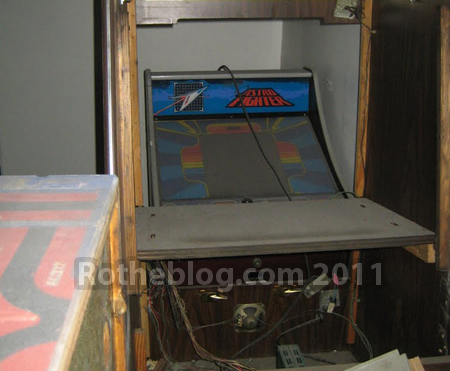 We also got to briefly meet some of the other local collectors like Antz and Jason Bradley. Antz was extremely hospitable, I'd highly recommend Zanzabar in Louisville if you are looking for an arcade or pinball fix.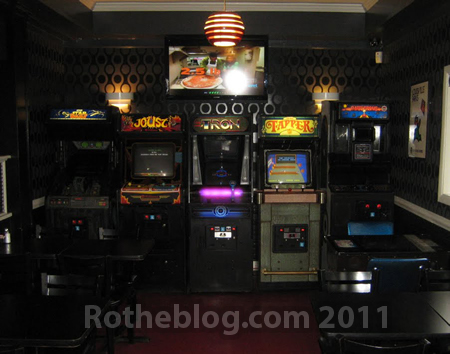 Great food, solid collection of working games, and pinball tournaments. Not to mention one of the select NIB Robotron mini's that came out of the John Jukes warehouse. Look him up.
On the way out of town we experienced one other interested site. From a distance we also got to witness a house being used only for arcade game storage, with 6 freestanding structures on the lot packed with games.
Very little luck on our return
We tried to coordinate with a number of other arcade collectors on the way down, but didn't have as much luck as we would have liked. We did get to stop into GameGalaxy in Nashville, but did not get to hook up with Jason.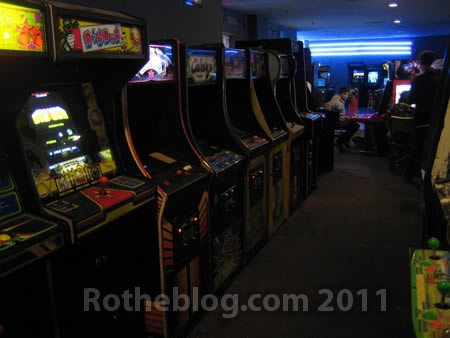 We also stopped and picked up a Rip Off cabinet for another collector in Chicago from Tony. Tony has an awesome list of games, but alas, we also could not time it right to make an introduction. Next time, there is always next time.
It was a tremendous trip, and extremely therapeutic, but Chris and I have agreed to never drive that distance again.
Share your bulk arcade buy stories
I'm curious to hear, or rehash, the stories of bulk arcade buys that you've had. In particular, if you have ever made a deal for games sight unseen, how many games did you buy and what did you keep? Or share anything else you like.
Here are some similar arcade posts
If you enjoyed this post, please consider to leave a comment or subscribe to the feed and get future articles delivered to your feed reader.