The best arcade cabinets were from the late 70's to very early 80's across the board. From Atari to Midway, to Universal and Sega there are a ton of cabinets that were decked out head to toe in full artwork, colors blazing. Taito was also in the mix, possibly on a smaller scale as the majority of the games were developed in Japan and imported to the US. This week, I managed to snag a classic Taito that I first fell in love with 4 years ago, funny enough, through a warehouse raid that took place in Belgium.

I love buying games in Chicago
The Chicago area may only be second to California for collection arcade games. Not because the average game in metro Chicago is better than anywhere else, but given the gaming history of the city the possibilities of finding something unique are much higher.
The unique Taito I got this week was a Space Chaser. Snagged out of Bensenville, IL – it is possible this game was imported to the Taito location in Elk Grove Village and traveled less than 10 miles total from that location. Here are some photos.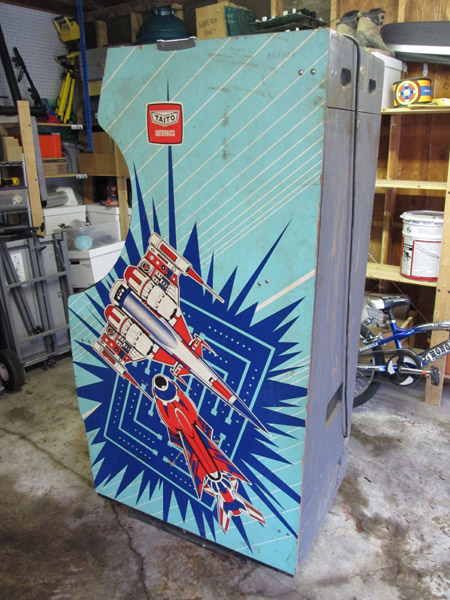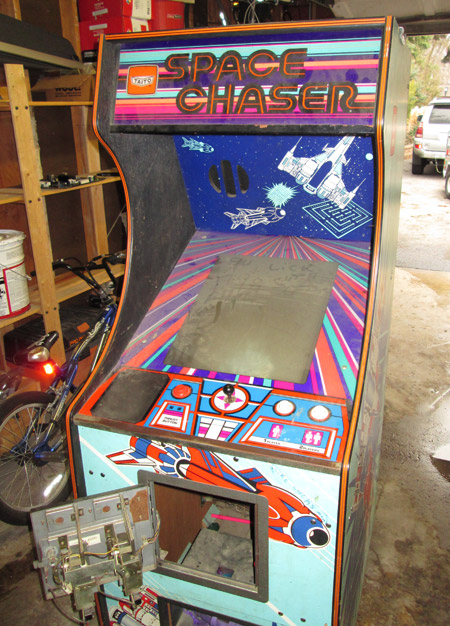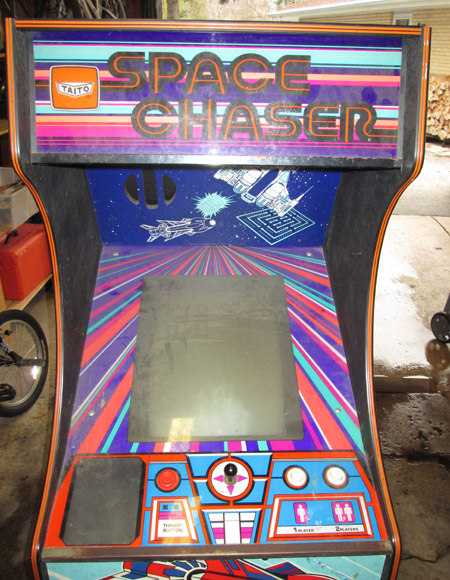 The story, briefly – Space Chaser is a game I've had passively on my want list. Then, by chance another collector mentioned that a Space Chaser was up for sale in Bensenville on Craigslist, listed with a title 'old arcade game'. The seller and I had problems getting connected. They supplied a contact number, but it didn't work. My persistence to get the game led me to investigate the number and I figured out that a number was 'fat fingered'.
I made an nice offer, the seller accepted and we got a time setup. As for the history on the game itself – current owner had the game in his possession about 10 years. It was originally being operated in a bar in the area. Surprisingly enough, the Space Chaser still works! But it does have remnants that it was operated, some graffiti on the kickplate and some sticker on the left side of the cab.
The belgium warehouse
I referenced this in the opening paragraph – read the original warehouse raid post to check out an awesome, weird blend of cabinets you won't see too often – Taito, Zaccaria and local cabs. Here is a photo showing a lineup of Space Chasers – some had been converted to other games including Phoenix and Puckman.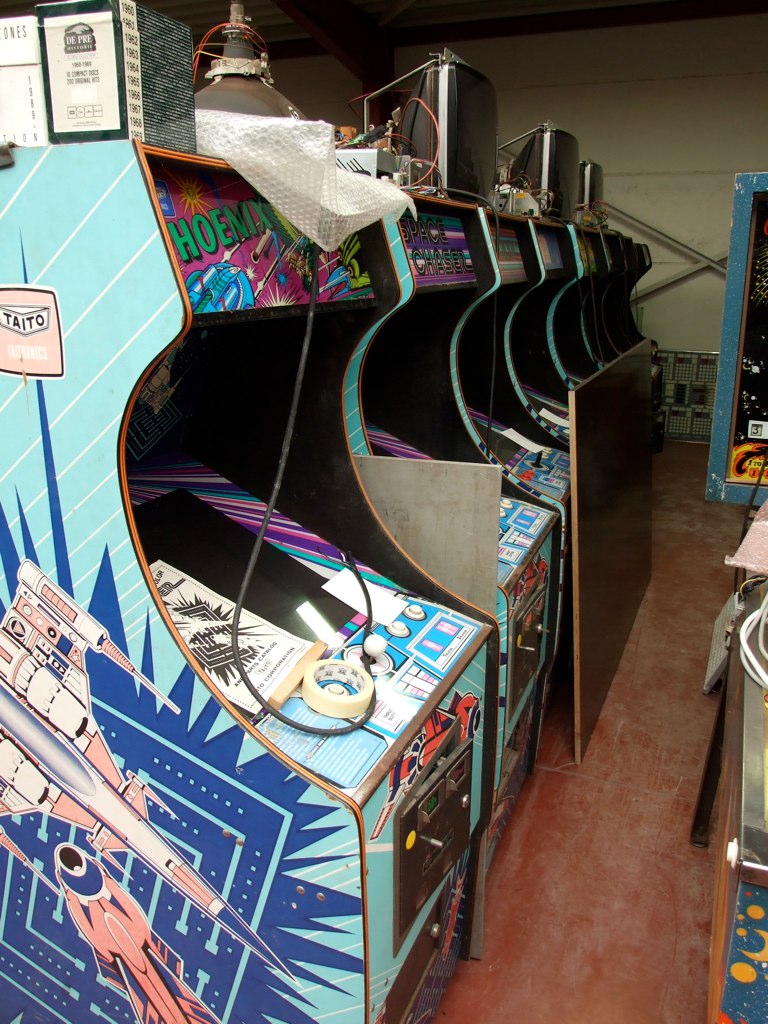 Other Taito cabinet designs
I mentioned that Taito had some amazing cabinets, to satisfy curiosity, here is an expanded flyer with pages of examples. Granted, some of the cabinet color schemes will inspire a double take. I wouldn't mind owning a couple of the games including Space Wars, ZunZun Block or Interceptor.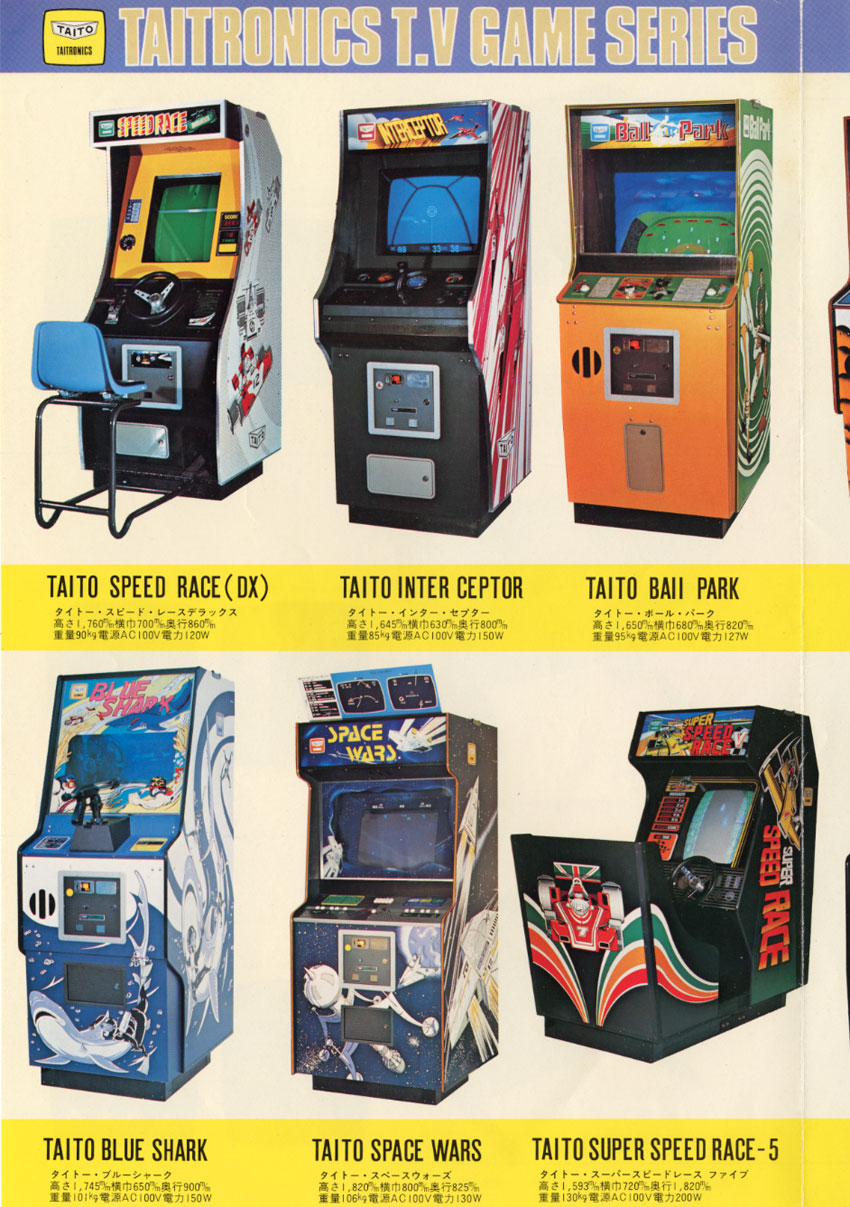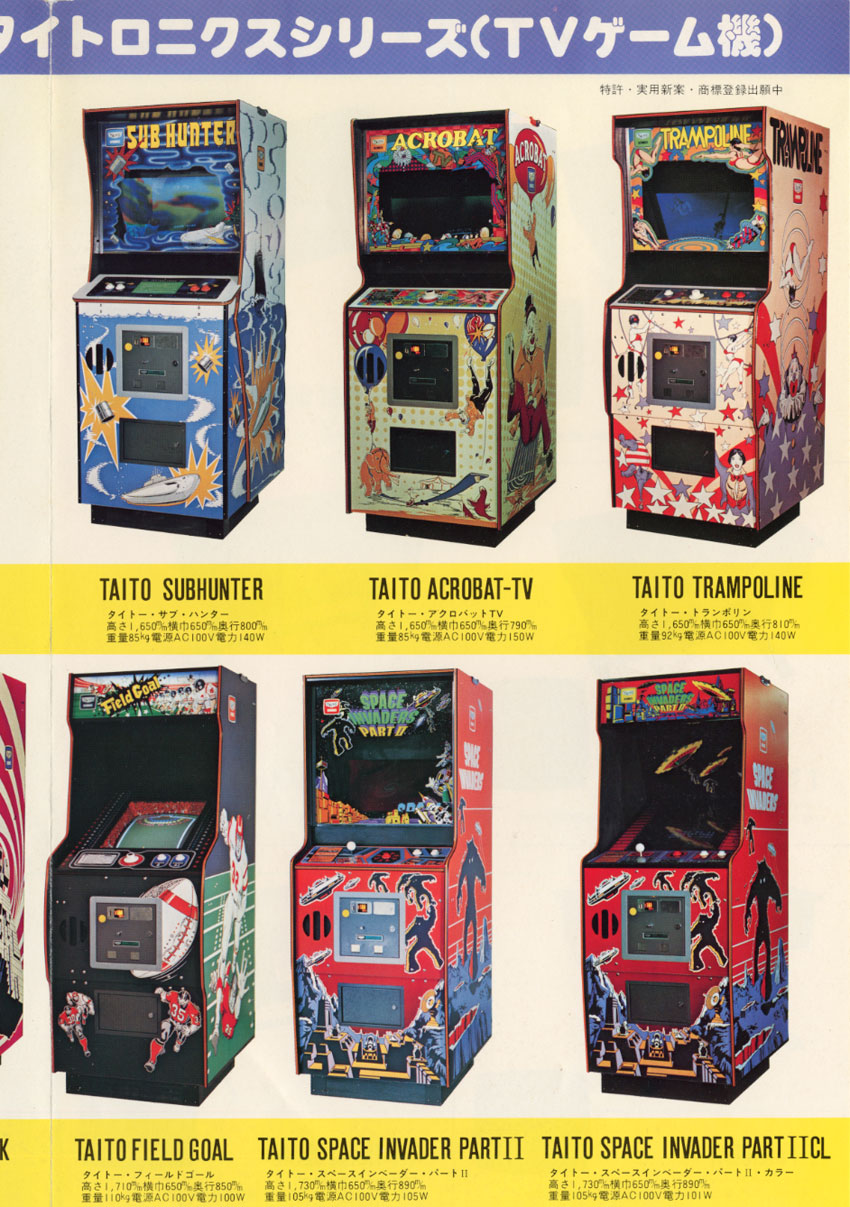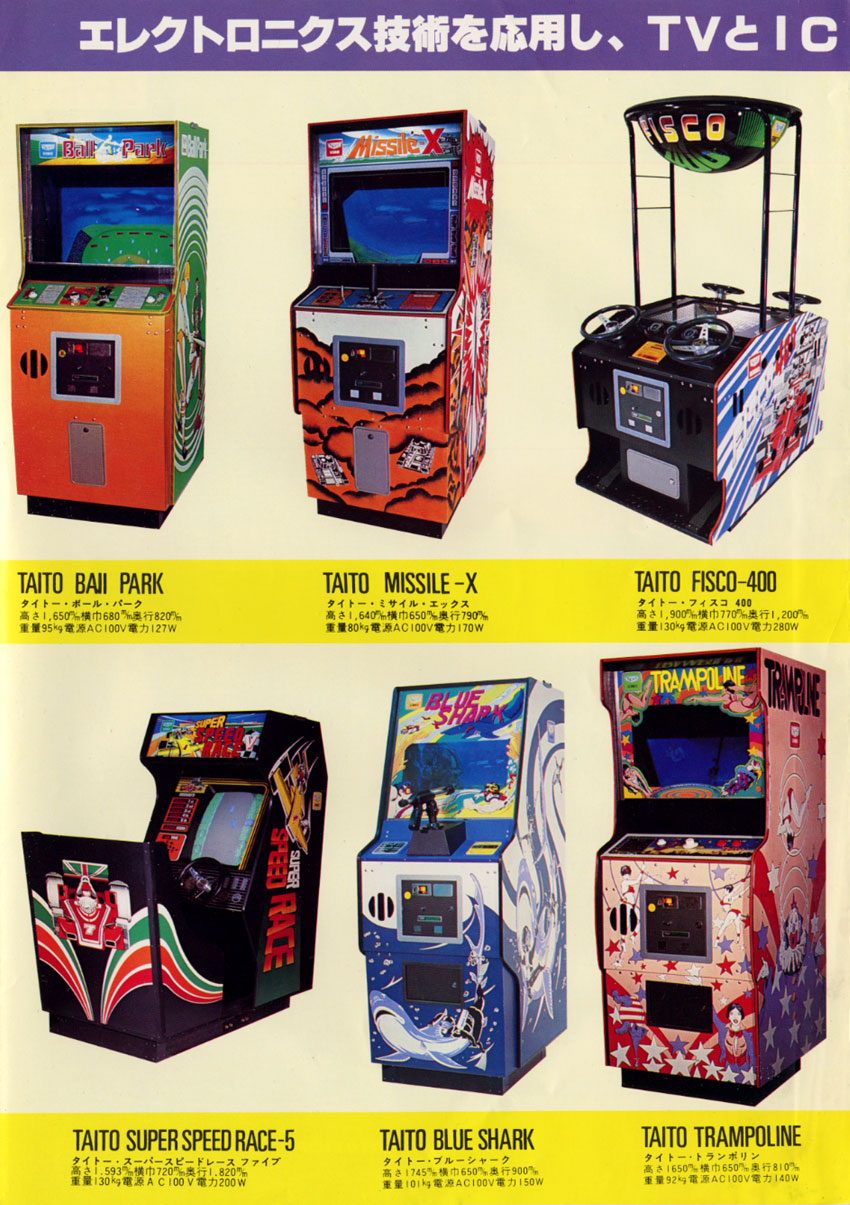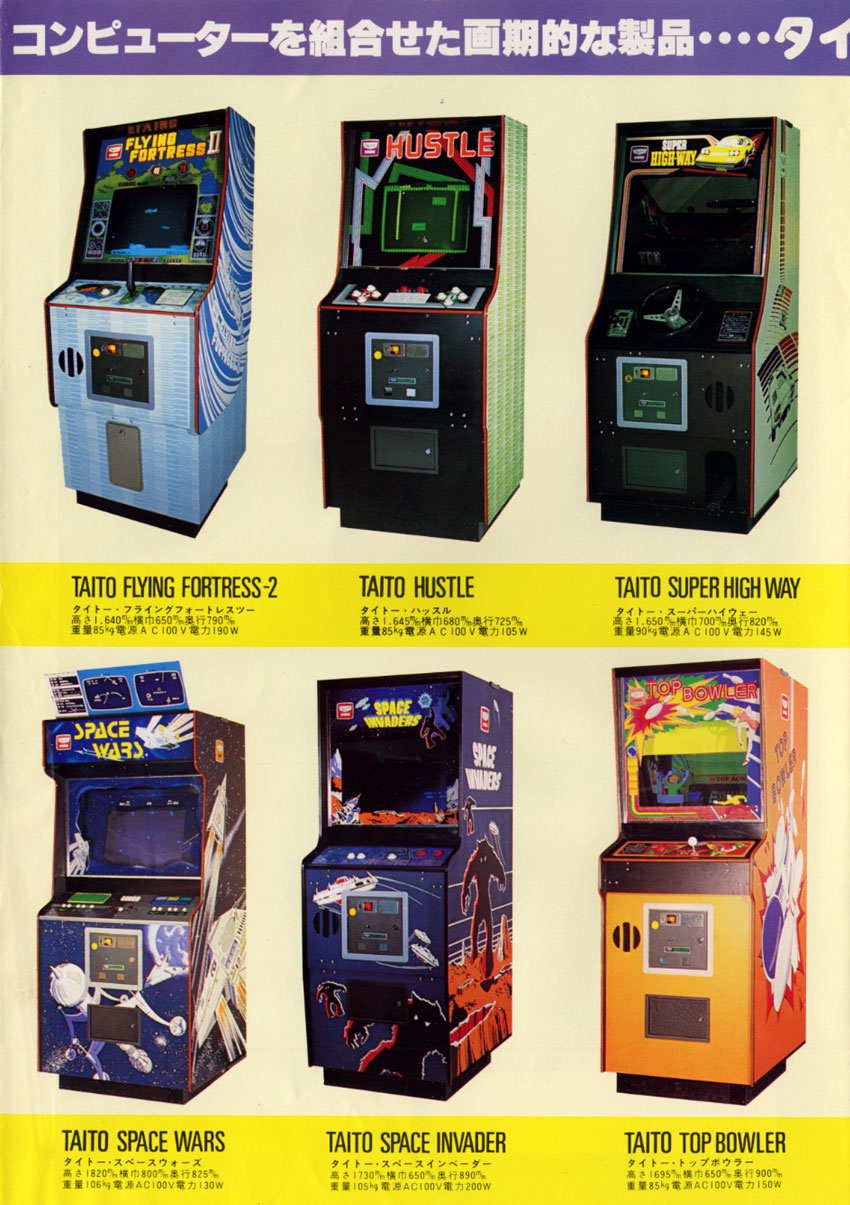 Got any old Taito arcade games? Drop me a line or leave a comment below. I'd be interested to talk about buying it.
Here are some similar arcade posts
If you enjoyed this post, please consider to leave a comment or subscribe to the feed and get future articles delivered to your feed reader.