I've already spent way too much of time my holiday time off doing arcade research. One area of research – Trying to identify the game of another white, illustrated artwork bootleg cabinet. This makes 4 distinct cabinets I've seen – check it out.

Guesses – The cabinet is a Dai Ressya Goutou, Time Tunnel, or Locomotion
A train themed bootleg, thinking "locomotive, railroad, robbers, western, dynamite", I could not find anything definitive looking through flyers and game listings. Beyond the guesses above (Dai Ressya Goutou would appear to be Far West or Iron Horse), I briefly thought about Locomotion by Centuri. However, there appeared to be little parallel in the artwork or the gameplay illustrated on this cabinet.
Check out the photos of this cabinet, currently up on eBay.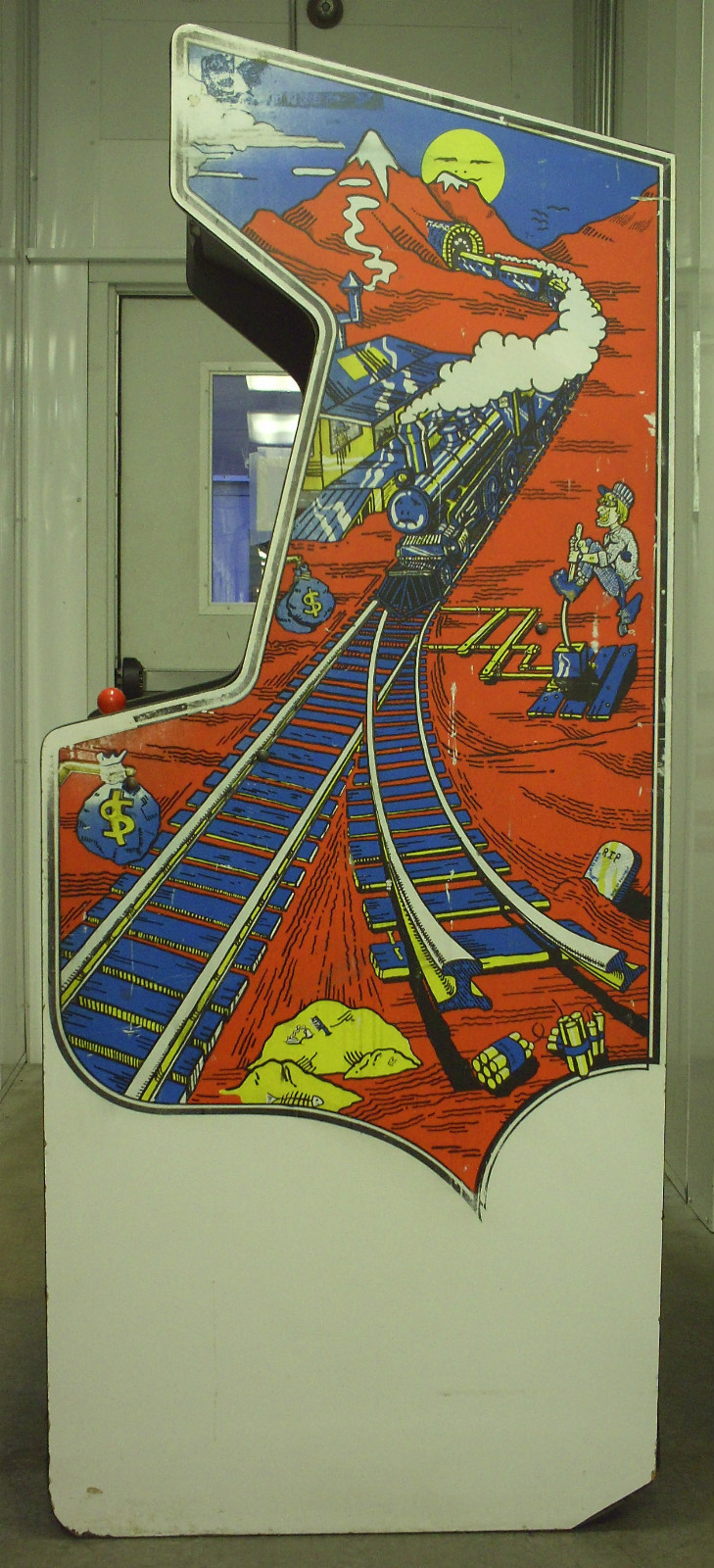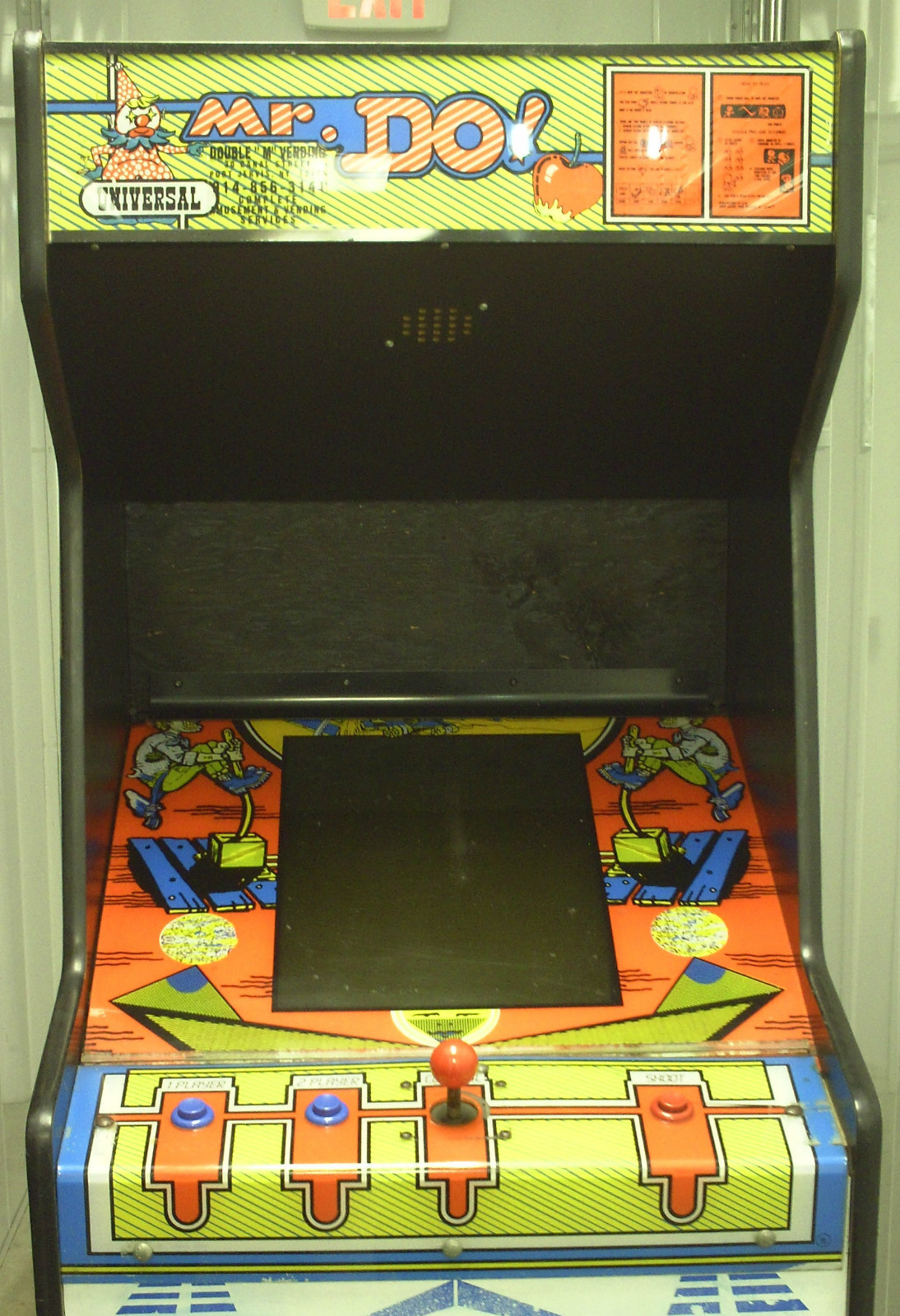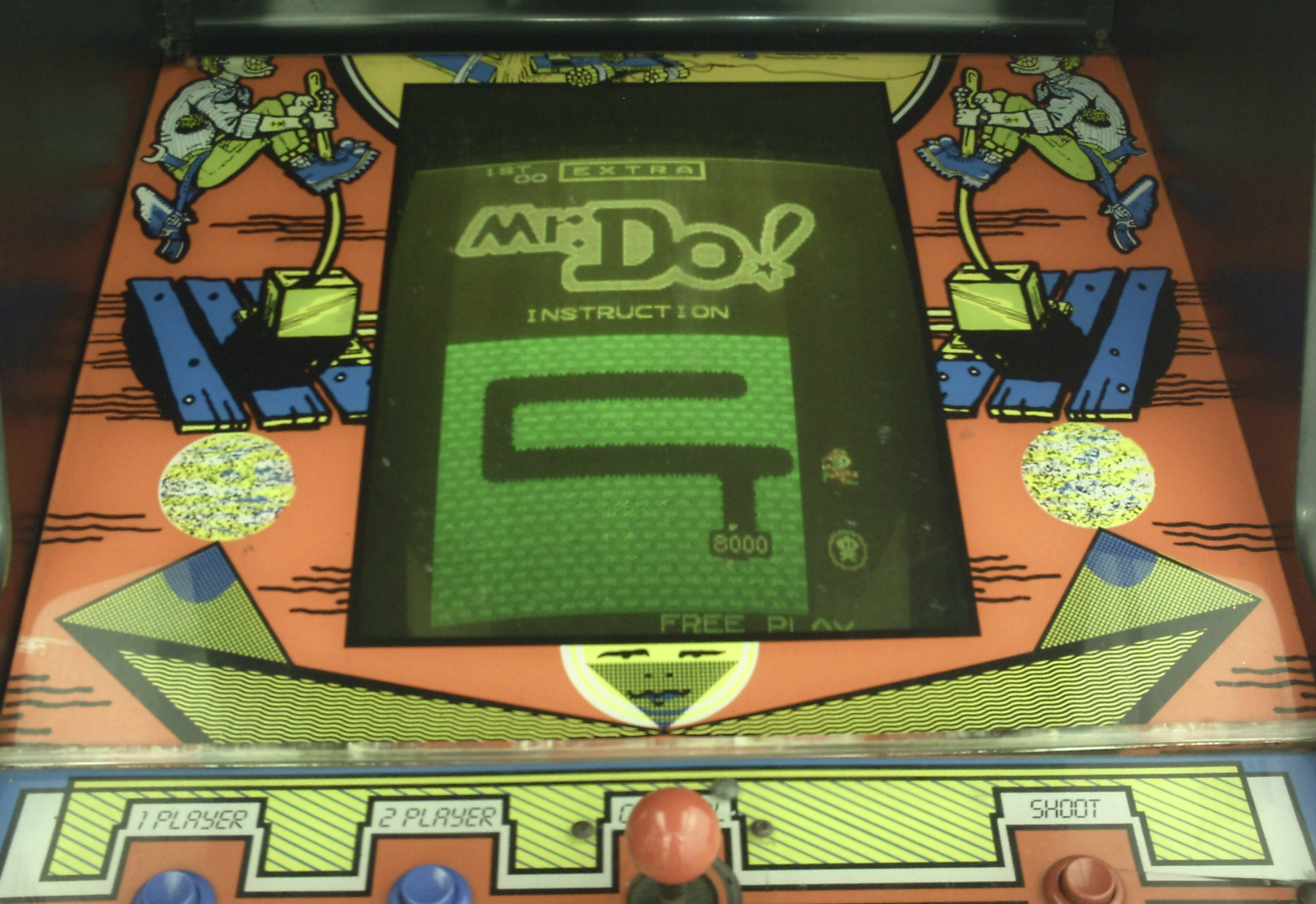 I primarily focused on those brands that we've seen in the past – Universal, Taito and Centuri, but definitely open to better guesses.
Best Guess – It's an Exidy Side Trak
If I were to base it on the similarity in artwork alone, I would say hands down Side Trak by Exidy.
The comparison between the two is close – the winding track, the sun with a face in the background, and the face on the train. The dude in the artwork is what throws me off.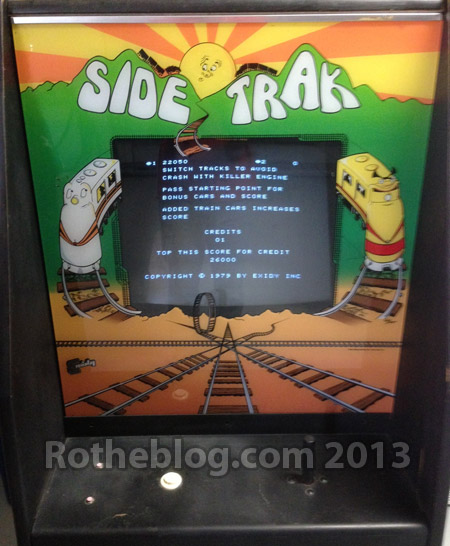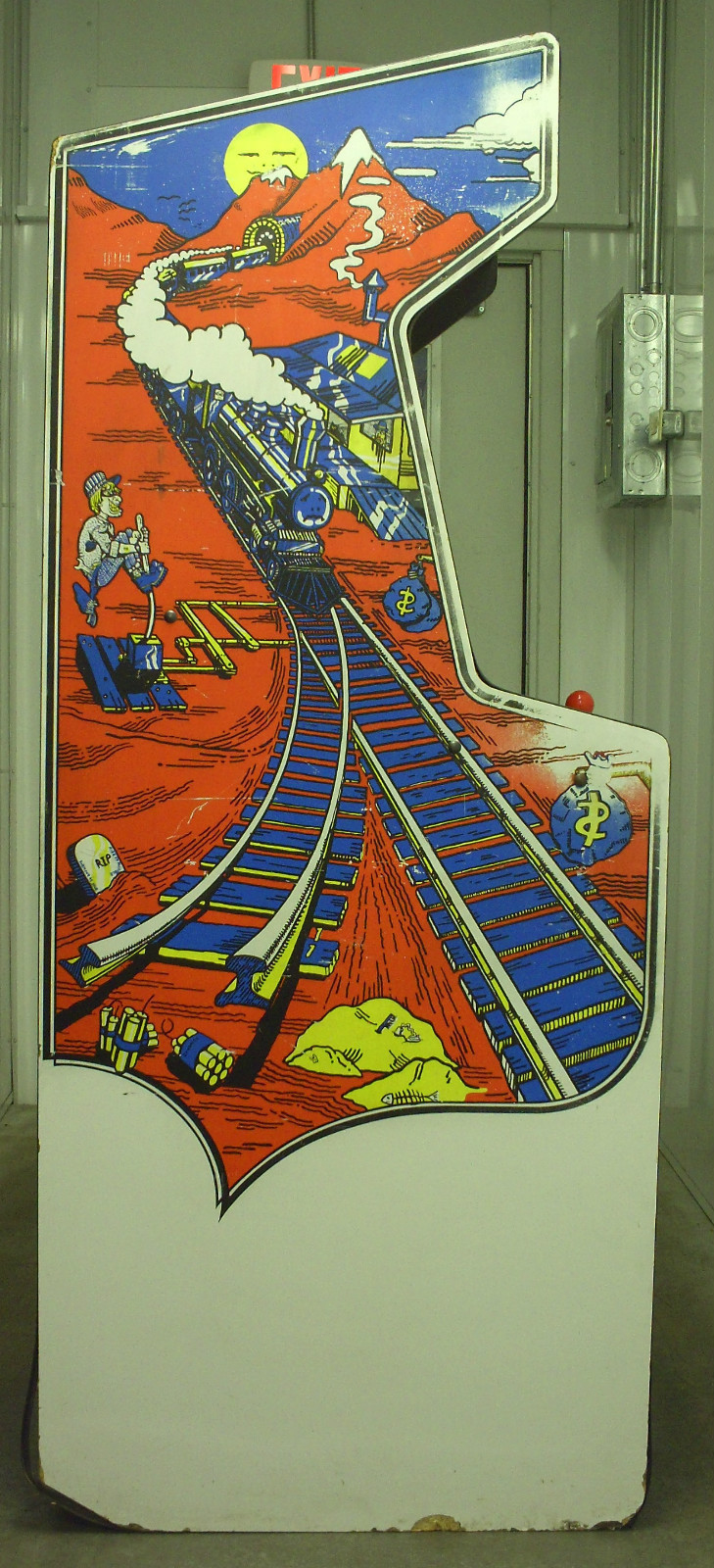 However, we've not seen an Exidy game before, Side Trak isn't particularly well known, and there is no 'dynamite' (as pictured in the artwork) in Side Trak. However, there is one other fact to consider. We know that EME (Eastern Micro Electronics) was distributing games for Exidy on the east coast, based on phone conversations with the former Universal CEO Paul Jacobs.
I have talked in person to Mr. Jacobs and several Universal Games (Do run run, Wild Ride) were sent out from the factory in SNK Cabs. Mr. Do was also licensed to Eastern Micro Electronics Inc. for east coast distrabution and can be found in a dedcatied EME cab.
EME seemed to be heavily into game distribution from 1980-1983. Its possible Side Trak (1979) would have to have been one of their first distributed games. Paul Jacobs was also the CEO for Exidy, remember his interviews with NBC on the fears around the Death Race arcade games in the mid 70's?
Is it possible that this cabinet was the first test that Paul gave EME for distribution on the east coast? Then, when Paul moved over to Universal in the early 80's, was it that relationship that expanded into Mr. Do! and Ladybug? (Since we now have proof of Universal selling those rights)
A Summary of the Illustrated White Bootleg Cabinets
In July of 2009, I talked about the different brands that seemed to be working with this manufacturer / distributor, and created a list of matching cabinets spotted to date. If we were to just limit this list to the cabinets that fit the following criteria;
Plastic bezel with bent upper
Plastic control panel
Zig Zag blue front kickplate artwork
Sideart is illustrated, printed close to the edge, and consistently fades
There is a dual upper / under coin door
The confirmed list spotted to date for these illustrated white cabinets would be;
Conclusion
Even down to the regions where these games are popping up – This "Side Trak" Illustrated bootleg was operated by a vending outfit in eastern NY, supports the theory of EME for distribution of these cabinets (EME was based out of Somerset, NJ).
Again, if you have any different theories, let me know in the comments below. More to come.
Here are some similar arcade posts
If you enjoyed this post, please consider to leave a comment or subscribe to the feed and get future articles delivered to your feed reader.